When you're a student- you're typically broke. I get it. Or you're at the point where you're just literally trying to budget your expenses. The good news is there are free museums in paris for students, teachers or those 18-25 (student or not) from an EU or residing in an EU country that you can access for FREE (permanent collections). Whoosh- let's dive in!
As I'm older now, my biggest regret is not having taken advantage of this and done more of these. So do me a favor please and FONCE.
Conditions for Free Access:
• Must be 18-25 from a European Union country (regardless of your residence in the world) OR person 18-25 who legally and permanently resides in the EU (regardless of nationality).
• You must show ID displaying your EU nationality or a student card or EU residency card with your age and photo. Only age and nationality or residence conditions are required.
Free Museums in Paris for Students, Those under 26, and Teachers
1. Gustave Moreau Museum:
This museum offers a captivating glimpse, into the life and artistic creations of Gustave Moreau, an influential Symbolist painter. Explore his apartment and workshop well as a rich collection of Symbolist artworks.
2. Centre Georges Pompidou:
Paris is home to the renowned Centre Pompidou, a museum shaped with cool pipes dedicated to showcasing contemporary art. There are some nice Warhols and a great view of Paris from the top.  
3. Musée d'Orsay:
This famous museum is known for hosting a collection of paintings. It's one of my favorite museums. I love seeing the impressionist Monet artwork on the top floor and the iconic clock. A must visit for art enthusiasts it offers a selection of Impressionist and Post-Impressionist artworks.
4. Louvre Museum:
Explore the world Louvre Museum, one of the most visited museums worldwide. Marvel at pieces like Leonardo da Vincis Mona Lisa while immersing yourself in centuries of creativity.
5. Cité de l'Architecture et du Patrimoine:
Uncover architectural treasures at this museum nestled within Palais Chaillot to explore architecture and urban planning through models city plans and sculptures that provide insights into architectural history.
6. Musee de l'Orangerie:
Immerse yourself in Impressionism Art.  This museum is renowned for its mesmerizing display of Claude Monets Water Lilies alongside Impressionist and Post-Impressionist artworks. This is another one of my favorites where you can see Monet's water lilies spanning 360 degrees all around the walls. It's so cool. And as a Monet fan it's a must-visit.
7. Institut du Monde Arabe:
This museum showcases the heritage of Islamic civilization spanning from its early beginnings to the present day. It proudly exhibits a collection of artifacts sourced from museums, in France and member countries.
8. Musee Bourdelle:
Here visitors can explore the world of renowned sculptor Antoine Bourdelle. The museum has undergone renovations offering a children's tour, exciting new exhibits and a delightful café restaurant.
9. Musee Cluny:
Located in the Latin Quarter the Cluny Museum is known for its Middle Ages history. It houses a collection of artifacts from the Middle Ages.
10. Hôtel de la Marine:
Positioned on Place de la Concorde this restored heritage site offers visitors with an opportunity to delve into the past.
11. Musee Guimet:
The Guimet Museum is entirely devoted to Asian arts. Provides visitors with an enchanting journey through historical treasures within its magnificent setting.
12. Musee Delacroix:
At the Eugène Delacroix Museum you can get a glimpse into the life of the painter. The exhibits include his apartment, studio and garden. Once iconic thing you can't miss is the big, elegant staircase in his apartment. 
13. La Maison de Balzac:
Balzacs House is a small gem that showcases the writers former residence along with its charming garden and café with a  gorgeous view of the Eiffel tower.
14. Musée de l'Air et de l'Espace:
The Air and Space Museum in Le Bourget is dedicated to celebrating the history of aviation and space exploration. It offers visitors the opportunity to explore exhibits related to aircraft and space.
15. Musee des Arts et Métiers:
This is one of the best free museums for students showcasing innovations and inventions housed within a historic monument. It's one of my faves and one of the best hidden gems and low-key museum in Paris you can visit. Even if you're not a scientist or into engineering it's super cool to visit. Not to mention the great surprise at the end (SPOILER alert: which may consist of an airplane inside of a church- I mean I don't know many places where you can see that).
16. Musée des Plans Reliefs:
Situated at the Invalides this museum displays models and plans of forts and fortified cities spanning over two centuries of history.
17. Musée Rodin:
You've probably heard of "The Thinker". That famous statue of the man posing with his hands under his chin. The Rodin Museum is located at the Hôtel Biron and its garden showcases a collection of sculptures, by the renowned artist Auguste Rodin.
18. Musee du Quai Branly:
The Quai Branly Museum is dedicated to celebrating art from Oceania, Africa, Asia and their respective cultures through its collections.
19. Musée de Picasso:
Hosting thousands of works by the renowned Spanish painter Pablo Picasso, the National Picasso Museum can be found at the Hôtel Salé.
20. Musée de l'Armée:
The Army Museum situated within Hôtel des Invalides exhibits a collection of artifacts that recount history throughout various eras.
21. Musée des Arts Décoratifs:
The Museum of Decorative Arts offers visitors a journey through design and decorative arts from times up until today.
22. Musée de la Poste:
This museum offers visitors a range of postal artifacts that shed light on this fascinating aspect of communication.
23. Musée de la musique – Philharmonie de Paris:
The Philharmonie de Paris is a place that focuses on instruments and offers exhibitions, about musicians and music trends.
24. Musée d'Art et d'Histoire du Judaïsme:
The Museum of Art and History of Judaism uncovers the history and cultural heritage of Jewish communities in Europe and North Africa. It showcases a collection of artifacts, manuscripts and artworks.
25. Musee de l'Homme:
Situated in Trocadéro this museum explores the aspects of existence, from anthropological, historical and cultural perspectives. It displays forms of art, historical objects, skeletons and scientific documents.
---
More and more of these places are requiring you to pre-book your tickets due to heavy crowds. Make sure to check the museum website before visiting.
---
Kiosque Jeune
"Kiosque Jeune" programs provide benefits for young people aged 13 to 30, living, studying, or working in Paris.
These benefits include free or discounted admission to museums and cultural attractions, reduced fares for public transportation, cinema discounts, access to theater and concert tickets at lower prices, and opportunities for sports, language learning, and youth events. Sign up here.
FAQs
1. Are the free admissions only for EU residents?
You must be 18-25 from a European Union country (regardless of their residence in the world) OR person 18-25 who legally and permanently resides in the EU (regardless of nationality).
2. Do I need to provide proof of age or student/teacher status?
Yes you will be required to present identification or relevant documentation to verify your age, student status, EU residency or if you work as a teacher in order to qualify for free or discounted admission.
3. Are there any additional benefits for educators at these museums?
Certain museums may also provide programs, workshops or resources for educators. Verify in advance with the museum about any benefits that might be available for teachers.
4. Can I visit multiple museums in one day with free admission?
While it is possible to visit museums in one day it's worth considering that Parisian museums are extensive and exploring them thoroughly may require an amount of time. Therefore plan your itinerary accordingly in order to make the most out of your visit.
5. Are there any limitations on the days or times when free admission applies?
It's worth noting that some museums may have restrictions, on days or times when free admission is available. To find out about any limitations verify the museum's website for more information.
Takeaway
What are your favorite museums in Paris or BEST student tips? Let me know in the comments.
Found this guide of Free Museums in Paris for Students, Those under 26, and Teachers helpful? Pin it now read it later.
Save or Share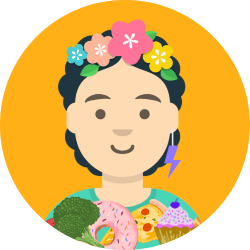 Latifah is a vegan foodie who loves travelling and cooking plant-based recipes. She loves sharing her favorite travel spots and adding a sprinkle of confetti to your day.