Vegan Restaurant in Paris & Lyon: Hank Burger Review
With a monster appetite, I was craving vegan fast food so off I went praying there wasn't a Friday night crowd. I was so hungry I could eat a horse (albeit a vegan horse). *Sweats profusely* Ok You know what I mean!
Having already visited the Hank Burger in Paris a few years back, I was excited to try this Lyon location. If you don't know Hank Burger is a 100% vegan fast food offering quality ingredients.
Arriving Friday evening at 6:30 pm there was no one else to be spotted, whoop let's go early crowd! 
There is small seating outside and plenty more seating inside and on the first floor. The decor is rather minimal with a mix of wood and stone preserving the natural stone of the Lyonnais building. Several framed posters on veganism decorate the wall.
Ordering was fast. The gentleman behind the counter was efficient and great at explaining their menu options and allergies. After ordering, you are given a buzzer which rings to indicate that your order is ready.
I ended up settling for takeaway, and the buzzer rang a few minutes after. Eureka! 
Hank Burger- Vegan Fast Food Review
Allume Burger
Opening up the food, the burgers were packaged well and clearly labelled.  
The allume vegan burger was delicious with the smoked barbecue sauce. One of the best vegan burgers I've ever had! We got the Beyond Meat patty. I believe it's a +€2 supplement. The bread was also savoury, organic, tender but still holding up the burger nicely.
The potato wedges were crispy on the exterior and tender on the inside, just how I like them. 
Their homemade vegan mayo also tastes like the real deal. The ketchup and mustard appeared to be in sachets so if you want to try their homemade sauces definitely go with the mayo. 
Capitaine Hank
Next up, the Capitain Hank, a vegan fish burger. The same bun was used, which was good. However, there was a peculiar 'fish' smell from the fish patty that lingered and bothered me between every bite (not in a good way). To be honest, it had a smelly fish odour. I was also not a fan of the patty itself, which was smushy (probably due to its thickness).
I guess I was hoping for a vegan McDonalds Filet-O-Fish substitute but this wasn't it. The sauce was more runny unlike the FIlet-O-Fish tartar that is creamy and holds. I also would have preferred the pickles to be diced in the sauce like its rival version. Overall, this one was a disappointment. 
Hankiflette
Next up, another vegan burger but oh wait! I think my order got mixed up. It seems there was a misunderstanding. Instead, I received the Hankiflette. Oh bummer! I thought. 
A tartiflette is a traditional dish from the French Alps typically made with potatoes, lardons (bacon), onions, and reblochon cheese. This was Hank's veganized version.
WAIT but how are you eating bacon- it definitely does not sound halal?!
Hank Burger uses 'La Vie' bacon which is 100% plant-based without alcohol so yet it is halal. Food can be vegan and halal. But, not always. To read more check out: If It's Vegan or Vegetarian Is It Halal?
To be honest, I was skeptical- it was not hella attractive. Heck! You wouldn't give Hankiflette a second glance if you saw it walking down the street. Incoming next, a staring contest ensued between me and Hankiflette. Finally, I took my courage and grabbed a fork. 
Digging in, you're hit with the tenderness of the potato wedges, layered with melty comforting vegan cheese, a lovely salty barbecue and sweet caramelised onion taste. Wow- delicious! Who would have guessed. Damn son- Hankiflette has a lot of game!
I'm so glad they messed up my order and I got to taste the Hankiflette. It's such an amazing, comforting dish. I'm picturing this in cold winters as a cosy comfort dish. It's definitely a favourite now and I will reorder with no hesitation.
Let's not forget dessert. Their homemade carrot cake was nice and moist. Not bad for €3.  
Takeaway
With the exception of one burger, that was not to my taste, I would say Hank Burger is easily one of the best vegan addresses in Lyon and France. Their potato wedges are also world class (psst they beat Copper Branch's fries). 
Prices are good value and up to standard for the fresh ingredients you receive. Their vegan comfort food dishes are a win. If you're looking for vegan comfort fast food then it's a must! 
Hank Burger Menu in English:
Nugget menu:
1 portion of Nuggets 6 or 9 pieces (+3€) + 1 side dish + 1 soft drink €11.00
Petit Menu:
Small menu [1 Hankburger or 1 Dish + 1 side dish + 1 soft drink] Starting From €15.50
Dishes:
Hankiflette:
The Traditional Tartiflette Revisited 100% Vegan 100% Gourmet composed of Potato, Smoked bacon, Melting cheese, and caramelised onion.
Chili Cheese Potatoes:
A spicy dish composed of Potatoes, Melting cheese, crumbled Steak Beyond Meat, minced pepper, fried onion, with allumé sauce (Barbecue) and Samouraï (spicy).
Hank Burgers:
Ronald Burger
Burger Bun, Vegan Cheese, Ronald Sauce, Batavia Salad, Tomato, Red Onion, Large Pickles, Steak Vegan Natursoy or Steak Beyond Meat.
Double Smack:
Burger Bun, Vegan Double Cheese, Green Salad, Tomato, Pickle, Beyond Meat Steak, Candied Onion, Samurai Sauce (spicy)
La Vie Bacon Burger:
Burger Bun, Vegan Cheese, Beyond Meat Steak, Bacon Vegan La Vie™️, Hummus, Fried Onion, Sucrine Salad.
Colonel Moutarde (Mustard) Burger:
Burger Bun, Yellow Mustard & Sweet Onion Sauce, Avocado, Portobello Mushroom, Lettuce, Steak Vegan Natursoy or Steak Beyond Meat.
Capitaine Hank Burger:
Burger Bun, Vegan Cheese, Béarnaise Sauce (with tarragon, lemon, shallot), Lettuce, Tomato, Red Onion, Fried Onion, Vegetal Steak Simili Poisson (Vegan Fish)
Allume
Burger Bun, Vegan Cheese, Smoked Barbecue Sauce, Lettuce, tomato, red onion, pepper, Steak Vegetal Natursoy or Steak Beyond Meat.
Sergent Pepper
Burger Bun, Vegan Cheese, Pepper Sauce, Lettuce, Tomato, Red Onion, Pickles, Steak Vegetal Natursoy or Steak Beyond Meat.
Rockeuse Burger:
Burger Bun, Vegan Cheese, Fig Sauce, Arugula Salad, Tomato, Red Onion, Pickles, Steak Vegetal Natursoy or Steak Beyond Meat.
Ronald Burger:
Burger Bun, Vegan Cheese, Ronald Sauce, Batavia Salad, Tomato, Red Onion, Large Pickles, Steak Vegetal Natursoy or Steak Beyond Meat.
Hank Burger Sides:
Potato wedges, coleslaw salad, small salad (gluten-free)
Snacks:
Nuggets
Deserts:
Carrot cake, chocolate chip cookie, chocolate mousse (gluten-free), vegan milkshake, vegan magnum ice cream
Hank Burger Vegan Restaurant- Gluten Free Options
Hank Burger is not an entirely gluten-free restaurant. They do offer gluten-free bread buns (+€2) and beyond meat steak (+€2) as options. Warning: There may be traces of gluten on your plate (particularly in the potato wedges and several desserts. Unfortunately, if you have severe allergies, I would not recommend their hamburgers 
Hank Burger Address- Multiple Locations:
Hank Burger Lyon
5 rue Pizay
69001 Lyon, France
Hankburger Paris #1

55 rue des Archives
75003 Paris, France
Hankburger Paris #2

8 rue de Rochechouart
75009 Paris, France
Want More France Travel Help?
Don't miss out! Check out these France travel resources for inspiration for your next trip to France:
Essential Guide 2023: Best Things to Do in Provence: Avignon as a Vegan
Essential Guide: Surviving France as a Vegan- Oui it's Possible (From a Local)
2023: Must Try-Vegan Restaurants in Provence: Avignon (From a Vegan)
---
Found this review helpful? Pin it now and read it again later
Save or share!
---
I pay for my own meals and always dine anonymously. This guarantees my experience as a regular paying customer where special treatment is not received and ensures an authentic review.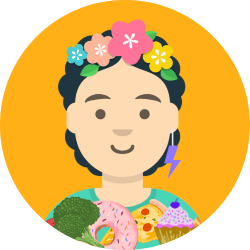 Latifah is a vegan foodie who loves travelling and cooking plant-based recipes. She loves sharing her favorite travel spots and adding a sprinkle of confetti to your day.