I bet when you think of France you think of "Omelette du fromage" hon hon hon (insert Dexter's Lab ref. here), baguettes, berets, and Bouchon Lyonnais. By the way the local in me is dying at that reference. What on earth will I eat, you ask? Surviving France as a vegan is easier than you may think. You just have to know the tips that I share below. 
Having lived in Paris for many years, I can confirm that I have never scouted Dexter down the Avenue des Champs-Élysées brandishing a baguette as a weapon and scaring tourists exclaiming "omelette du fromage" "omelette du fromage", nor witnessed the beret dress code with Parisians. Also, this generalization from visitors coming to France makes me both laugh and cry at times.
Most restaurants in France still don't cater to vegans and don't have designated vegan dishes on their menu, let alone a vegan menu. 
I was actually shook when I went to the UK two years ago and restaurants had an entire vegan menu at regular restaurants. Boy are you guys advanced- I can't imagine how the vegan scene is now in the UK except that you guys are in for a treat!
France is still not there yet; however, it doesn't mean that you won't be able to enjoy vegan food. The truth of the matter is France is not as un-vegan friendly as you may think! 
In fact, having turned vegan a few years ago I have noticed vegan many restaurants sprouting up a little everywhere and more vegan alternatives in supermarkets especially in the capital. There's been a huge change compared to a couple years ago. Win!
Vegan Travels: Big Cities vs Small French Towns
Let's face it. Not everyone in France lives in Paris or Bordeaux or a big city where vegan restaurants and supermarkets are easily found. Small towns in France can be very lonely with miles before finding the nearest grocery store, let alone a vegan one. You may be visiting a small town in France so how do you survive as a vegan? Even though, there are more vegan restaurants in and vegan spots in main cities, it is still possible to enjoy visiting small towns in France as a vegan. The tips I share below will apply to both big cities and small towns.
Veganism in France
According to a study by IFOP in 2020, only 2.2% of French people identify as following a vegan, vegetarian or pescetarian diet. 24% of French people identify as flexitarians while the remaining 74% consider themselves omnivores consuming both plants and meat. 
As you can see, the numbers are not very high especially when you look at other European countries.
Plan Ahead
Going out to eat can be challenging. Many French people and restaurants still don't know the difference between vegan and vegetarian food, or they offer a vegetarian dish as vegan and claim it is vegan due to lack of knowledge. They may also not know about vegan ingredients nor know how to veganize a dish.
Most menus don't have vegetarian marked next to the dish, let alone vegan. And if they do, the green V usually stands for vegetarian.  
For dining in France as a vegan, you will need to go to designated vegan and vegetarian restaurants. You won't be able to just randomly show up and expect vegan options. That's why planning ahead is key.
Related: The Ultimate 23+ Must-Know Vegan Travel Tips
Vegan Restaurants in France
There is some incredible vegan food you can sample in France at vegan restaurants whether your in Paris, Lyon or a small town like Avignon. You just need to know where to look. Luckily, I have done most of the research and handpicked the best vegan restaurants in France for you. Don't miss my food guides below:
Montpellier (South of France) Vegan Guide
Avignon (South of France & Provence) Vegan Guide
Use Happy Cow and Google Maps
I like to use Happy Cow and Google Maps to find vegan restaurants and then save them on my google maps.
Top Tip: When you save them color code restaurants differently than attractions, so you don't get confused and it's clearer on your map.  
Alternative: Search for "vegan near me" directly in Google Maps and you will see the closest vegan spots near you. You can then filter by distance or ratings. 
Learn the French Language… At Least Some Phrases:
Ok when in Rome do like the Romans. Yada yada, you've heard that before. I don't expect you to fight gladiators in an arena, but at least get to know a few basic French terms and phrases. This will make surviving as a vegan in France easier. Plus, being able to order vegan food in French will make you super proud!
How to Say I am Vegan in French: 
So how to say I am vegan in the French language?
Je suis végétalien(ne)
I follow a vegan diet
[ne at the end for feminine]
Je suis vegan 
I am vegan
I am vegan extends to both a vegan diet and a vegan lifestyle. 
Personally, I prefer to say Je suis vegan because:
1) Most places don't know the difference between végétalien (vegan) and vegetarian
2) Végétalien sounds like vegetarian depending on how you pronounce it. I generally avoid to avoid confusion. 
If you say "Je suis vegan" and they still look at you confused or with a blank stare. 
Add:
Donc, je ne mange pas de lait, d'oeufs, de produits issu d'animaux, viande.
So, I don't eat milk, eggs, animal-derived products, meat. 
Make sure to grab your travelling to France cheat sheet below. 
It's a must and you'll be off with your trip to France smooth sailing.
---
---
Bread is your Best Friend
Don't tell this to your nagging fitness trainer but France is known for the best bread so why not use this as an excuse to indulge. Carbs who now? Plus most bread is vegan (minus brioche which has eggs and butter).
My favourite bread to buy from the boulangerie is the "tradition baguette". It's my go to. I find it slightly thicker than the classic baguette therefore not as hard and healthier, not to mention the incredible fresh taste! 
Baguette v.s "Baguette Tradition"- What's the difference?
Unlike the classic baguette, the baguette tradition is healthier because it is made using high-quality flour and contains no additives. Its preparation requires that it not be frozen at any step during its preparation. This is not guaranteed for the classic baguette where some additives can be used and it may have been frozen.
Top Tip: Avoid buying from chains in France where they do not have the boulangerie denomination. Many times, the bread and viennoiseries are frozen. Buy your bread from your local Boulangerie. You get fresher, healthier produce and at the same time support small businesses, which have taken a massive hit during covid.
Vegan Grocery Stores in France
Hit the Closest Vegan Grocery Store Nearby
There are various supermarkets offering vegan products that make surviving as a vegan in France easy. Some are even 100% vegan where you will be able to find everything vegan from vegan mayonnaise to cheese.  
While others are more generic and will have some vegan products.
Look out for the word "vegetal" which means vegan.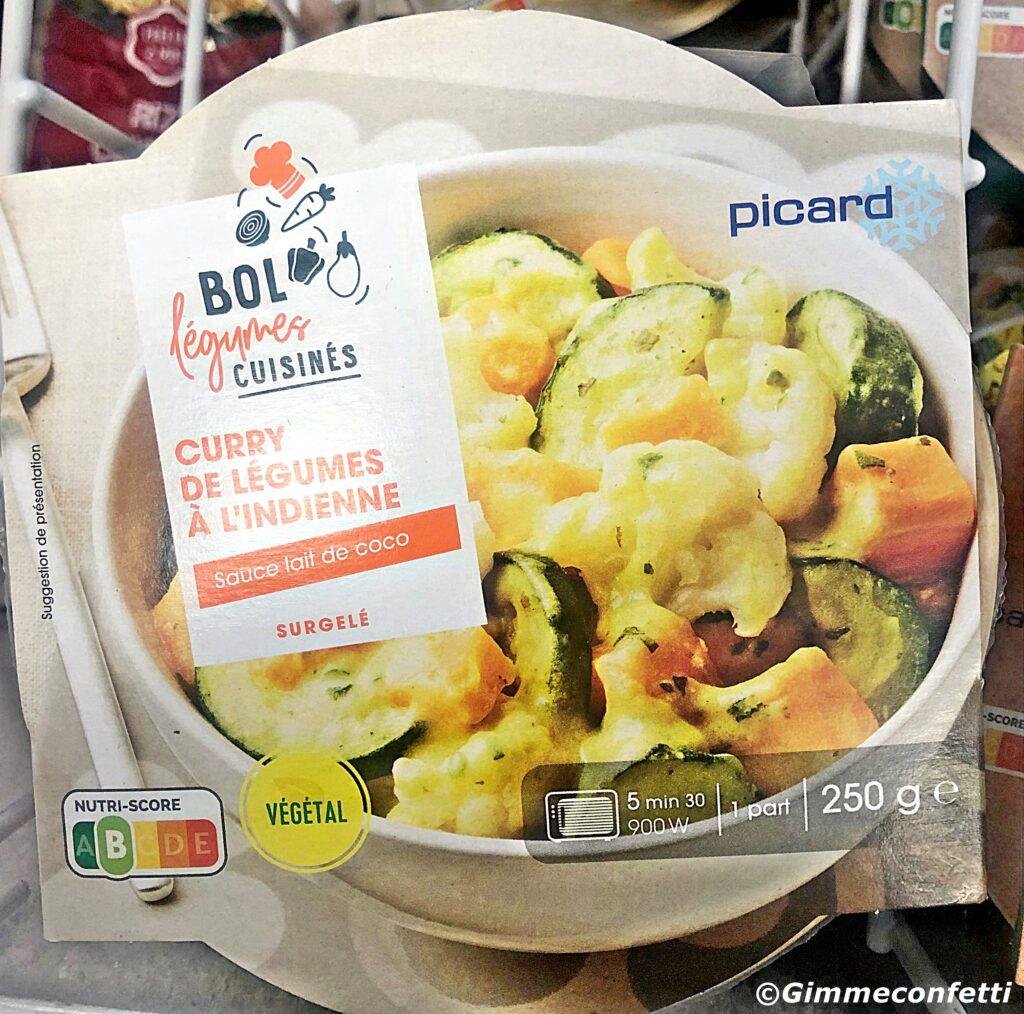 Important: There is another label "veggie" in French but this doesn't mean vegan but vegetarian. Most of the time there is milk or eggs. Make sure to double check the ingredients.
On a few occasions I've had my family pickup something from the supermarket that said veggie they thought was vegan, only for me to tell them it wasn't. Whoop. I don't blame them, it can be confusing from non-vegans.
Best Vegan Grocery Store Products in France
Make sure to read the full guide on the best vegan supermarket foods in France:
25+ Best Vegan Grocery Store Products you Need to Get Your Hands on in France Now
100% Full Vegan Supermarkets in Paris
Vegami [previously Un Monde Vegan] is my go-to vegan supermarket when in Paris. They sell all vegan- food from cheese to seitan to vegan yoghurt. 
Aujourd'hui Demain is a concept store where you can eat at the restaurant, buy vegan groceries, and vegan and eco friendly/ethical products (like clothes, accessories, shoes). Their vegan food is great. They have more unique vegan option products that Vegami doesn't have. But their prices are generally slightly more expensive than Vegami. 
Personally, I buy most of my vegan products from Vegami, as its slightly cheaper (and they offer a loyalty program). I like to visit Aujourd'hui Demain to browse at the vegan grocery and pick up anything that I missed or that Vegami doesn't have. Then I usually also eat there or grab food to go. Their food is delicious!
Supermarkets in France with Vegan products: 
Naturalia: Naturalia is very convenient for fresh, organic produce and features a good selection of vegan products like vegan cheese and vegan yoghurt. I regularly buy their plain organic "tofu nature" 500g for its good price-point and use it to cook vegan dishes.
Biocoop: Biocoop is an organic store with a vegan selection. Their goal is to advance organic farming in a spirit of fairness and cooperation.
Bio C'est Bon: Bio C'est Bon is another organic store. You can find good vegan products here as well. 
Visit Your Local Vegetable Market
For the full list of vegan supermarkets in France check out:
The marché de fruits et légumes (Fruit and Vegetable Market) also known as marché alimentaire (food market) is a great way to find local fresh produce from your local merchants. This is a great option if you live in a remote area or town or just want fresh produce (they have them in big cities as well). It helps support French farmers and business owners. You can also find vegan options like tapenade, nuts and dried fruit plus gorgeous flowers to put a smile on your face! Because you earned it!
Hit the Hard Discount Stores
Living in small rural villages in France as a vegan with no vegan store for miles and no local markets in sight? Go scour for the closest hard discount stores. Hey, don't be too hard on yourself, while it's more ideal to help support local farmers and local produce, sometimes this is a must-final resort.
Action: You can find nuts, oats, deodorised coconut oil (for making vegan cheese or vegan butter), as well as raw vegan bars.
Lidl has fruits and vegetables, pasta, rice, tofu vegan butter, vegan steak.
Aldi has fruits and vegetables and a selection of vegan products like tofu sausages, vegan charcuterie, vegan meatballs.
Buy your Vegan Groceries Online in France 
If you're a vegan living in a small-town village or remote place in France or find yourself constantly on the go or just need the convenience of having your groceries delivered, there are many vegan platforms that can ship your order online.  
The Official Vegan Shop sells vegan groceries, vegan beauty products like makeup, vegan supplements and probiotics, and even vegan goodies for your pets. 
Greenweez is my other go-to website for vegan staples. While not entirely vegan they have many foods for competitive prices. I order legumes, rice, legumineuse, lentils, vegan pasta, oats in bulk and almond butter from them (prices are cheaper than in stores). Basically, I buy in bulk for that one year which comes out pretty heavy, sorry delivery dude. They also have a fresh delivery where you can order vegan cheese, vegan yoghurts and more. Prices are interesting as they also have their own Greenweez brand for foods like rice, bulghour etc.. so it's definitely worth a look.
Naturalia: Naturalia is not entirely vegan but has organic, fresh, products not to mention some vegan products like tofu, seitan, vegan yoghurt, vegan cheese, and nutritional yeast. 
Vegami [previously Un Monde Vegan]: Vegami is a purely vegan store based in Paris, I usually buy from their store, but they also do online deliveries. It's a must!
Picard: Picard is like the Iceland of the UK, where they sell frozen food. While not entirely vegan, you can order frozen vegetables, fruits, quinoa, for your preparations. I've even seen frozen avocado- pretty wack, eh?
I like to get frozen vegetables from them, they're washed and it's convenient to cook with. I have noticed they are beginning to slowly introduce more vegan products throughout the years. These include stuff like prepared vegan meals, a vegan chocolate cookie, and a few vegan sorbet options. For holiday specials they typically try to do at least one vegan option. For Christmas, they've made a Buche de Noel with red fruit, mango, lemon, and pear sorbet. Looks pretty groovy to me!
Book Your Stay with a Kitchen
I know this isn't like the U.S or other places, where it's easy to book a place with a kitchen. But it's still possible. Having a small kitchenette allows you to prepare your vegan meals and save money on breakfast and other meals.
Look into appart hotels, Airbnb's. If you want something cheaper you can always stay at a hostel with a shared kitchen.  
Alternatively, if you feel safer at a hotel and want to go out dining and trying out vegan food during your stay, book a hotel in a good area with vegan restaurants and a supermarket at a walking distance. Try to get one that's also nearest to all your attractions so you're not too far off and have everything.
Will Veganism Take Over France?
Could France's Gastronomy be replaced by the vegan wave? Well not exactly, at least not anytime soon. The French are too attached and proud of their cuisine and heritage. 
However, there is an emerging new wave of a vegan scene brewing and sweeping France and Europe, slowly but surely. With the opening of vegan restaurants and the public in France becoming more aware of the vegetarian and vegan movement and trying to reduce their meat and positively impact the environment, it doesn't look like veganism in France is leaving any time soon! Whoosh
---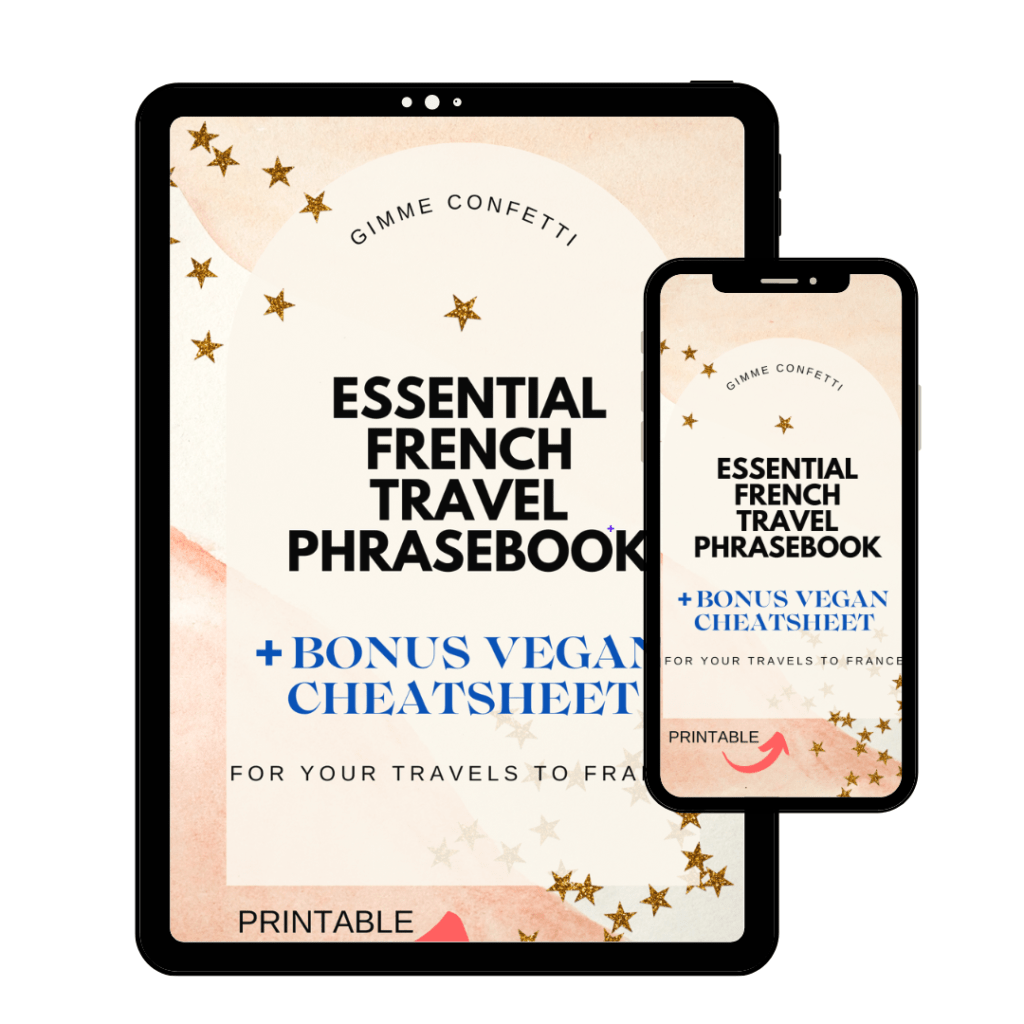 Grab Your ESSENTIAL Free French TravelPhrasebook + Vegan Phrases + Cheeky Bonus Slang
Includes Phrases You NEED to Know + Vegan Essentials in France + BONUS Cheeky French Slang Only Locals Know
---
---
How was your trip to France as a vegan? Was it easier or harder than you thought? Let me know in the comments.
Want More France Travel Help?
Don't miss out! Check out these France travel resources for inspiration for your next trip to France:
Don't Miss the Best Vegan Burger in Paris and Lyon
Ultimate Guide to Avignon: The Best Things to Do in Avignon as a Vegan
15 Fun and Free Things to Do in Avignon
The Most Charming Vegan & Vegetarian Lunch Spot in Avignon
If you found this Guide on surviving France as a vegan helpful, pin it now and save it for later.
Save or Share!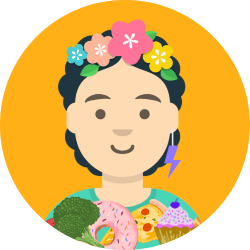 Latifah is a vegan foodie who loves travelling and cooking plant-based recipes. She loves sharing her favorite travel spots and adding a sprinkle of confetti to your day.