You only have one day to stop by Avignon, France as a vegan? Don't panic. This is completely possible in 24 hours. More than 24 hours? I got you covered as well! Here are the best things to do in Avignon as a vegan. 
Avignon pronounced 'Aveenyon' the ending sounding like a French pronunciation of 'non' NOT 'ayviggnon' (told you I got your back 🙂 is located in the South of France.
At the heart of Provence, Avignon is a bustling town rich in culture and history. You can find fabulous medieval architecture, including the iconic Pont D'Avignon and Palais des Papes not to mention stunning gardens and panoramas. This is not your boring French town- here are the best things to do in Avignon as a Vegan.
Les Halles D'Avignon
Address: 18 Pl. Pie, 84000 Avignon, France
Hours⏱: Tuesday- Sunday from 6 am- 1:30 pm (2pm on weekends)
First stop is Les Halles, an indoor market. You can't miss it by the curious green mural outside. If you've never been to a French market or Halles then I do recommend you have a look. As a vegan, if you are unbothered by the sight of meat and fish, the atmosphere is really something else. You can feel the hustle and bustle as soon as you whip those doors open, along with the chants of the vendors.
The Halles is great for morning birds 🦜 as its open every day from 6 am (except Mondays). Although the French gastronomy is heavily- rooted in the meat and dairy culture (yes it's hard to escape), there are still some vegan goodies that will fit nice and snug in your luggage that you can bring back. 
At Les Halles d'Avignon some vegan products you can find are olives, tapenade (olive spread), olive oil, bread, ail (garlic) confit, nuts, dried fruit.
An example of a stall is Serge Olives, who has specialized in these products for the past 50 years and offers a wide selection. Among the crowd, you can also admire the florist's stalls and the fruits and vegetables. A lot of these French Halles are similar so if you have already been to one (or don't have the time) you can simply skip. 
Palais des Papes (Palace of the Popes)
Address: Place du Palais, 84000 Avignon
After your excursion to Les Halles d'Avignon, head to the Palais des Papes or Palace of the Popes which opens at 10 am. 
The Palace of the Popes is definitely one of the best things to do in Avignon and definitely one of the key highlights in visiting the city.
Ok, but did you know that the Palace of the Popes is the biggest gothic palace in Europe? In 1995, it was designated a UNESCO World Heritage site. It is the most important building built during the Gothic period and testifies to the presence of the 9 popes who succeeded each in Avignon during the 14th century.
You can learn about the stages and construction methods of this extraordinary building, as well as its stunning decorations. You will also get a peek at the private apartments of the Pope and their fabulous fresco decorations executed by the Italian artist Matteo Giovannetti.
Palace of the Popes: Accessibility
In terms of accessibility, because it is an ancient monument with 350 steps included and narrow stairs, I do not recommend the Palais des Papes for people with reduced mobility, young children, prams, and anyone who is wobbly (as there are several steep uneven steps).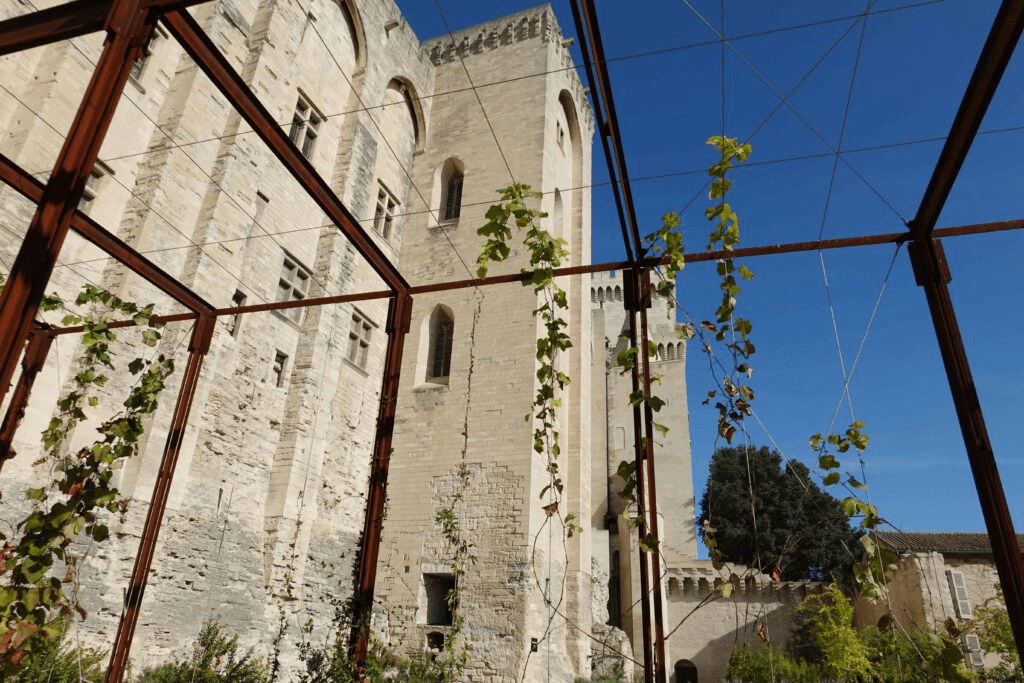 Palace of the Popes: Tickets
There are different tickets available. You can get a single ticket or a combination of 3 places to visit in Avignon combining the Palace of the Popes, Palais des Papes Garden (Jardin du Palais des Papes), and Pont Saint-Bénézet (Pont D'Avignon):
Individual Tickets: Full Price (accurate as of October 2022):
Palace of the Popes: €12
Garden of the Palais des Papes €5
Pont d'Avignon (Pont Saint-Bénézet): €5
---
Combination Tickets: Full Price
Palace of the Popes + Garden of the Palais des Papes + Pont d'Avignon: €17
---
I purchased a combination of the 3 as this was better value for me.
Note: I have only listed the full price for reference. This is subject to change. There are other combinations available for example, a combination of 2 if you only want to do that. Discounts are also available for certain people. You can find more information here. 
To know if it's worth getting the combination ticket, just add up the prices of what you want to see and compare costs.
An interactive histopad is included with your ticket. This provides for an interactive and engaging visit and allowing you to time travel to the 14th century. 
Important: make sure to bring headphones. You can still visit without headphones, but it won't be as great- as you will be reading off the screen with no music or voice narration.
These interactive histopads are fantastic and everyone loved them, even the kids. While walking around I saw tour groups with a guide, and kind of felt bad to see that they didn't have a histopad, frankly they were missing out. Big time.
Palais des Papes Garden
If you purchased tickets to the papal gardens, there will be a sign designating the garden, during the middle of your visit. You will need to take stairs downstairs. For everyone else they continue the visit normally. The garden is not an essential part of the visit and not very big, but still beautiful nonetheless, with a fountain and diverse plants. Be sure to catch a break and take it all in in this quiet haven of peace. A great way to relax, grab a seat on a chaise longue and admire the views.
Note: there is a vending machine with drinks if you need. 
Your ticket typically includes a temporary exposition at the end, so be sure to look out for that. For me it was Amazonia by Franco-Brazilian photographer Sebastião Salgado. This exposition is available from June 27 to November 30 2022, featuring more than 200 photographs, accompanied by projections. 
By the time you finish, it will be lunch time and what better than vegan lunch with a gorgeous terrasse view overlooking a charming street. 
Place de L'Horloge
Address: Pl. de l'Horloge, 84000 Avignon
As you are walk to lunch, be sure to pass by the Place de L'Horloge (if you haven't seen it already). The Place de l'Horloge, is close to the Palace of the Popes and is the main square of Avignon featuring cafes, a theatre, and a carousel. Look up at the gorgeous architecture around and let yourself be transported by the reverberations of the live music and bell tower
Vegan Lunch in Avignon: V&G
Address: 24 Rue de la Bonneterie, 84000 Avignon
Head on over to V&G, just a 5-minute walk from the Palace of the Popes located on rue de la Bonneterie, the most charming and gorgeous little street. What better than lunch with a gorgeous terrasse view. Photographers or anyone will love this!
V &G is a vegetarian restaurant, but most dishes are vegan. Head on over to my full restaurant review here.
An alternative lunch spot is Café Tulipe, a great café offering vegan options in Avignon:
Café Tulipe
Address: 7 Rue Des Trois Faucons, 84000 Avignon
Closed on Sunday
Only a 7-minute walk from the main square, this café offers some of the best coffee in Avignon with plant-based milk available. Café Tulipe serves meat but also offers vegan and vegetarian breakfast and lunch options. As a vegan, visiting Avignon, you can order the gazpacho, tofu veggie bowl, avocado toast (ask for it to be vegan), and carrot cake. They also have vegan breakfast options (soy yoghurt topped with granola and fruit) with fresh juices. Score!
Where to Eat Vegan in Avignon? Alternative Addresses:
Naka
Address: 4 Pl. de la Principale, 84000 Avignon
Coeur D'Artichaut
Address: 6 Pl. de la Principale, 84000 Avignon
Cham
Address: 56 Rue Carnot, 84000 Avignon
Mecha Uma Avignon
Address: 29 Rue du Vieux Sextier, 84000 Avignon
Hygge
Address: 25 Pl. des Carmes, Avignon
Le Riad
Address: 17 Rue Galante, 84000 Avignon
Miam Miam
Address: 14 Rue du Vieux Sextier, Avignon
Saigon
Address: 5 Rue Portail Matheron, 84000 Avignon
---
For My Full Vegan Restaurants in Avignon Guide Don't Miss: Must Try-Vegan Restaurants in Avignon (From a Vegan)
Pont D'Avignon (Pont Saint-Bénézet) 
After lunch you can choose to make your way to the Pont Saint-Bénézet. This symbol of Lyon, famously known for the song "Sur le Pont d'Avignon", is a short visit consisting of a walk on the bridge where an audioset is provided.
Pont D'Avignon: Accessibility
In terms of accessibility the Pont d'Avignon is much more accessible than the Palais des Papes. There is an elevator for people with reduced mobility, prams, or wheelchairs. You just need to ask for access to it at the entrance and they will provide you with a key. 
Pont D'avignon: Thoughts
I'm glad I purchased the set ticket for three things as paying full price for it seemed just a little bit steep. It was alright but at the end of the day it's just a bridge that you walk on… I was telling someone the parallel between the Mona Lisa and the bridge. I feel like the Mona Lisa became famous because it was stolen (around five times, starting in 1911) and was in the hot press so many times.
At the same time, the song had a major influence in propelling the bridge forward in terms of fame. Otherwise… What is the difference between it any other bridge? The irony is it's still a must, like you can't go to Paris without visiting the Mona Lisa or go to Avignon without seeing the Pont D'Avignon! The song nestled my childhood growing up and I would have regretted not seeing it, so I am glad I did. What are your thoughts on it, let me know in the comments? 
If you don't want to pay to go on the bridge (which is understandable) you can view it just as well from the top of the Rocher des Domes. I also saw a lot of tourist buses stopping under the bridge on the side of the road and seeing it from there.
Notre-Dame des Doms Cathedral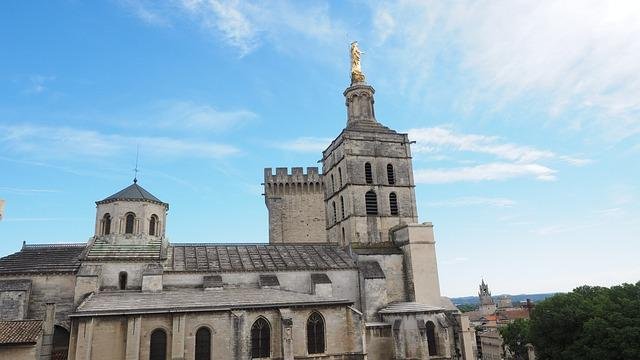 The Notre- Dame des Doms Cathedral was built in the 12th century, and is listed as a historic monument. With a distinct Romanesque style with Roman and Greek influences, admission is free. It's a little different from what you may expect inside, with a simple and minimal interior. Overall, it makes for a nice, quiet and peaceful addition to your visit. 
Make sure to admire the awesome views of the bridge below. 
Rocher des Domes
At an altitude of 30 metres, the Rocher des Doms overlooks the stunning Rhone Valley offering an irresistible picturesque landscape you will not be able to resist. This will give you a fabulous view of the Pont D'Avignon. You can access it from the stairs beginning from the Notre Dame des Doms cathedral or by the banks of the Rhône that goes to Barthelasse Island.
If you want an easier way to get up, take the Petit Train (see more below).
Jardin Des Doms
The Jardin des Doms, a green garden designed "à l'anglaise" is located at the top of the Rochers des Doms. Created in 1830, this green haven provides coolness and gorgeous views. There is also a lovely pond with fish that you can admire along with peacocks and swans. Kids will love it. 
At the foot of the Rock, on the Rhône side, a free river shuttle will allow you to cross the river to go to the island of Barthelasse, another popular place to walk in Avignon. Skim down for more about visiting the Barthelasse Island.  
The Petit Train- The Little Train of Avignon
Address: Pl. du Palais, 84000 Avignon
If you are travelling with elders or kids and don't want to climb all the way up to the Roche des Domes, or just want to put your feet down and relax and at the same time take in all the views, then the Little Train is a great option for you. You can grab the train at the main square (place) in front of the Palais des Papes.
There's a train every 30 minutes. The ride lasts 45 minutes and it's free for 0–4-year-olds and €6 for 5–12-year-olds. For adults the cost is €9.50. There are headphones that explain each of the 12 train route pointe, but they're not the best, so bring your own if you can. The main default language narration in the train is French so you don't need headphones if you understand. Otherwise, you can use the headphones to tune in for the different languages. 
You'll get a good laugh and get to play the tourist card to the max. The atmosphere aboard was very 'bon enfant' and the presence of our train seemed to amuse many people including ourselves. Expect a lot of waves 😊 Also our driver was a pro swerving his way through the tiny streets with sometimes centimetres to spare between the buildings.
The Petit Train Route Includes:
01 • PALAIS DES PAPES
02 • MUSÉE PETIT PALAIS
03 • ROCHER DES DOMS
04 • HÔTELS DES MONNAIES
05 • PONT ST BÉNÉZET
06 • PLACE CRILLON
07 • MUSÉE CALVET
08 • COLLECTION LAMBERT
09 • PLACE DES CORPS SAINTS
10 • MUSÉE ANGLADON
11 • PLACE DES CHÂTAIGNES
12 • TOUR PHILIPPE LE BEL
Have more than 24 hours to kill, and looking for more things to do in Avignon?
Remparts d'Avignon
The city of Avignon is encircled by defensive stone walls called the Remparts d'Avignon. Built in the 14th century, these walls have been designated a Unesco world heritage site.
Stroll around and admire the unique architecture that helped defend the town from enemies.
Ile De La Barthelasse- Barthelasse Island
If you are staying longer in Avignon then the Barthelasse island is must! Fun fact: the Barthelasse Island is the largest river island in Europe boasting a size of 700 hectares or 9,8 km2. This is the spot to go to when visiting Avignon if you dislike crowded places or just want to get away from all the tourists. You can get there either by walking across the bridge or on the navette fluviale (river cable ferry) which is free and departs at regular intervals.
You are immediately transported to rural France after getting off the ferry crossing the Rhone. Few cars, some bikes, and empty roads make up the only traffic. In fact, most of this island is made up of farms and pastures.
Despite the island's lack of attractions, it is a super pleasant area to take a riverside stroll down the riverbank and gaze back over at the city. You can get stunning views of the ancient city and its structures across the river.
Again, you can return by ferry, (drop off near the Pont D'Avignon) or walk back on one of the riverside bridges.
Navette Fluviale (Bac À Traille)- The River Cable Ferry 
Address: Quai de la Ligne, below the Rocher des Doms 84000 Avignon
To grab the ferry head to: Ferry Quai de la Ligne, under the Rocher des Doms
Barthelasse Island Ferry Schedule:
– February 16 – March 31: Wednesday 2 pm-5:15 pm – Saturday, Sunday and public holidays from 10 am-11:45 am / 2 pm-5:15 pm
– April 1- June 30 (except May 1st): every day 10 am-12:15 pm / 2 pm- 6:15 pm
– July 1- August 31: every day 11 am- 8:45 pm
– September 1st- September 30th: every day from 10 am- 12:15 pm / 2 pm-6:15 pm
– October 1st- December 31st (except Christmas): Wednesday 2 pm- 5:15 pm – Saturday, Sunday and public holidays: 10am-11:45am / 2pm-5:15pm
In terms of accessibility to the Barthelasse island ferry: the ferry is accessible for people with limited mobility, however for boarding with a wheelchair an accompanying person must be present.
Musée Calvet
Address: 65 Rue Joseph Vernet, 84000 Avignon
In order to fully take in the richness of Avignon's heritage, make your way to the Calvet museum of fine arts and archaeology. You will be able to see the works of the Calvet Foundation, founded by Napoleon I, in a stunning hotel particulier (private residence). These include sculptures by Camille Claudel, James Pradier, and Giambologna, as well as priceless pieces of French painting from the Renaissance to the 20th century. The museum also includes a collection devoted to ancient Egypt. 
Rue de Teinturiers- Street of Dyers
Adresse: Rue des Teinturiers 84000 Avignon
Head down the ancient cobblestoned streets, tiny bridges, and water wheels where leather was tanned. These streets are vestiges of 5 centuries, when the street was a true key manufacturing hub up until the late 19th century. At that time, weaving and dyeing fabrics required the activation of no less than 23 wheels. There are four left now, which really add to the area's charm.
 A suggestion: Try to visit throughout the daylight as a few strange characters can come your way. Note: this sounds like a Pokémon lurking behind a bush, but you get the idea. 
Musée du Petit Palais- Avignon
Address: Palais des archevêques, Place du Palais, 84000 Avignon
The Musée du Petit Palais is a museum and art gallery that you can visit. It houses a great display of Italian gothic and early renaissance paintings, as well as a few great medieval sculptures. You can find gorgeous ancient ceilings in several of the rooms. If you don't speak French, it can be a little challenging to completely understand and appreciate the works due to minimal English descriptions. There is work being done in the museum, so currently only a few areas can be visited which makes for an expedited visit if you don't really have a lot of time. 
Basilique Saint- Pierre (Saint Peter's Basilica) Avignon
Address: Rue Saint-Pierre, 84000 Avignon
Tucked away in a quiet side street, Avignon's Saint Peter's Basilica boasts great Medieval Gothic Architecture. Make sure to have a look at the beautiful imposing walnut door carvings, one of the main highlights of this basilica. That alone is worth a stop. 
Palais du Roure
Address: 3 Rue Collège du Roure, 84000 Avignon
For another museum, drop into the Palais du Roure. If you move too quickly through the outside courtyard, you'll miss the main entrance, which is in the tunnel. A gothic home then transformed into a hotel particulier in the 17th century, the Palais du Roure is a museum of popular arts and customs, as well as a Provencal and archaeological resource center. It gives a glimpse into Provencal culture and includes artwork, furniture, and photos. 
Musée Lapidaire
27 rue de la République 84000 Avignon
Closed on Mondays
If you are interested in a collection featuring Greek, Roman, Gallo-Roman, and Paleo-Christian works then be sure to stop by the Lapidary Museum. Access is free for the permanent collections with a visit typically lasting 1 hour.  
In terms of accessibility, there is an exterior access ramp outside that allows for entrance to the museum. Inside, the museum is also accessible through several ramps. 
Musée Angladon
The Musée Angladon is housed in a former private residence or 'hotel particulier', dating from the 18th century.
If you're a fan of Vincent van Gogh, Paul Cézanne, Edgar Degas, Édouard Manet, Alfred Sisley, and Odilon Redon among others then you will not be disappointed by their works presented here.
Explore Villeneuve lès Avignon
Of all the things to do near Avignon, one of the most underrated activities that many visitors don't know about is Villeneuve lès Avignon.
Situated not far from Avignon, it's a true hidden gem and close by bus from the city center.
Often overlooked by many, if you're looking to get away from the tourists and explore new territory in a calm and quiet setting then head here. 
Don't miss the Chartreuse de Villeneuve,  the gardens of Abbey St. Andrew, and the Fort of Saint-André.  
The cloisters, gardens, and medieval architecture make for a wonderfully peaceful and beautiful afternoon visit. 
Important Things to Know Before Planning Your Trip to Avignon
Avignon Stores and Museum Opening Hours⏱:
Keep the following information in mind when planning your trip to Avignon:
The majority of department stores open Monday-Saturday from 9:00am- 7pm. Smaller shops will typically close Monday morning and between 12:00 pm-2 pm. Most stores are closed on Sunday (except boulangeries and pâtisseries, which typically open Sunday mornings). Some museums close on Tuesdays like the Petit Palais and Musée Calvet (except for the Palace of the Popes which is open daily), so always check.
Most restaurants in Avignon close at 2 pm and only reopen at 7 pm, so if you want to grab a vegan snack or something to nibble on during the day or even during your train ride in the evening, make sure to do that during the day. There are not many great vegan options at the train station so if your train leaves later it's always wise to grab something.
Transportation: Taking the Train in Avignon
Gare d'Avignon TGV (station) vs Gare d'Avignon Centre 
If you are arriving or leaving Avignon by train🚆 from another town you are probably confused as to why there are two stops with practically the same name. Make sure to check your ticket to see where exactly you need to travel to. If possible, when booking a train ticket try to book for Gare D'Avignon Centre. This is sometimes not always possible, especially for Ouigo trains which depart from Gare d'Avignon TGV (station).
The low competitive price of Ouigo trains fares and overall good service still make it worth it, in my opinion. Personally, Ouigo is my travel of choice across big cities in France. Depending on the method you choose, the Gare d'Avignon TGV and Gare D'Avignon Centre will not be that far from each other. 
How to Get From Gare d'Avignon TGV to Gare D'Avignon Centre?
Train
The first and easiest way to getting between these two stations is by train ride. This takes only 5 minutes and costs around €2. Train times typically run smoothly with trains running approximately every 24-30 minutes daily. 
Taxi
The second fastest way is to take a taxi ride. This takes 6 minutes and costs approximately 11- 15 euros on average. Taking the taxi is an option if you want something more convenient and want to avoid the hassle, although there are luggage compartments in the train and the ride is very short and comfortable. 
Bus 122
A third way is through bus line 122 which takes 19 minutes. 
Bus 10
Alternatively, you can take bus line 10 with a typical journey lasting 28 minutes. 
Walk 
Finally, if you're feeling up for it and don't have much luggage, you can choose to walk. However, keep in mind walking between Gare d'Avignon TGV (Station) and the Gare d'Avignon Centre typically takes 43 minutes. 
Make Sure to Check Train Times
I made the mistake of travelling from Arles to Avignon without checking the next train times for my return, thinking there would be more regular train times. It turns out there was a train every 2-3 hours which meant I was stuck there and could spend less time in Avignon. Kinda frustrating. Please don't assume there are always trains regularly running and always check. Overall, Avignon is a fantastic scenic little town with a ton to do!
Travel With Me and Explore Avignon Below
Don't Miss my guide on 15 Fun and Free Things to Do in Avignon
---
More resources:
The Most Charming Vegan & Vegetarian Lunch Spot in Avignon
What was your favorite thing about Avignon? If you haven't visited yet, what are you looking forward to the most? Let me know in the comments. Let's chat. 
---
Want More France Travel Help?
Don't miss out! Check out these France travel resources for inspiration for your next trip to France:
Essential Guide 2023: Best Things to Do in Provence: Avignon as a Vegan
Don't Miss the Best Vegan Burger in Paris and Lyon (2023)
Essential Guide: Surviving France as a Vegan- Oui it's Possible (From a Local)
2023: Must Try-Vegan Restaurants in Provence: Avignon (From a Vegan)
If you found this essential vegan guide with the best things to do in Avignon helpful, pin it now and save it for later.
Save or Share!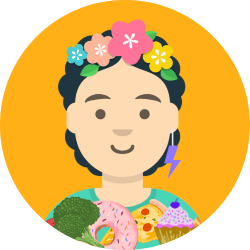 Latifah is a vegan foodie who loves travelling and cooking plant-based recipes. She loves sharing her favorite travel spots and adding a sprinkle of confetti to your day.