Are you thinking of planning a trip and wondering what are the best things to do in Lyon while you're there? Lyon is a city situated in the Rhône Alpes region of France and purely and simply MAGICAL. I visited more than 4 times and never get bored. It's in my top 3 "coup de coeurs" cities to visit in France. You be the judge. *whispers I probably like it more than Paris*
Best Things to Do in Lyon
Enjoy the Sunset at the Basilique Notre Dame de Fourviere
Perched atop a hill with views overlooking the cityscape lies this iconic church with the best view of the city. To get there, ride the funiculaire from the old city. It's about 2 euros and probably the best 2 euros you'll ever spend because, trust me, THAT is a lot of climbing.
On the way back, I usually walk down (and don't take the funicular). It's a nice walk. Plus, you get to make fun of all the breathless people coming up. Or clap for their efforts?
Top tip: The tickets are the same regular tickets for the bus and metro. You can also buy them from the machines inside the station however, there's usually a queue so if you don't want to want to wait, get them from the underground metro stations. There are machines at Bellecour and Cordeliers.
Once you enter the station. It's the train on your RIGHT (not left).
The church is famous, for its design and breathtaking vistas of the city. Once you step inside you'll be captivated by the mosaics, mesmerizing glass windows and sculptures that adorn its interiors.
Wander the Cobblestone Streets of Vieux Lyon
Vieux Lyon literally translates to Old Lyon. As a UNESCO World Heritage site, this charming area is known for its gorge. architecture quaint cobblestone streets and scenic Renaissance era buildings. Walk around and discover all the little shops, restaurants and cafes scattered throughout this district.
Some of the best Traboules are here, making it one of the top things to do in Lyon for history and architecture enthusiasts.
Get the complete guide to Vieux Lyon HERE
Enjoy Lyon's Cool Space- Ship Looking Museum and its Scenic Rooftop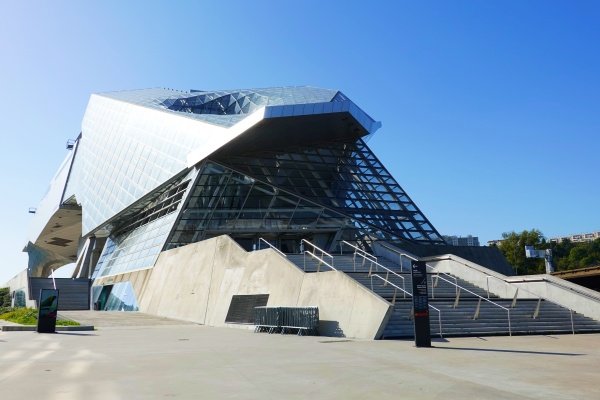 The Musée des Confluences is a cool space ship-looking modern museum dedicated to science and anthropology. Situated at the confluence of the Rhône and Saône rivers it hosts permanent and temporary expos. It's one of my favorite museums and best underrated things to do in Lyon.
The temporary expos are always changing so its very exciting. I've been there twice for a great expo on the Native Americans Siu Tribe and magic.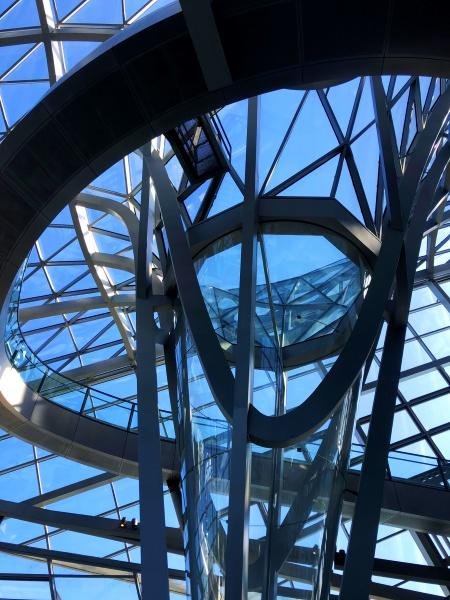 Top tip: Don't miss the stunning views at the rooftop café at the top of the museum. Take the elevator to the top. (You don't need to be a paying customer to visit the top).
Have a Picnic at Parc de la Tete d'Or
If you're looking for relaxing things to do in Lyon, the Parc de la Tete d'Or is IT. The parc is a green space cocoon nestled in the heart of Lyon. It's like the Central Park of Lyon. Admire its picturesque gardens, serene lake and beautiful golden gates.
My experience: I love coming here in the spring and summer and just chilling with a book and breathing in the nature. It's one of the nicest and most decadent gardens I have been to in France. It's really something special to have green space within a big city you can enjoy.
Spending a day in this park is a perfect chance to take a pleasant stroll indulge in a delightful picnic or even rent a boat for an enchanting exploration of the lake.
Explore the Croix Rousse District
Situated atop a hill is the district of Croix Rousse which is celebrated for its rich silk weaving heritage. The area proudly showcases shops, boutiques and ateliers where you can acquire exquisite silk products.
Don't miss out on exploring the traboules. Secretive passageways that wind their way through historical buildings. Which were once used by silk weavers to transport their precious goods. These unique pathways provide a glimpse into Lyons vibrant history while offering an unparalleled way to discover the city.
Related: Things to Do in Croix Rousse to Discover the Real Lyon
Snap Photos at the Mur des Canuts
Don't miss the impressive Mur des Canuts at Croix Rousse, one of the biggest frescos in Europe.
Immerse Yourself in the Time of Cinema at the Institut & Musee Lumière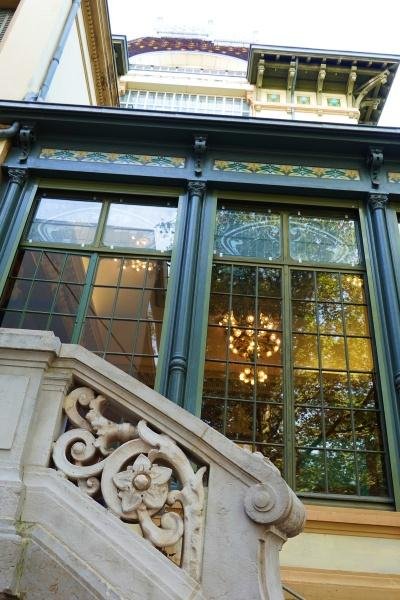 Did you know cinema was born in Lyon by the Lumiere brother? This museum may be underrated but it's a MUST- among the best things to do in Lyon. It's located in the Lumiere's home or should I say villa. I really enjoyed it. It was very cool to learn about cinema history and the Lumière brothers who shaped the film industry.
Its exhibits trace the evolution of cinema where you can view a collection of vintage cameras, projectors and film posters.
Top Tip: It's a great museum for kids. They had these optic games that were fun even for adults. Haha I may have enjoyed them too much.
Take a Selfie at Place des Terreaux
Place des Terreaux stands out as a square in Lyon renowned for its exquisite fountains and the impressive City Hall, known as Hôtel de Ville. It serves as an intersection where art and history come together.
Don't miss the gorgeous fountain. In winter it looks super cool when the water freezes, it makes for a more dramatic photo.
Go for a Morning Stroll at Lyon's Marché Saint Antoine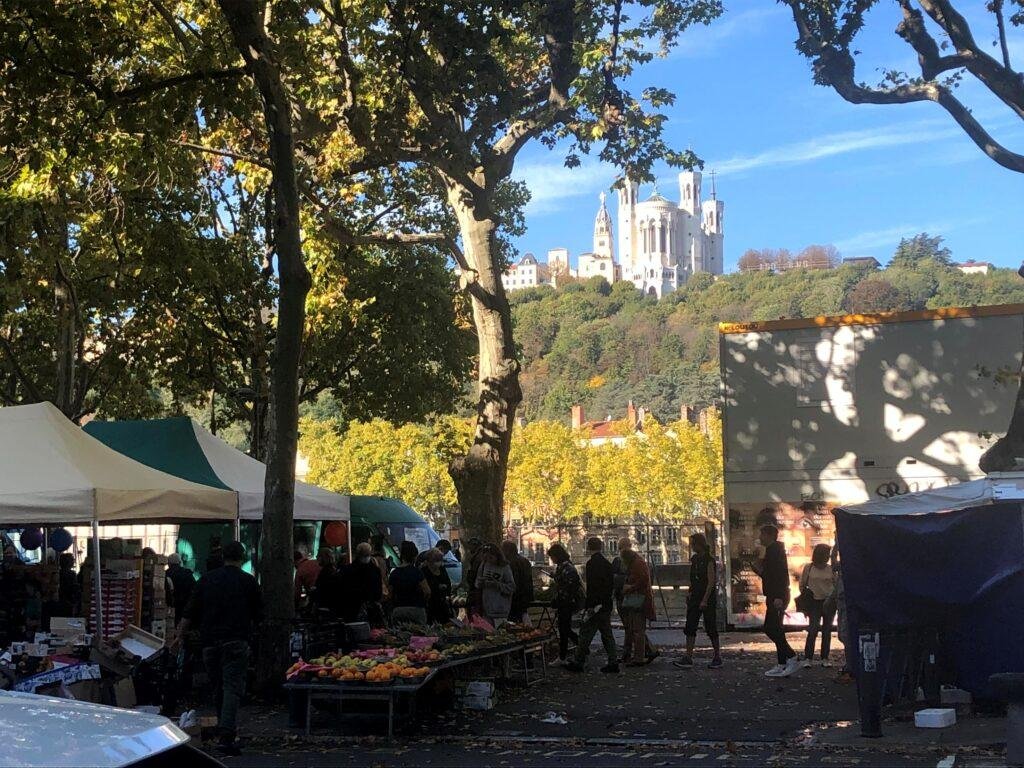 If you have an appreciation for food then the Marché Alimentaire Saint Antoine is a great spot to experience a French market. I go there in the morning and pick out some herbs, fruits and vegetables. There are also flower stalls and olives, as well as baked goods and Spanish and Lebanese food. The view of the quay is also unbeatable with the Fourvievre in the backdrop.
Fun Fact: I found it amusing how in Lyon they're creative in their presentation at the markets. The fruits and vegetables are presented in round dishes and you tell the vendor which one you want. In Paris, all the products are just lying there.
Explore the Sucriere: Lyon's Revamped Ancient Sugar Factory
The Sucriere is a former sugar warehouse transformed into an epicenter of contemporary art. You've probably seen its tower from a far. It serves as a hub, for expos.
Enjoy a walk on the canal and explore cool building like the orange buildings. They always have good expos going on (I visited one on the "Petit Prince") so check their website to see what popping.
Top tip: Once you're done visit the Confluence Mall write closeby.
Have a Vegan Lunch
Want to take a break from all the bouchons Lyonnais. There are a ton of awesome vegan options in the city. Lyon is one of the best cities I have been to for vegan food in France. And the cool thing is that they're all in close proximity to each other.  
Marvel at the Architecture of the Grand Hôtel Dieu:
The Grand Hôtel Dieu surpasses being merely a hotel and it's a stunning building. Previously a hospital, it has now been transformed in a hotel. My favorite shops to visit there are Cos and Aromazone (love this place for diy natural beauty).
Just walk through and enjoy the peaceful quiet and the courtyards with green spaces.
Top tip: In the summer they put out lounge chairs, I love coming here to relax. It's one of the best things to do in Lyon when the weather warms up.
It's also known by the locals who come here to meet up with friends and enjoy their packed lunches.
Check out Place de Bellecour
Place Bellecour stands as the square in Lyon adorning itself with an impressive statue dedicated to Louis XIV. As Lyons largest square, Place de Bellecour for me is the center of Lyon.
If you're ever lost just use the place as you're starting point. It's literally the starting point to get to anywhere.  Enjoy the statue at its center and the beautiful open space and views of the Fourvievre hill.
Admire Art at the Musée des Beaux Arts:
The Musée des Beaux Arts de Lyon is one of Frances most notable museums dedicated to fine arts. It houses a collection of paintings, sculptures and decorative arts spanning various periods and styles. Famous artists like Rembrandt, Monet and Picasso have their works on display here.
My thoughts: I may have just been spoiled by Paris museums like the Louvre and Musée D'Orsay. I found this one a little underwhelming (not enough impressionists for my taste).
If you're limited on time, I absolutely recommend the Musée de Confluence and the Musée de Lumiere instead.
Top tip: Don't miss the small garden at the entrance of the museum (even if you decide not to visit) outside the museum. I highly recommend it. You don't need tickets to enter. Just go through the regular entrance guard bag check.
Grab Ice Cream:
Head to Vieux Lyon and stop by Terre Adelice Glacier which is known to be one of the best in Lyon.
For vegans: I have a sweet spot for Amorino (pictured above-it's a few metres away) and their delicious vegan options.
Attend a Performance at the Opéra National de Lyon
The Opéra National de Lyon is an opera house celebrated for its groundbreaking productions and performances. With a historical background it has hosted numerous renowned singers and composers. Attend a performance or embark on guided tours to discover the beauty of the building.
Discover the Roman Heritage of Lyon at the Musée Gallo Romain de Fourvière
The Musée Gallo Romain de Fourvière is a museum that showcases Lyons heritage. Lyon is called the City of the Gauls. Inside you'll find a collection of artifacts including mosaics, sculptures and ceramics relating to the Roman Empire and its influence on Lyon.
This was a nice museum to visit. I went during "Nuit des Musees" when it was free but would def pay to visit.
As you exit, don't miss the Roman theatre down the steps.
Spot your Favorite Personality at the Fresque des Lyonnais
Located in Lyons Vieux Lyon district the Fresque des Lyonnais is a mural depicting cool figures from Lyons past. Like the Lumière brothers Paul Bocuse and Antoine de Saint Exupéry. Right by the quays, you'll notice it from afar. Bring your cameras.
Top tip: Don't forget to turn back. There are more frescos on the small street behind. Most people miss these completely.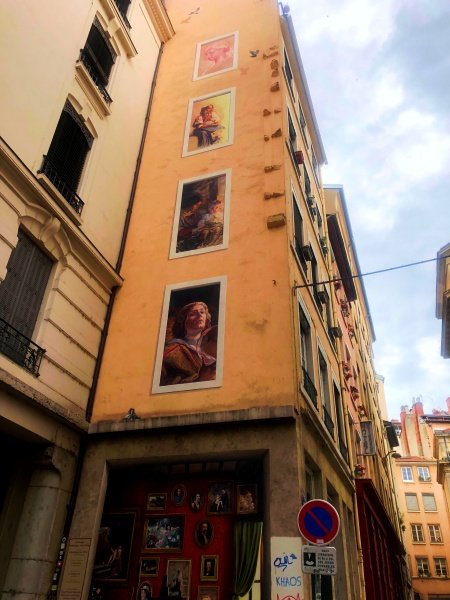 Go Shopping at the Part-Dieu Mall
If you want to go shopping and just miss having all the stores in one place, or need refuge on a rainy day the Lyon Part-Dieu mall is big and only 15 minutes from the city center by bus.
How to Get to Part Dieu Mall from Lyon?
Take the C13 or C3 Bus from Cordeliers and get off at Part Dieu- Jules Favre.
Note this bus can be busy so make sure you buy tickets in advance from the metro station underneath.
Top tip: Rue de la République is also a great street to go shopping. It's Lyon's main pedestrian only shopping street. You'll find a great selection of shops in this area. My top picks: Flying Tiger and Sostene Grene.
Found these Things to Do in Lyon helpful? Pin it now read it later.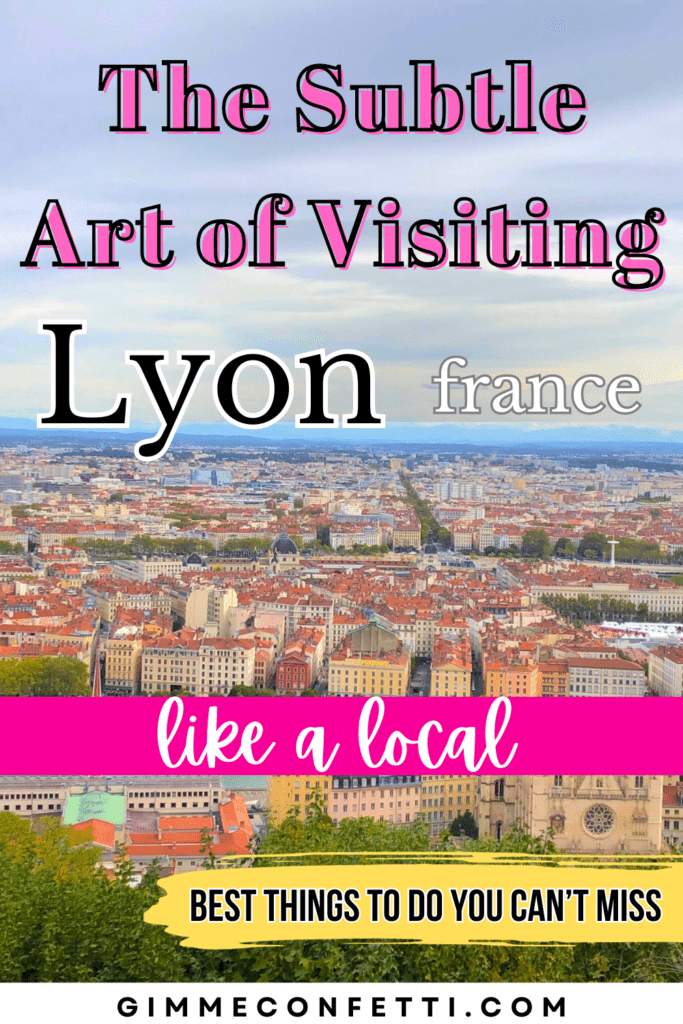 Save or Share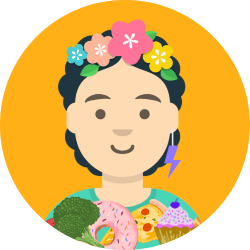 Latifah is a vegan foodie who loves travelling and cooking plant-based recipes. She loves sharing her favorite travel spots and adding a sprinkle of confetti to your day.