Picture this: you're walking through cobble stone streets that have been around for hundreds of years. Each step you take is like turning the pages of Vieux Lyon's amazing past, through centuries of medieval and Renaissance history PLUS dope secret passageways. If you're visiting Lyon then you can't MISS the Lyon Old Town. I've visited Lyon at least four times (yes savage) and Vieux Lyon is something I always find myself gravitating back towards. Here's my complete guide to Vieux Lyon. Allez go.
This post may contain affiliate links at no extra cost to you, I may earn a small commission. This allows me to keep this blog going and provides you with free content. All opinions are my own.
What is the old town of Lyon called?
The Lyon old town is called "Vieux Lyon" in French.
Vieux Lyon (Lyon Old Town)
Quick History of Lyon's Old district (Vieux Lyon)
Vieux Lyon dates back to the Middle Ages. During the Renaissance period, it became an important center for silk production, trade and banking in France.
The silk trade brought great wealth to the city and Vieux Lyon played an important role in this industry. To protect the valuable silk, secret passageways called traboules were used (which you can explore today).
Vieux Lyon was also home to wealthy merchants and influential political figures. These traders came from Spain, Italy, German and Flanders and not only conducted business there, but also built their homes.
That's why, for example, you will see Italian Renaissance influences (check out the Maison des Avocats" or House of Lawyers). Yes avocado is lawyer in French. Hilarious.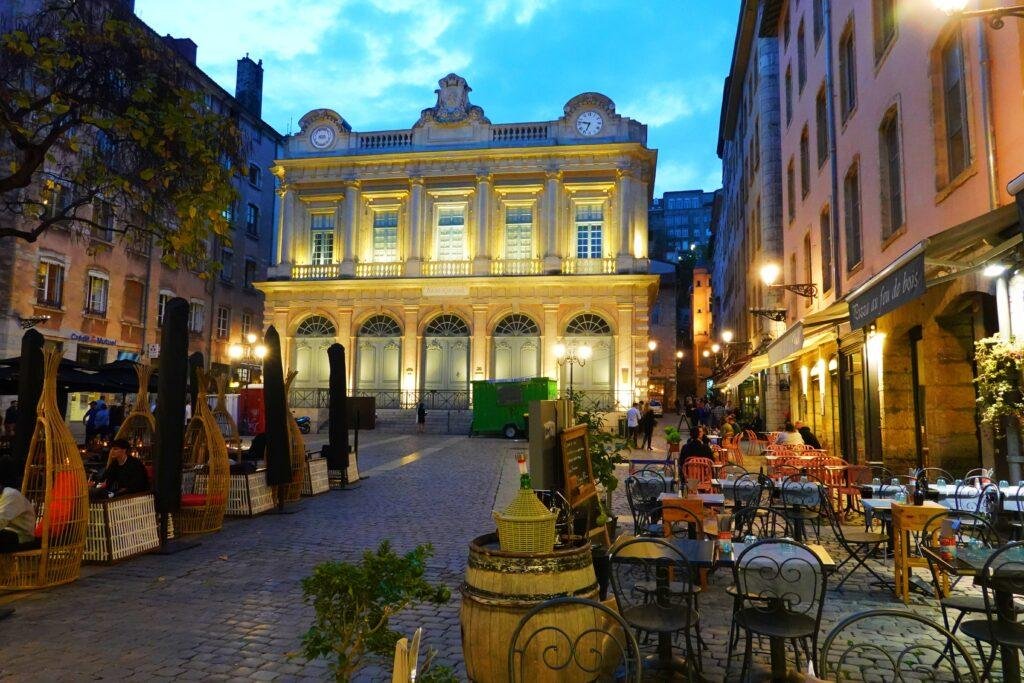 What are the Subdistricts of Vieux Lyon?
Vieux Lyon is divided into several neighborhoods or districts, each with its own unique character and attractions. Here are the main subsections of Vieux Lyon:
1. Saint-Jean: This is the heart of Vieux Lyon and is known for its narrow cobblestone streets, Renaissance architecture, and the impressive Saint-Jean Cathedral. It's a popular area for tourists and has many places to eat and go shopping.
2. Saint-Paul: Located to the north of Saint-Jean, Saint-Paul is another charming neighborhood in Vieux Lyon. It's known for its traboules, historical buildings, and pretty squares.
3. Saint-Georges: Situated to the south of Saint-Jean, Saint-Georges is known for its lively atmosphere and is a hub for dining and entertainment. It features many restaurants, cafes, and shops.
4. Saint-Just: This district is located on the Fourvière Hill and is known for its historic sites. Think Basilica of Notre-Dame de Fourvière and the Roman ruins. It offers panoramic views of the city and the rivers.
Where to Stay in Vieux Lyon?
Here's my two cents. I actually don't recommend to stay in Vieux Lyon. Don't get me wrong it's a great place to visit, but I would not want to stay there.
Here's why:
Limited Number of Hotels in Vieux Lyon
Lyon is small and walkable PLUS has good public transport you can access better hotels elsewhere
Along with rue Merciere, Vieux Lyon is as touristy as IT GETS
Vieux Lyon can be loud and animated (if you're into that stuff that's cool I know I'm more of a quiet space person)
Best Lyon Hotels in the City Center
Note: Hotels outside of Lyon may be slightly lower in price. But I don't believe in spending more than 30 minutes commuting for a hotel.
Plus, I hate wasting the day commuting- it takes away from the actual time to visit the sites. I believe you can find good hotels in the city center.
My Top pick Hotels in Lyon:
❤️️ Luxury: Hotel Boscolo: It is better value than the famous hotel in Hotel Dieu of similar standing- I have stayed in both. The rooms are also designed on the Petit Prince theme. Uhh who can resist.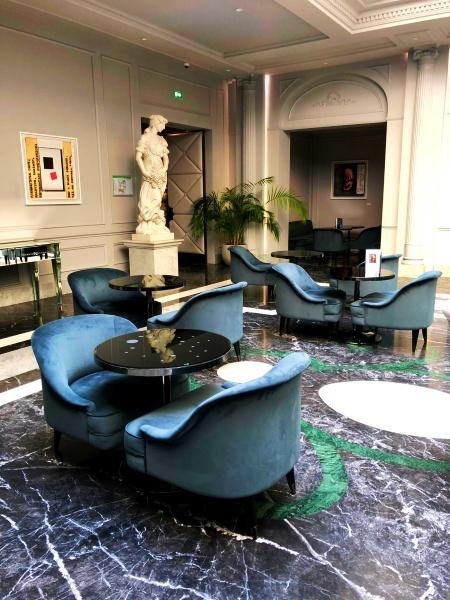 ---
Top tip: As a vegan, skip their breakfast and head to Zoe Café in Vieux Lyon (a vegan bakery).  
---
❤️️ Best for families: Warwick Reine Astrid – Lyon (great if you're 5 ppl with kitchenette- also good if you have dietary restrictions (vegan) and need to cook.
❤️️ Budget & Quirky Hotel: Hôtel Le Boulevardier
How to Reach Vieux Lyon?
• By Metro: The Lyon Metro is one of the easiest I've come across. Take Line D and get off at "Vieux Lyon. Cathédrale Saint Jean," right in the heart of the Lyon old town.
Top tip: Save on transportation with the Lyon City Pass. You get free public transportation, so you don't need to pay while travelling around the city.
• By tram: You can reach Vieux Lyon by taking Tram Line T1 or T2. Get off at Tram T1 stop "Saint André," and Tram T2 stop "Saint Jean."
• By train: If you're arriving in Lyon by train, simply get off at the main train station, Gare de Lyon Part Dieu and then hop on Metro Line B to reach "Vieux Lyon. Cathédrale Saint Jean." Alternatively, if you arrive at Gare de Lyon Perrache, you can also grab Metro Line A to get to Vieux Lyon.
Attention: Should you rent a car while in Lyon? The answer is no. It's very pedestrian friendly. Plus, the city's plan is to limit cars in the city center and make streets pedestrian only. I find public transportation works well to get around.
Best Things to Do in Vieux Lyon
Explore Lyon's Secret Passages:
Explore the hidden passages of Vieux Lyon, known as "traboules," which connect courtyards and streets. During World War II, these traboules also served as hiding spots for members of the French Resistance (who knew the city by heart).
Get the complete guide to the most beautiful traboules in Lyon OPEN to the public HERE
Climb up to Fourvière:
The Basilica of Notre Dame offers beautiful panoramic views of Lyon. It's one of the MUST things to do in Vieux Lyon. Just like visiting the Eiffel Tower in Paris.
Fun fact: You've probably noticed a mini-Eiffel tower next to the church called the Fourvière tower. It's closed to the public since the 1950's.
Take the funicular up Fourvière and enjoy the panoramic views of the city and the Alps.
Appreciate L'horloge des Guignols:
Also known as the "Charvet Clock" this iconic clock situated in Lyon features characters from French puppet shows. Right outside the Musée Gadagne- kids love it.
Fun fact: After spending nearly 150 years at 8 rue Poulaillerie on the Presqu'île in Lyon 2nd, it was moved to Vieux Lyon (where it's located now) .
Admire One of Lyon's Oldest Houses:
You can find one of the oldest houses in Lyon within Vieux Lyon, known as the "Maison Thomassin." It dates back to the 13th century. That's like 700 years old.
Stroll Around Rue Saint Jean:
This charming street lies in the heart of Vieux Lyon and has a lively atmosphere with its shops, restaurants and historical buildings. I love walking here to really get a feel and take in what Vieux Lyon is all about
Discover the Musée Gadagne:
Housed in a Renaissance mansion, this museum is dedicated to the history of Lyon.
This museum complex includes the Museum of Lyon History (Musée d'Histoire de Lyon), and the Museum of Puppets (Musée des Arts de la Marionnette) from the World.
This was a good museum I liked. It was informative about the history of Lyon from it's Gaul past to modern times. It also had nice puppets and toy additions. I think kids will love it.
Top tip: Don't miss the lovely open green terrace at the top with rose bushes. Take the elevator to the fourth floor (you don't need tickets). One of the most romantic places in Lyon. It's small but cozy. Enjoy a drink.
Try traditional Lyonnais cuisine (or not):
The area is renowned for its authentic Lyonnais bouchons, family-owned restaurants where you can taste the local culinary delights.
If you don't have a calling for meat like me, there are some good vegan and vegetarian options.
Explore Saint Jean Cathedral:
The cathedral in Vieux Lyon is a symbol of Gothic architecture with stunning Gothic design located in Vieux Lyon.
Don't forget to check out the impressive astronomical clock and enjoy the breathtaking views from the top.
Shop for Souvenirs to Take Back Home:
Vieux Lyon has many charming shops and boutiques selling unique souvenirs, from silk products to local crafts.
Top picks: There are some nice soap stores. Don't miss the Little Prince store.
Admire the Temple du Change: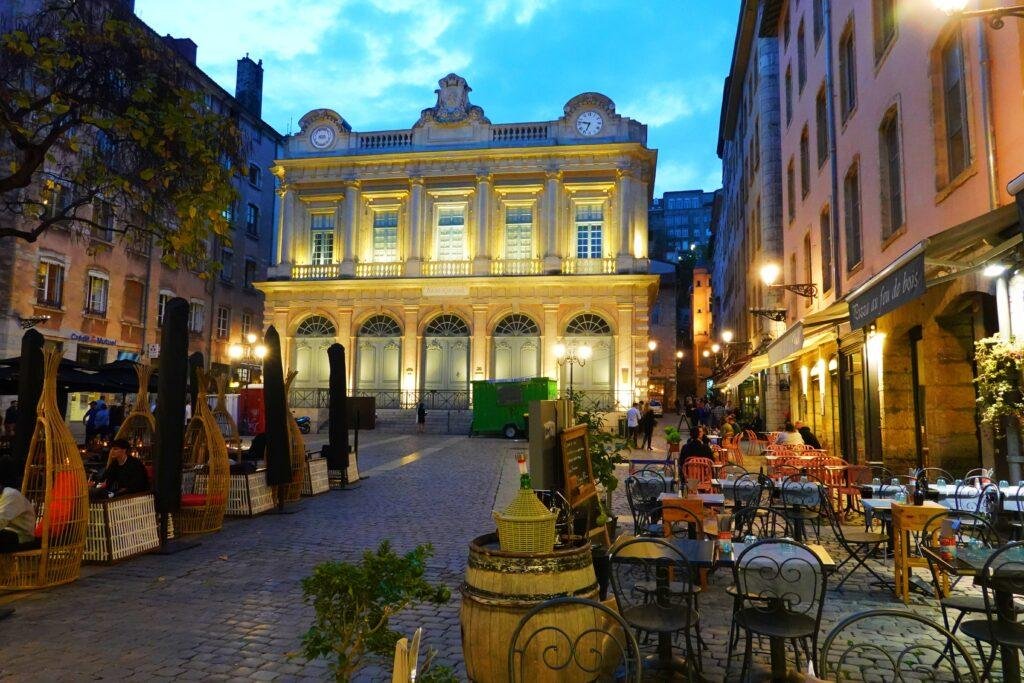 Take a moment to appreciate the Temple du Change at Place du Change—a charming square with lovely Renaissance buildings.
Fun fact: As an interesting tidbit I picked up from a tour guide (I was not prying I just passing by and happened to hear haha). Temple du Change was the Wall Street of Lyon during the 16th century.  It hosted Change Fair for 15 days where merchants would settle their transactions.
Walk along the Saône River:
Take a stroll down the Saône River and take in the beautiful views of the river and the city.
Visit the Miniature and Cinema Museum:
If you pass by Vieux Lyon you can't miss this unique little museum which showcases of miniatures and special effects used in movies.
Top tip: There's a teaser you can enter and view the displays and simply exit before reaching the ticket entrance.
Take a Guided Tour:
To get the most out of your visit, consider joining a guided walking tour. Local guides can provide you with insights and stories about the area about the neighborhood's history, architecture, and hidden gems.
Enjoy a River Cruise:
Appreciate Lyon's beauty even more with a scenic boat ride along the Saône River.
Grab a café at the many squares: Vieux Lyon has several charming squares, like Place Saint-Jean and Place du Change, where you can enjoy a cup of coffee and go people watching after a long day.
Visit the le Petit Musee de Guignol Museum:
Stop by this museum and boutique and be enamored by all the puppets. They have an collection of puppets from all over the world.
Grab a Selfie at the Iconic Palais de Justice: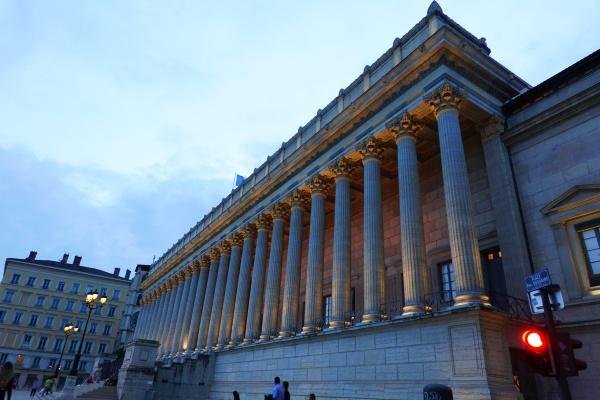 With it's impressive and view of the Soane, make sure to grab a selfie here and take in the views of the river right aross.
Keep in mind that exploring Vieux Lyon on foot is highly recommended. Take your time strolling through its narrow streets, appreciating the architecture and immerse yourself in the district's rich history.
FAQs
How old is Vieux Lyon?
Vieux Lyon, which is the Lyon old town, has a long history dating back to medieval times. It stands as one of Europe's most well preserved Renaissance districts, with numerous buildings from the 15th to 17th centuries.
What architectural style can be found in Vieux Lyon?
Vieux Lyon showcases predominantly Renaissance and medieval architectural styles within its historic Lyon old town. You'll encounter beautifully preserved structures from the 15th to 17th centuries adorned with intricate details, timber framed houses and hidden passageways called "traboules." The district's charm is enhanced by the presence of the Saint Jean Cathedral, which showcases the exquisite beauty of Gothic architecture.
Found these Things to Do in Vieux Lyon helpful? Pin it now read it later.
Save or Share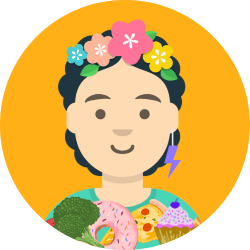 Latifah is a vegan foodie who loves travelling and cooking plant-based recipes. She loves sharing her favorite travel spots and adding a sprinkle of confetti to your day.