Croix Rousse
Nestled on a hill, Croix Rousse is the artsy area of Lyon with street art, small boutiques and vintage stores. I always make a point of visiting Croix Rousse when I'm in Lyon. And I typically score some of the best vegan food here. Croix Rousse is this trendy place that reminds me of the Marais in Paris but with hills for an extra workout and a stunning panorama as a reward. 
A Brief History of Croix Rousse:
Croix Rousse holds a fascinating history that dates back to the 16th century. It played a crucial role as the center of the silk industry, with its hidden passageways known as traboules. The Canuts or silk workers lived in Croix Rousse.
Who are the Canuts?
The Canuts were skilled silk workers in Lyon during the 19th century.
France was a major silk producing hub and the Canuts contributed to driving that economy.
How to Get to Croix Rousse from Lyon's City Center?
• By Walking:
If you are a 'sportif' or borderline enjoy infling pain a.k.a pushing your body's limit then you can climb all the way up to Croix Rousse. You'll also be able to enjoy the nice views while climbing up. Kudos because I couldn't. Start at the bottom of the Montee Bonafous and follow the steps all the way up.
• By bus:
Take the C13 bus (from Cordeliers), 33 or 45 bus.
• By public transportation
From Bellecour:
This is what I use. From the Bellecour station take the metro line A (red) direction "Vaulx-en-Velin La Soie" to Hôtel de Ville L. Pradel. Then switch to metro line C (yellow) direction Cuire and get off at Hénon.
Top tip: Most people just get off at Croix Rousse, but I recommend getting off at Hénon (the stop after). This drops you right at the Mur des Canuts and allows you to enjoy the Grande rue de la Croix Rousse. You also get to ride this lovely old train with red seats on line C.  
Ok but can we just talk about the quote from the Little Prince on my seat: "Dessine moi un mouton. Le ciel est vide sans imagination". "Draw me a sheep. The sky is empty without imagination." Seems like Antoine de Saint-Exupery was around Lyon.
What to Do in Croix Rousse Lyon
Discover Croix Rousse's Hidden Passageways: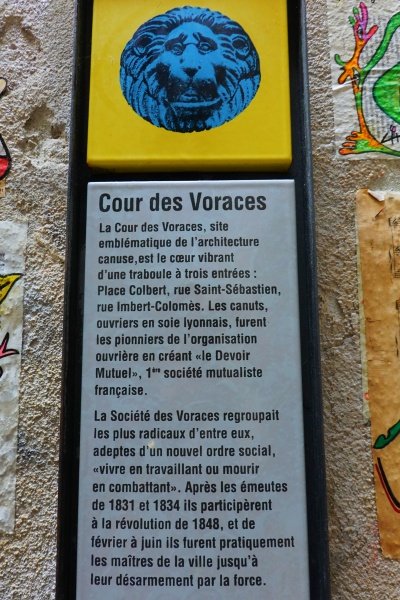 Explore Croix Rousse's hidden traboules and narrow passageways that connect streets and buildings. The Cour des Voraces is the most popular. Don't miss my guide on the must-visit traboules in Lyon.  
Get the complete guide to the most beautiful traboules in Lyon OPEN to the public HERE
Mur des Canuts
The Mur des Canuts is a giant stunning fresco on a building in Croix-Rousse you can't miss. It is a tribute to the silk weavers (Canuts) who played a significant role in Lyon's history.
Stroll Around the Grande Rue de la Croix-Rousse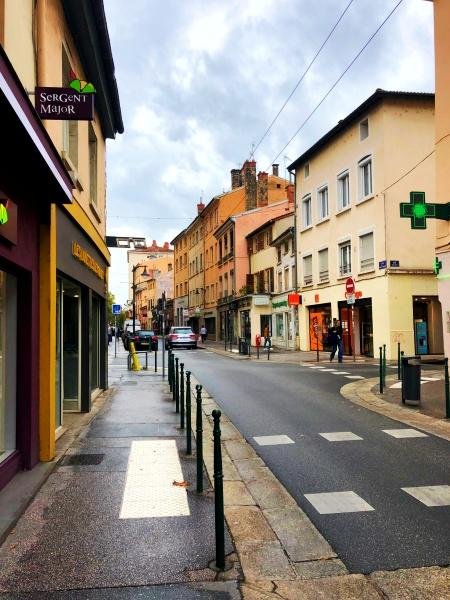 Enjoy the small shops on this street.
There's a lovely stationary store on this street "Papeterie Temps Libre" to get lost in.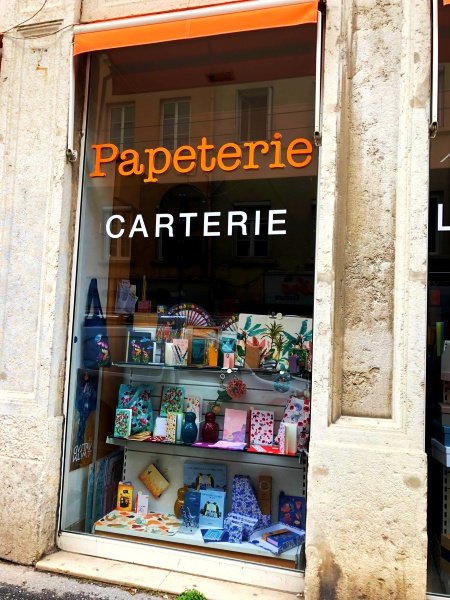 Don't miss: Aux 4 coins du Monde (a charity shop) for beautiful hand-made artisanal goods from Latin America. There have some beautiful embroidered souvenirs, jewelry as well as handmade sweaters. All reasonably priced.
The money is used to finance development programs and pay fair trade salaries to its artisans so it's for a good cause. 
Towards the end of the street there's a place (square) with the theatre du Croix Rousse.
Top tip: Grab some viennoiserie at the Boulangerie Les Artistes (not vegan) one of the best in Lyon
Discover the Most Unique Garden You'll Ever See: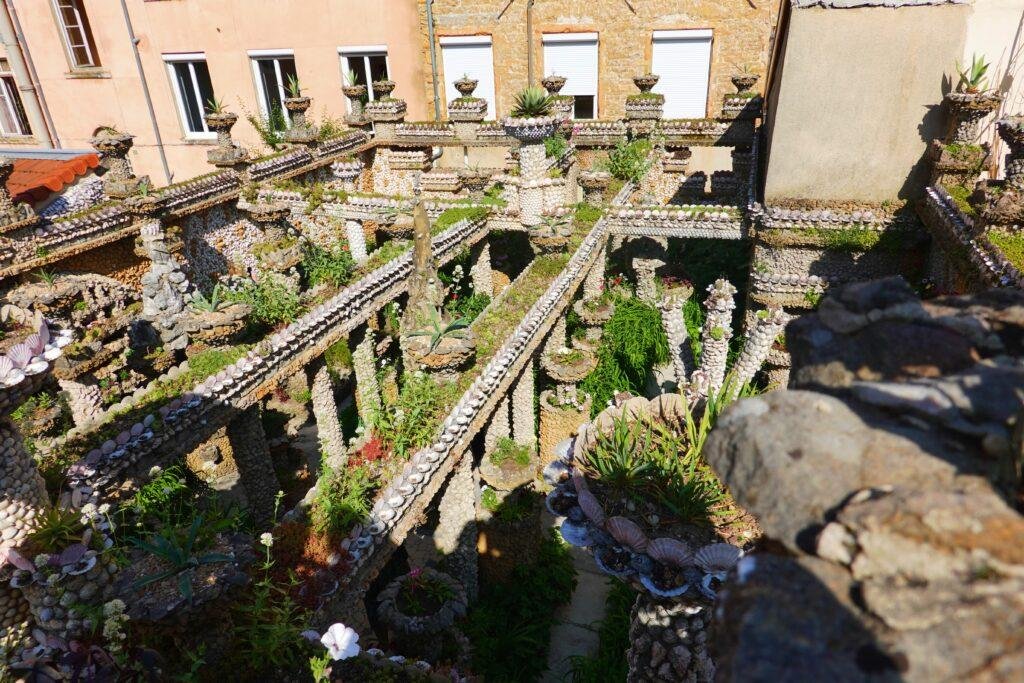 Adorned with thousands of seashells and stones, do not miss the Rosa Mir Garden.
It was created by Jules Senis Mir between 1957 and 1983. After being diagnosed with throat cancer, he set on a mission to build this garden. Influence by Gaudi and his work as a mason, he spent over twenty years decorating the walls and with seashells and stones. He later gave tribute to his mother, Rosa Mir Mercader.
It's really spectacular and I was lucky enough to see it.
Top tip: I went in the summer and I had to wait around 25 minutes. It's so unique and only open a couple months a year so it can get popular. Bring a hat and sunglasses as there's no shade and the sun will directly hit you while you're in the queue.
It's not really a garden to chill in as it's quite small and there are a lot of visitors. So expect to walk through it, snap some photos and move along.
Snap a Photo at the Escaliers Prunelle:
There's nothing to put you in a better mood than the pop colours of the Prunelle Stairs. Unless you have to climb it. Then it's another story. For all y'all Instagram, Tik tok'ers or photographers this is an unmissable spot for photos.
Look Up at the Statue de Jacquard
As you walk, take a peep at the statue of Joseph-Marie Jacquard the honors the inventor of the Jacquard loom (a device used for weaving fabric or textiles).
Wander the Marché de la Croix Rousse
Stroll through the Marché de la Croix Rousse for a classic French marche experience.
Open everyday from 6 am- 1 pm. Closed on Monay
My experience: My favorite food market is the marche alimentaire du quai Saint-Antoine for the stunning views and produce.
Visit the Maison des Canuts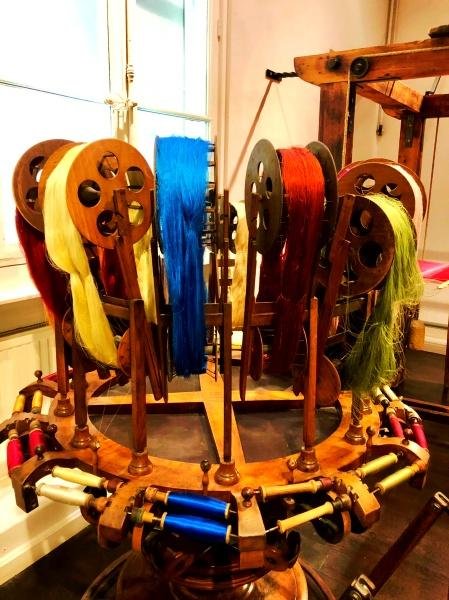 The House of the Canuts gives more insight into the history of silk weaving and silk production in Lyon.
My experience: It's small (3-4 rooms max) however I believe entrance was only around 2 euros. So it's still worth it. The information on the walls is in French. For English, ask the lady behind the counter and she will give you a leaflet.
Before leaving admire the silk scarfs at the gift store.
My fav Lunch Spots in Croix Rousse
It's time for a lunch break. After all the walking around it's time to give your body some love.
❤ Fruta Madre: (vegan, gluten-free, sugar free). One of my fav foodie spots. I LITERALLY have to come here every time I visit Lyon. And it's a testament that vegan food can be delicious, comforting and filling. Every dish is cooked beautifully. You basically compose your own dish with the different recipes. (They are happy to explain allergies). It's seasonal and the dishes change based on produce. The price/quality is excellent for the warm and filling meal. LOVE.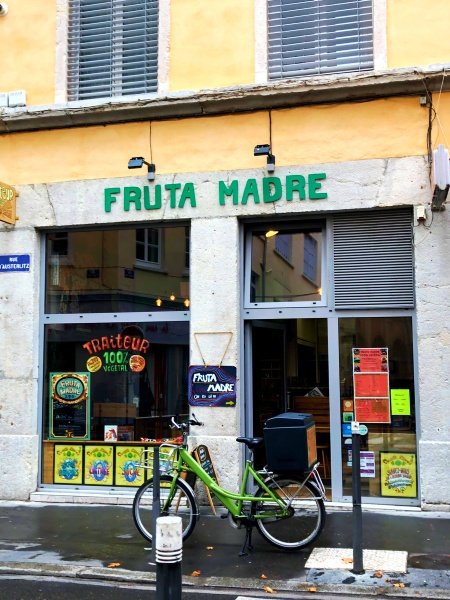 It's a small restaurant with few seating. Grab your food and take it to the benches of the Gros Caillou for a sunny picnic.
❤ Like an Elephant: This is a lovely proper vegan dine in with a casual atmosphere. The dishes are great. I had the best vegan panacotta ever here.
In the nice weather, soak up the sun with a table on the terrace.
❤ For dessert: Head to Zoe café for some vegan goodies. Their speculoos cookies with pecans are a dream. Also shout out to their cinnamon brioche.
Take a Selfie with the Gros Caillou
A great symbol of Lyon is the "Gros Caillou" or Big Rock. And it's literally just that. A big boulder rock. So did Sisyphus get tired carrying the boulder and decide to take a break at Lyon?
Apparently it was uncovered during the construction of the first funicular that connected this neighborhood to the Presqu'île. This boulder is said to have from the Alpine mountains over 200 km away.
You can admire the Mont Blanc on sunny days. It's the perfect spot to chill, enjoying a coffee at a local café, or admiring the quaint architecture.
Fun fact: The Bande du Gros Caillou was a historical criminal gang that was active in Lyon during the 19th century.
Admire L'amphithéâtre des Trois Gaules
So having visited Fourvieve you probably admired the Ancient Theatre of Fourvière there. But did you know there's also a Roman amphitheater in Croix Rousse?
This site once hosted major gatherings and games during the Roman era.
Difference: The Ancient Theatre of Fourvière was primarily used as an entertainment space for theatrical performances and musical shows. In contrast, L'amphithéâtre des Trois Gaules had a more versatile role, hosting various events such as religious ceremonies and civic ceremonies.
As you descend the Grand Montee admire the cute small boutiques and pick out some nice souvenirs. There are jewelry, bookstores, restaurants and more.
Go on a Street Art Treasure Hunt:
Croix-Rousse is known for its vibrant street art scene. Go on a treasure hunt to find the most beautiful street art.
You can find a lot of the best street art at the Cour des Voraces and Montee Grande but, also scattered all around Croix Rousse. 
As you explore the neighborhood, keep an eye out and snap some pictures.
FAQS
What do you call people that live in Croix-Rousse?
Croix-Roussien
Found this guide on Croix Rousse helpful? Pin it now read it later.
Save or Share!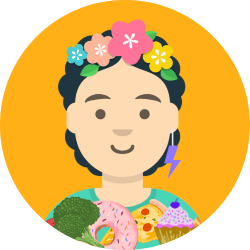 Latifah is a vegan foodie who loves travelling and cooking plant-based recipes. She loves sharing her favorite travel spots and adding a sprinkle of confetti to your day.