Avignon can be pricey. I get it. Those euros can sure add up day after day, especially after visiting museums and going out fine-dining. I'm going let you in on a secret. Avignon has a ton of fabulous and super fun free things to do that even the most miserly Scrooge visitor can take advantage of! And no I'm not talking about just walking down a river, but actually visiting markets and museums for free, and filling your eyes with the most breath-taking scenic views of the South of France. Unearth the hidden gems of Avignon and learn about the rich culture the South of France has to offer. Here are the 15 best free things to do in Avignon!
This post may contain affiliate links at no extra cost to you, I may earn a small commission. This allows me to keep this blog going and provides you with free content. All opinions are my own.
#1 Stroll Around the Place de L'Horloge and Admire The Hotel de Ville
One of the best free things to do in Avignon is to wander around the Place de L'Horloge.
This square located in the city center boasts scenic cafes, a theatre, and a carousel.
You cannot miss it, it's right next to the Palace of the Popes and the Hotel de Ville (town hall).
Admire the town hall and its neoclassical architecture style. Look up at the stunning building all around you and allow the sounds of the live music and bell tower to transport you as you stroll around. 
Once your done grab a café at a nearby restaurant terraces and just chill. 
In winter there is a temporary ice-skating rink outside.
#2 Check out Les Halles d'Avignon
You've probably passed by this facade with a curious green plant mural without realising it's a food market. No need to buy anything, just go in and experience the unique atmosphere.
You will instantly feel transported as soon as you fling open those doors with the hustle and bustle of chants of the vendors.  
#3 Admire the Stunning Panorama at Rocher des Domes
Another free thing to do in Avignon is to visit the Rocher des Domes. 
The Rocher des Doms, or dome of the rocks offers a breath-taking view of the Rhone Valley and a gorgeous view that is impossible to resist.
To get there climb up the stairs from the Notre Dame des Doms cathedral or via the Rhône River banks leading to Barthelasse Island.
While you are up there you can spot the Pont D'Avignon from a wonderful view.
#4 View the Pont Saint-Bénézet From the Rocher Des Doms 
While you do need to pay to visit the Pont D'Avignon (Saint-Bénézet), many people don't know that you can view it from the top of the Rocher des Doms. 
You won't be missing out on much as a paid visit to the bridge only consists of a brief commentary in an audio set and a short walk on top of the bridge. 
My best recommendation is viewing it from the top of the Rocher des Doms. 
Many tour buses were parked under the bridge to allow tourists to view it.
#5 Stroll Around the Jardin Des Doms
On top of the Rochers des Doms you can head to the Jardin des Doms, a gorgeous garden.
It's a great place to visit for families, where you can admire peacocks and swans, not to mention a lovely pond with fish that you can enjoy. 
You can take a free river shuttle from the Rhône side at the foot of the Rock across the river to the island of Barthelasse, another well-liked walking location in Avignon. For more information on visiting Barthelasse Island and a schedule of departures, click here.
#6 Explore Ile De La Barthelasse
If you're looking for one of the best free things to do in Avignon, be sure to head to Barthelasse island, the largest river island in Europe.
If you don't like busy places or just want to escape the crowds of tourists while visiting Avignon, head here.
You can travel there on foot across the bridge or by taking the free river cable (navette fluviale). It departs at regular intervals. You can find the schedule in my Ultimate Avignon post here.
The island consists mostly of farms and pastures with very few cars, and some bicycles and empty roads.  
Even though there aren't many attractions on the island, it's a lovely place to wander down the riverbank. Don't miss the gorgeous views of the historic city from across the river. 
To get back to the city, you can again take the ferry back or head back or head back on either of the riverside bridges. 
#7 Visit the Musée Calvet for Free
Visit the Calvet museum of fine arts and archaeology to fully appreciate the richness of Avignon. This stunning hotel particular or private residence displays works of the Calvet Foundation, founded by Napoleon I. You can find the French paintings from the Renaissance to the 20th century, as well as a housed collection devoted to ancient Egypt. 
#8 Wander Through the Rue de Teinturiers (Street of Dyers)
Explore the historic water-wheels and tiny bridges where leather was tanned. This charming cobblestoned street dates back five centuries where it served as a true manufacturing centre up until the 19th century.  
A minimum of twenty-three wheels had to be turned in order to weave and dye clothes. Now, only four remain. 
Turn it into a game- can you find them all?
#9 Visit the Notre-Dame des Doms Cathedral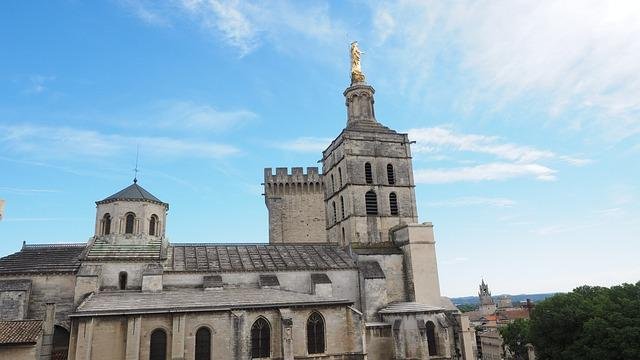 Now, one of the best free things to do in Avignon, is to admire this 12th century cathedral, listed as a historic monument. With a distinct Romanesque style with Roman and Greek influences, admission to the cathedral is free. It's a little different from what you may expect inside, with a simple and minimal interior. Overall, it makes for a nice, quiet and peaceful addition to your visit. 
Head's up: be sure to admire the lovely views of the bridge below. 
#10 Visit the Musée du Petit Palais
Head to the Musée du Petit Palais, a free museum and gallery. You can find several medieval sculptures and a wonderful collection of Italian paintings from the early Renaissance and Gothic period. 
Don't forget to look up at the beautiful antique ceilings in several of the rooms! 
#11 Explore Medieval Gothic Architecture of the Basilique Saint- Pierre
The Saint Peter's Basilica in Avignon is hidden away in a peaceful side street and features great Medieval Gothic architecture. 
One of the basilica's great features is its amazing walnut door carvings, which in itself merits a stop!
#12 Visit the Palais du Roure Museum for Free
Another free museum in Avignon is the Palais du Roure. Don't miss the entrance from the outside courtyard which is located after a tunnel. 
The Palais du Roure is a museum of popular arts and customs, as well as a Provencal and archaeological resource centre.
Formerly a gothic home, it became a hotel particulier or private mansion in the 17th century. 
It features artwork, furniture, and photos providing great insight into Provencal culture.
#13 Visit the Musée Lapidaire for Free
If you enjoy Greek, Roman, Gallo-Roman, and Paleo-Christian then head to the Lapidary Museum in Avignon. 
Access to the permanent collection is free and open to the public.
Bonus: Visits typically last only an hour. This is great if you're on the go!
#14 Explore The Remparts d'Avignon
Of all the free things to do in Avignon, don't miss the Remparts d'Avignon. The city of Avignon is encircled by defensive stone walls called the Remparts d'Avignon. Built in the 14th century, these walls have been designated a UNESCO world heritage site. Make sure to go explore their unique architecture. 
#15 Go Shopping at Rue de la République
Stroll around the town's main shopping street which starts off from the clock tower square and winds its way past restaurants and shops. It's Ideal for shoppers who love to shop!
---
---
Staying in Avignon
I personally use booking.com and have been using them for years. They are convenient and price match so if you find a cheaper rate elsewhere, they will reimburse you the difference.
Most of the best places are taken early so be sure to book your stay early. 
---
Looking for the best things to do in Avignon in 2022? Where to eat if you're vegan or vegetarian, as well as transportation tips and getting around Avignon?
Be Sure to Grab my Free Ultimate Guide to Avignon: The Best Things to Do in Avignon as a Vegan.
---
What was your favourite thing about Avignon? If you haven't visited yet, what are you looking forward to the most? Let me know in the comments. Let's chat.
---
Want More France Travel Help?
Don't miss out! Check out these France travel resources for inspiration for your next trip to France:
Essential Guide 2023: Best Things to Do in Provence: Avignon as a Vegan
Don't Miss the Best Vegan Burger in Paris and Lyon (2023)
Essential Guide: Surviving France as a Vegan- Oui it's Possible (From a Local)
2023: Must Try-Vegan Restaurants in Provence: Avignon (From a Vegan)
---
---
Found this guide about the best free things to do in Avignon helpful, pin it now and save it for later.
Save or Share!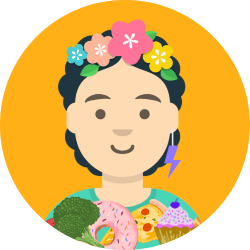 Latifah is a vegan foodie who loves travelling and cooking plant-based recipes. She loves sharing her favorite travel spots and adding a sprinkle of confetti to your day.