If you're looking for a delicious vegan and gluten-free whole roasted cauliflower, then this is the recipe for you!
One of the best ways to enjoy a vegan appetizer is through this showstopper whole roasted cauliflower. This whole roasted cauliflower is a great vegan appetizer with rich flavour that will wow your guests, especially when comes the time to carve that cauliflower!
Far from the typical bland roasted cauliflower recipe you may have tried this recipe is tangy and full of rich flavor, thanks to the delicious sauce.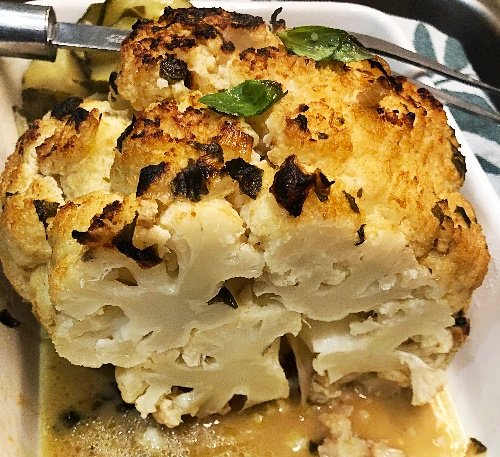 While the ingredients are basic, the result is delicious. This delicious vegan appetizer dish is made by roasting a cauliflower in the oven in a creamy Thai green curry sauce served with zucchini.
By cooking the cauliflower in the oven, you get a nice and crispy exterior while the interior is cooked just right and topped with a delicious and savory creamy sauce.
This easy and delicious recipe is perfect for a vegan or vegetarian meal, and it's also dairy free so it's great for anyone looking for a plant-based and delicious dish.
I love the way cauliflower can be transformed into such a delicious and healthy dish, and I know that you will too!
How to Make the Best Whole Roasted Cauliflower
Add the olive oil to casserole pan with lid (that can be used in the oven) and sauté the onions and garlic for two to three minutes after the oil is heated.
To the casserole add the coconut milk, bay leaves, Dijon mustard, pomegranate molasses, lemon juice, green curry paste and water Once it boils cook it at a simmer for 5 to 6 minutes.
In the meantime, cut zuchinni slices into round 1 inch pieces. Place aside.
Wash your cauliflower and remove the stem to make the entire head of cauliflower lay flat.
Then dice the leftover stem and set aside. Nothing will be wasted!
Place the cauliflower head into the casserole and use a soup ladle to pour the sauce over the cauliflower, being sure to cover all of it. Then shift the cauliflower face down into the casserole. Turn over (right side up) and top with sauce. Add the zuchhini slices onto one side inside the casserole and make sure the sauce is thoroughly coated as well.
The casserole should be covered with a lid and cooked in the oven for one hour. At the halfway point (after 30 minutes), take the zucchini and place it into a separate bowl so that it doesn't overcooking. Reuse the soup ladle to mix the sauce into the food. With the soup ladle coat the cauliflower with the sauce.
Once the 1 hr is up, activate the upper grill and roast for a further 2–3 minutes to achieve that lovely, crispy golden exterior. Serve with the zuchinni.
Serving this Vegan Roasted Cauliflower
This vegan dish is great for dinner parties and gatherings. You can serve exclusively at a vegan dinner, and if you're invited to a gathering with non-vegan eaters, it will certainly wow any vegan skeptic at the table. The carving of the cauliflower and zucchini along with the delicious tangy creamy sauce will put everyone into agreement.
Why I Love this Vegan Roasted Cauliflower Dish
It's suitable for a vegan, vegetarian and gluten-free lifestyle
It's delicious served as a vegan starter or vegan side.
It's a fabulous vegan appetizer that can be served at a party or gathering that will put everyone in agreement
It keeps well in the fridge (around 3 days)
If you try this whole roasted cauliflower recipe, let me know if you enjoyed it by rating and leaving a comment!
Seriously the Best Vegan Whole Roasted Cauliflower
This vegan roasted cauliflower makes for a great side or appetizer. It's also stunning during presentation when carving especially when you have guests over! Requiring only one casserole pot, you will win your guests over with its savory and rich flavor.
Ingredients  
2

tbsp

olive oil

1

small onion

2

garlic cloves (finely chopped)

1

can

full fat coconut milk (400 ml)

2

bay leaves

1

tbsp

French Dijon Mustard

1

tbsp

pomegranate molasses

1

tbsp

lemon juice

1

tsp

green curry paste

¼

cup

water

1

big

cauliflower

1

medium zuchinni

3

tbsp

roughly chopped basil
Instructions 
Heat the oven to 400°F (200°C)

In a casserole with lid (or oven safe sauté pan) add the olive oil to medium-high heat. Once hot, add the onions and garlic and sauté for 2-3 mins.

Add the coconut milk, bay leaves, Dijon mustard, pomegranate molasses, lemon juice, green curry paste and water to the casserole. Once it simmers cook for 5-6 minutes until it starts to get thicker.

Slice the zucchini into round 1 inch slices. Set aside. Cut the stem off the whole cauliflower head so it lays flat. Instead of discarding, dice the leftover stem and set aside. We will add it into the casserole later.

Add the cauliflower into the casserole face down and use a soup ladle to pour over the sauce, make sure you get it everywhere. Flip over (right side up) and pour the sauce to cover. Now push the cauliflower to one side, and add your zucchini slices and diced cauliflower stem. Make sure these are also coated with the sauce.

Cover the casserole with a lid and cook covered in the over for 1 hr. Halfway in (at 30 mins) remove the zucchini and set aside in a separate bowl (to avoid overcooking). Use the soup ladle again to immerse with the sauce.

Once done, turn on the upper grill and roast for 2-3 mins until you get a nice crispy gold layer. Remove from the oven. Carve the cauliflower into thick pieces and serve with the zucchini slices.
More Recipes:
Vegan Baith Tomat (Arab Tofu Scramble with Tomatoes) from Kuwait
Vegan Brussels Sprouts Tahini Salad (gluten-free)
The Best Vegan Tahini Sauce (for everything)
Enjoyed this recipe? Pin it now and read it again later
Save or Share!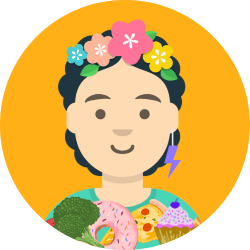 Latifah is a vegan foodie who loves travelling and cooking plant-based recipes. She loves sharing her favorite travel spots and adding a sprinkle of confetti to your day.