What is Baith Tamat?
Baith Tamat is a popular scrambled egg and tomato dish from Kuwait that Arabs enjoy in the morning for breakfast or as a light dinner.
'Baith' translates to egg and 'tamat' to tomatoes. In Arabic: بيض وطماط This is a dish that many Arabs grew up with in their homes, including myself. It's quick, easy, and delicious paired with warm Lebanese bread.
A quick and easy staple. Luckily for you, I have turned it vegan so it's packed with protein. You won't be missing out on those delicious childhood memories. I promise!
Baith Tamat in The Middle East and Gulf Countries
Many countries in the Gulf or Khaleej eat this dish for example in Kuwait, Emirates, Bahrain… I picture my childhood in Kuwait, sitting on the floor around a sufra surrounded by family and enjoying this dish.
Baith Tamat is typically eaten with Lebanese Flatbread using the hands. It's super homey and convivial.
If you have tried Baith Tamat- let me know in the comments! I would love to know where you tried it and your thoughts.
Ramadan Vegan Suhoor
During the month of Ramadan, where all Muslims around the world fast, it's very popular for suhoor.
Muslims around the world get up early in Ramadan for suhoor. Suhoor is Suhoor is the meal eaten immediately before dawn, or before the fasting day officially begins. It's the meal that will keep you satisfied for the rest of the day until iftar (the breaking of the fast).
When you are fasting you need something filling, easy to make, healthy and protein packed that will keep you full during the rest of the day.
Baith tamat is a filling, comfort dish to try if you want to experiment with your suhoor menu as a vegan or vegetarian. A classic breakfast and a light dinner must.
Why I Love this Vegan Baith Tamat Dish
It's suitable for a vegan and vegetarian lifestyle.
Breakfast is on the table in just under 20 minutes.
You can customize by eating with any of your favorite bread or vegetables
It keeps well in the fridge (around 3 days)
With more than 35 grams of protein this dish is a fantastic option for your body to survive 13-14 hour fasts.
If you try this Arab tofu and tomato scramble recipe, let me know if you enjoyed it by rating and leaving a comment!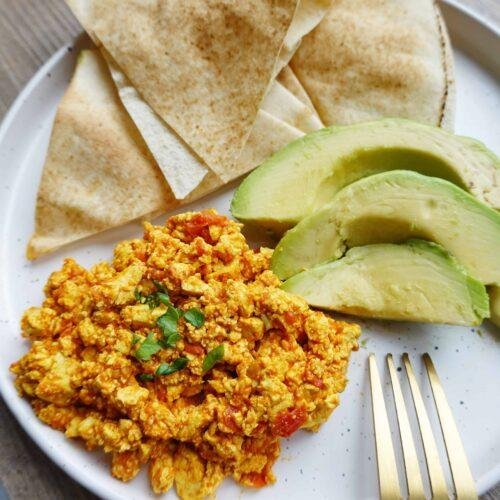 Vegan Baith Tomat (Arab Tofu Scramble with Tomatoes)
This vegan baith tomat is easy, simple, protein- filled and the perfect Arab breakfast or light dinner! Requiring only one pan and 20 minutes it will transport you back to your childhood.
Ingredients  
2

medium tomatoes

1

tbsp

olive oil

¼

unheaped tsp

salt

(in beginning- for adding over tomatoes to make them tender)

2

tbsp

tomato paste

16

ounces

medium or firm tofu block

¼

tsp

tumeric

½

unheaped tsp

black salt

(save for later- adding with the rest of the spices for flavor)

¼

tsp

garlic powder

2

tbsp

nutritional yeast

2

tbsp

non-dairy milk

unsweetened
Instructions 
To peel the tomatoes: With a knife cut an x on the bottom of each tomato. Add the tomatoes into a bowl of boiling water from a kettle and submerge. Wait 2-3 minutes until the skin starts to peel. Peel and dice the tomatoes into quarters and add to pan. (Note: if you're in a rush and don't mind having the texture of the tomatoes in the dish, you can skip- not peeling works as well).

Add 1/4 tsp salt over the tomatoes and cook covered with a lid on medium-high heat for 3-4 minutes, or until the tomatoes become tender. Then use a potato masher or fork directly in the pan to mash the tomatoes into a puree.

Add the 2 tbsp of tomato paste and increase to high heat and cook for 3-4 minutes until the liquid from the tomatoes evaporates.

Add the 1 tbsp of olive oil and stir for 1 minute.

Next, add your tofu. With the same potato masher, crush the tofu block directly in the pan. You can also use your hands to break it up. Cook for 3–4 minutes, stirring often, or until most of the tofu's liquid has evaporated.

Add the turmeric, black salt (1/2 tsp), garlic powder and nutritional yeast. Cook and stir continuously for 5 minutes.

Add the non-dairy milk, stir and turn off heat. Serve with Lebanese flabread, olives, cucumbers, avocado slice or any other breakfast item.
More Recipes:
Seriously the Best Vegan Whole Roasted Cauliflower
Enjoyed this vegan arab tofu scramble recipe? Pin it now and read it again later
Save or share!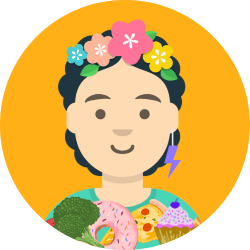 Latifah is a vegan foodie who loves travelling and cooking plant-based recipes. She loves sharing her favorite travel spots and adding a sprinkle of confetti to your day.