Did you know that there are traditional vegan dishes from around the world that don't need to be hacked to make them vegan? If you are travelling around the world and are looking for something vegan without the hassle of the burdensome "is it vegan?" or just want to whip up a new vegan dish in your own kitchen, then you will love these popular vegan dishes around the world. 
In my quest of learning about different cuisines around the world I've been hunting for vegan recipes, but I mainly only came across "veganized" versions of foods that aren't actually vegan. I was curious about foods from different countries that were traditionally vegan. Heck, do they even exist? The answer is yes! Let's look at some of the best vegan dishes in the world and surprisingly vegan foods you need to try.
Europe Vegan Dishes:
France Vegan Food:
#1 Ratatouille
France is known as the gastronomic capital of the world, however most of their dishes are heavy on the meat and dinner. First on our list of traditional vegan dishes from around the world is Ratatouille. If you're a cool kid, you might have recognize it from the Disney Pixar movie of the same name. Yay you get brownie points! This classic French dish has been around a lot longer (as in the 18th century). It's typically composed of stewed vegetables: tomatoes, zucchini, onions, eggplant, and bell peppers. 
Italy Vegan Food:
#2 Focaccia Bread
This traditional vegan dish from Italy treat is a type of flatbread similar to pizza, that's been around since the time of the ancient Greeks. It can be topped with herbs, spices, and oil and makes for a great vegan street food snack when you are in Italy.
#3 Faranita
Another great street food snack you can find in Italy is Farinata, also known as socca. Faranita is a traditional Italian flatbread made from chickpea flour and olive oil. More than just a delicious snack, farinata is a centuries-old staple of the Mediterranean diet. It's super tasty- quite similar to a chickpea fritiata and you can have alone or as a dish. 
#4 Bruschetta al pomodoro
This classic vegan Italian appetizer consists of crispy toasted bread topped with juicy tomatoes, fragrant garlic and fragrant herbs.
#5 Aglio e oglio
Spaghetti aglio e olio, or "garlic and oil" in English, is a classic Italian pasta dish from Naples that consists of spaghetti, garlic, olive oil, and chili flakes. 
#6 Pasta e Ceci
This dish from Central and Southern Italy consists of tender pasta, broth, and hearty chickpeas is beloved is hearty, filling, and a budget-friendly vegan dish.
#7 Carciofi Alla Romana
This dish consists of artichokes prepared in the Roman style by stuffing them with chopped garlic, mint, black pepper, and salt. They are then simmered in a mixture of extra virgin olive oil and water over a low heat.
#8 Fagioli all'uccelletto
This is a typical Florentine bean meal in which Cannellini beans are cooked in a single pot with extra virgin olive oil, garlic, and sage before being topped with a light tomato sauce.
#9 Minestrone
Minestrone is a hearty vegetable soup with Italian origins that is frequently cooked with pasta or rice and occasionally with both. It includes beans, onions, celery, carrots and leafy greens. It may contain parmesan do so check.
#10 Caponata
Caponata is a traditional vegan Sicilian eggplant dish that is sweet, tangy, and consists of tomatoes, capers, olives, celery, and pine nuts.
#11 Peperonata
Peperonata is a delicious Italian stew of sweet bell peppers with tomatoes, garlic and herbs.
#12 Pappa al Pomodoro 
Pappa al Pomodoro, or tomato and bread soup, is a classic Tuscan dish made of ripe tomatoes, day-old bread, olive oil, vegetable broth and fragrant herbs is a staple in many Italian households.
#13 Carciofi alla giudia
This Roman Jewish-style crispy deep-fried artichoke vegan meal is one of Italy's most iconic dishes, beloved by locals and tourists alike. 
#14 Risi e Pisi
Risi e pisi which literally translates to 'rice and peas' is an Italian classic with royal origins– a simple yet flavorful dish that many Italians love. 
#15 Pasta e Fagioli
Despite its humble origins, pasta e fagioli—a traditional Italian soup made with beans, vegetables, and pasta—is another great vegan dish you can find in Italy. 
Spain Vegan Food:
#16 Gazapcho
Gazpacho, is a popular Spanish cold soup and is the perfect dish for those warm summers. It's typically made with raw vegetables, vinegar, and olive oil. 
#17 Pisto
Pisto (not to be confused with pesto) is a traditional Spanish dish that is typically made using tomatoes, onions, red and green pepper, and garlic. Note: some recipes add eggs and cheese. It can be enjoyed as a main or side dish.
#18 Patatas a lo Pobre
This Andalusian dish literally translates to 'poor man's potatoes', and is budget-friendly, consisting of potatoes, onions, peppers, garlic, and olive oil. It can be served with a fried egg as a topping, so to make it vegan just do without. 
#19 Escalivada 
Escalivada, a Spanish-Catalan dish is made with a variety of smoky roasted vegetables usually eggplant, bell peppers and olive oil. 
#20 Samfaina 
Samfaina is a ratatouille-style, vegetable-based dish flavored stew made with eggplant, peppers, onions, tomatoes, garlic, and olive oil.
#21 Tombet mallorca
Tombet, sometimes known as tumbet, is a typical Majorcan vegetable dish made of layers of sliced potatoes, eggplant, and red bell peppers that have been fried in olive oil. You can find it in practically any restaurant in Majorca.
#22 Espinacas con garbanzos
This delicious Andalusian vegan dish features spinach and chickpeas.  Grab it in any local tapas bars in Spain. 
#23 Gazpacho de mango 
This mango gazpacho is a chilled soup typically made with a mix of ripe mangos, tomatoes, peppers, cucumbers, and other ingredients. It's fabulous to beat the heat in the Spanish summers. 
Portugal Vegan Food:
#24 Milho Frito
Milho frito, also popular in Brasil is a deep-fried cornmeal snack made with cornmeal, garlic, chilli pepper and parsley. 
#25 Peixinhos da horta
Do not be fooled by the name although Peixinhos da horta literally translates to 'little fish from the garden,' it is completely vegan and consists of fried, batter-coated vegetables.
Greece Vegan Food:
#26 Dolmades
Greek dolmades are usually vegan, and the traditional stuffing is made of rice, onions, and fresh herbs. It is popular in Balkan countries, Turkey and the Middle East. Variations with beef and sardines also exist.
#27 Yemista
Coming from the Greek words "yei" which means "fill" and "mista" meaning "various", Yemista consists of oven roasted vegetables stuffed with a savory and flavorful mixture of rice, spices, herbs and other ingredients.
#28 Fakes Soupa
Greek lentil soup, or fakes, is a simple, filling soup made with vegetables, brown lentils, and herbs. Olive oil and vinegar are added as garnish.
#29 Fasolakia
Fasolakia is a traditional Greek vegan dish consisting of green beans and a variety of vegetables simmered in a light tomato sauce.
#30 Horta
Horta, a Greek word, literally translates as 'wild greens'. It's a vegan dish made with boiled greens, olive oil, and lemon.
#31 Briam
Briam is essentially Greek-style roasted veggies thinly made with roasted vegetables that usually includes potatoes, zucchini, red onions, and tomatoes.
#32 Patates sto fourno
This traditional vegan Greek dish translates to "potatoes in the oven" consists of roasted potatoes and it is popular in Greek homes and eateries all around Greece.
#33 Walnut Skordalia
Savor walnut skordalia is a vegan Greek dip made with walnuts, stale bread, and tons of garlic.
#34 Bamies
Okra cooked in tomato sauce, also known as bamies, is a typical Greek vegan side dish or main course.
#35 Melitzanosalata
Melitzanosalata is a vegan eggplant dip made with fried or broiled eggplant, olive oil, vinegar, and garlic.
#36 Prasorizo
Prasorizo is a simple vegan Greek dish made of rice and leeks. 
Russia Vegan Food:
#37 Vinegret
Vinegret, also known as Russian vinaigrette, is a popular salad in Russian cuisine and other post-Soviet nations. It's composed of peas, beets sauerkraut, onions and pickles 
Bosnia Vegan Food:
#38 Krompirusa
One of the staples of traditional Bosnian cuisine is potato pie, also known as krompirusa. This meal is constructed with a flat piece of dough that is filled with potatoes.
Although traditionally non-dairy, milk is sometimes added in some recipes. 
Ukraine Vegan Food:
#39 Koliva
Koliva is a dessert served at Eastern Orthodox ceremonies that consists of sweetened cooked wheat that may also be combined with nuts and spices.
Romania Vegan Food:
#40 Ghivechi
Ghiveci, which is pronounced "giv-etch," is a rice and vegetable stew similar to Ratatouille. It is popular throughout the summer and during Orthodox lent when meat is not eaten.
Croatia Vegan Food:
#41 Soparnik
Soparnik is a savory pastry filled with a mix of Swiss chard and onion, garlic, olive and salt. Believed to have originated from the Dalmatian island of Hvar, it's used from ingredients that were available to the coastal villagers.
#42 Sataraš 
Sataraš is a lightweight stew which is cooked using bell peppers, tomatoes, onions, and seasonings.
Czech Republic Vegan Food: 
#43 Houbovy Kuba
Houby Kuba is surprisingly unknown and rarely talked about in the international culinary scene. This vegan Czech dish is made of mushrooms and barley and typically served during the Christmas time. 
Poland Vegan Food:
#44 Kluski śląskie
These Silesian dumplings are essentially potato dumplings which are also common in Germany. The ingredients for the dough for white dumplings are potato flour, a small amount of salt, and mashed potatoes. Like gnocchi, some people may include egg in their recipe, but this is not always the case.
#45 Kartofle Gotowane
This dish's name literally translates to 'boiled potatoes' in English. It's a super simple popular dish made of boiled potatoes, parsley and dill.
Georgia Vegan Food:
#46 Lobio 
Lobio is practically a staple in every Georgian family's kitchen. It's made of red beans, garlic, onions, walnuts, and a ton of delicious herbs and spices.
#47 Ajapsandali
This centuries-old accidentally vegan Georgian dish is a stunning mix of eggplants, tomatoes, onions, garlic, walnuts, fresh herbs, and pomegranate juice.
#48 Lobiani: 
A traditional Georgian bread, lobiani literally translates to "bean bread." It is a savory pastry commonly filled with (lobio) a kidney bean puree and served alongside a selection of rich and hearty dishes.
#49 Badrijani 
A Georgian delicacy called Nigvziani Badrijani is a comforting eggplant dish consisting of fried eggplant that has been stuffed with spicy walnut and garlic mixture. 
Sweden Vegan Food:
#50 Ärtsoppa 
Artsoppa is a traditionally vegan dish consisting of yellow-pea from Sweden that's extremely affordable, filling, and excellent comfort food. Pork can be used, but vegan versions are also popular.
Asia Vegan Dishes:
Middle East Vegan Food:
#51 Muhammara
Muhammara is a smoky red pepper Syrian dip made from roasted red peppers, walnuts, garlic, and spices. Get your spice game on with this dish. 
#52 Tabouleh
Who doesn't love a good tabouleh? Tabouleh is a Middle Eastern staple salad made of finely chopped raw vegetables, bulgur, mint and parsley and sprinkled with lemon juice and olive oil. 
#53 Warak enab
Similar to dolma, this Arab dish translates to "leaves of grapes," and is typically filled with rice and drizzled with olive oil. Note: Other warak enab can be filled with meat. 
#54 Hummus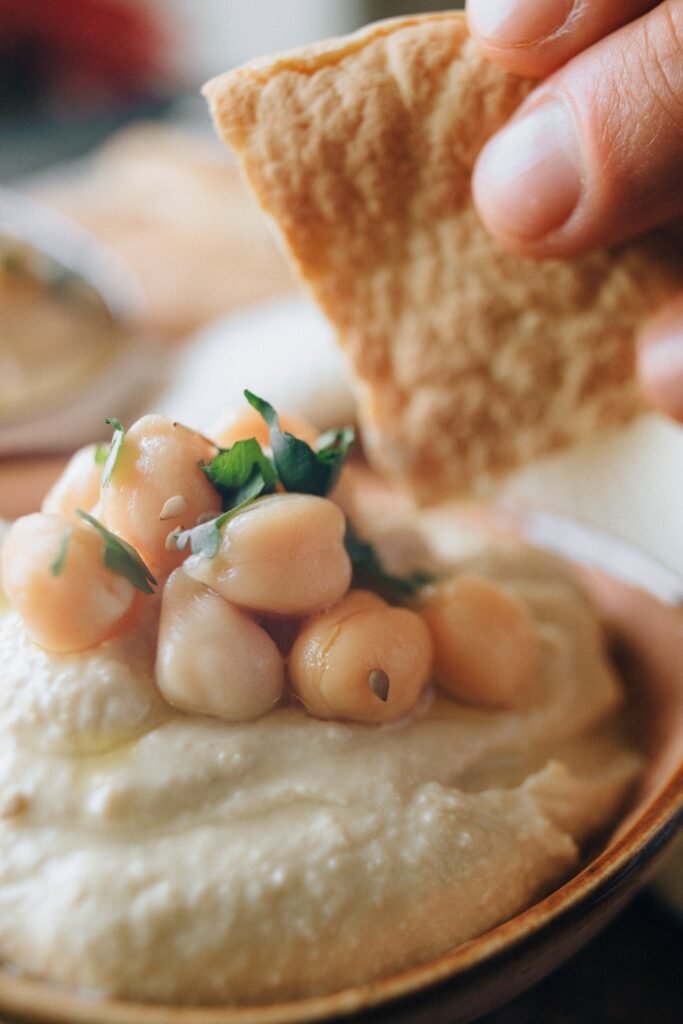 Who doesn't love hummus- a Middle Eastern dip created with chickpeas combined with tahini, lemon juice, and garlic. 
#55 Zaatar Manakish
Zaatar Manakish is a flatbread dough with zaatar and olive oil on top.
#56 Falafel
Falafel is a vegan Middle Eastern dish composed of ground chickpeas, broad beans, or both that is deep-fried and formed into a ball. It's a fabulous filling protein-filled vegan dish. 
#57 Baba Ghanoush
This rich Middle Eastern dip has simple ingredients like smoked eggplant, tahini, lemon and olive oil. Some recipes may contain yoghurt (dairy). It's literally delicious and so smoky- I prefer it over hummus.
#58 Battata Harra
Battata Harra is an Arab vegan food made up of fried potatoes, red peppers, coriander, chili, and garlic.
#59 Mujadara 
Mujadara is an accidentally vegan dish made of lentils and rice mixed with onions and spices.
#60 Fattoush
Fattoush is an iconic salad made of crunchy fried pita bread, along with a combination of garden-fresh vegetables like cucumber, tomato, and radish and a an acidic sumac dressing. 
#61 Fatayer Bi Sabanekh
This traditional Lebanese spinach savory pastry dish is essentially a pie with tangy spinach filling. This fatayer is vegan; other fatayer can have meat in them or cheese. 
#62 Makdous
Makdous is a pickled eggplant stuffed with nuts, red pepper, garlic, salt, and olive oil.
Indian Vegan Food:
#63 Poori
A beloved staple of Indian cuisine, puri flatbbread is a fluffy, pillowy, deep-fried bread that is often served as an accompaniment to a variety of dishes.
#64 Khaman Dhokla:
Khaman dhokla are bite-sized pieces of steamed and fermented chickpea-lentil batter sponge cakes spiced with mustard seeds and chilies. Some recipes use yoghurt (dairy).
#65 Pakoras
#66 Poha
Poha is rice that has been flattened, and it comes from the Indian continent. Prior to flattening, rice is parboiled so that the cooking is faster. The rice is partially cooked and sun-dried on end till it becomes firmer. It is then mashed and made into the "flat rice," that is known as Poha.
Pakoras are vegetables that have been chickpea flour-coated and cooked in oil. These are typically vegan.
#67 Idli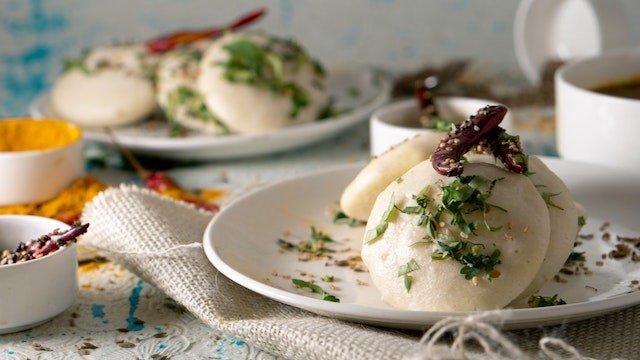 Idli is a traditional steamed cake originating from the southern region of India. It is a delicious breakfast dish made from a combination of ground black lentils and rice that is fermented and then steamed in a special mold. This nutritious, gluten-free snack is popular amongst locals.
#68 Rajma Chawal
Rajma chawal is a vegan dish consisting of kidney beans with rice). Oil can be used instead of ghee to make it vegan.
#69 Besan chilla:
Besan chilla is a vegan Indian savoury pancake recipe that uses gram flour (besan), onions, tomatoes, herbs, and spices. These pancakes are also gluten-free.
#70 Chana masala
Chana masala is a combination of chickpeas, tomatoes, and spices that creates a flavorful and comforting meal. A popular dish in India, chana masala is loved by vegetarians and meat-eaters alike.
#71 Dhal
This classic vegan Indian dish is made of lentils, spices, tomatoes, onions, and garlic.
#72 Dosa
A dosa is a type of Indian pancake-like dish that's unique in its texture and taste. It's crispy, savory, and bursting with flavor. Its foundation is based on a fermented batter consisting of crushed rice and black lentils.
#73 Jeera Aloo
Who doesn't love the warm, flavorful, and comforting taste of jeera aloo? This vegan Indian side dish is made of potatoes cumin and spices. 
#74 Chhole: 
Chickpeas are referred to as "chole" in Punjabi, and spices are referred to as "masala". This Indian dish is made of chickpeas, potatoes, onions, and spices in a delicious sauce.
#75 Aluchya Wadya
Also known as Alu vadi, this dish consists of stuffed taro leaves and is popular in Western India. The process to make it involve rolling the leaves in a spice paste and steaming them.
#76 Pulihora
Pulihora is a traditional South Indian dish that is prepared using rice, tamarind, chillis, peanuts, and spices.
#77 Misal Pav
This vegan Indian dish is comprised of pav, an Indian bread roll, and misal, a fiery curry typically made with moth beans.
#78 Aloo matar
Aloo mutter originates from the Indian subcontinent. This beloved North Indian dish is made with potatoes and peas enveloped in a creamy tomato gravy delicately spiced with garam masala, coriander, and more.
#79 Aloo Gobi
Aloo gobi is a vegan Indian dish that combines potatoes, cauliflower, and a medley of spices for a burst of flavor in every bite.
#80 Aloo methi
Aloo methi is a classic Indian vegan dish made with potatoes and fenugreek leaves that add a unique flavor.
#81 Bhel Puri
Bhel puri is a form of chaat and a savory vegan Indian snack. It has a crispy texture and is made of puffed rice, veggies, and a tart tamarind sauce.
#82 Matar Kachori 
This Indian deep fried round bread (kachori) includes a green peas filling.
#83 Batata Vada
The Maharashtra region of India is home to the well-known vegan dish called batata vada- a mashed potato patty that is fried. 
#84 Pithla
Pithla is a traditional Indian gravy dish found in the state of Maharashtra, made from chickpea flour, spices and other ingredients, and often served with steaming hot rice.
#85 Vada
Vada is a type of dumpling made with yellow lentils, spices, herbs, and chilies and typically serviced with chutney.
#86 Gobi Manchurian
Gobi manchurian is a popular Indo-Chinese dish, which combines deep-fried cauliflower and a flavorful array of sauces.
Nepal Vegan Food:
#87 Dal Bhat
Dal bhat is a simple yet hearty incredibly flavorful vegan dish in Nepal combining lentils and rice.
Turkey Vegan Food:
#88 Simit
Simit is Turkey's beloved street snack made of a fragrant, doughy ring of baked dough sprinkled with sesame seeds. If you go to Turkey, you can't miss the street vendors selling them in Istanbul.
#89 Imam Bayildi
Imam bayildi is a delicious Turkish vegan dish of stuffed eggplants with garlic, onions and tomatoes, originating from the Ottoman Empire. 
#90 Kisir
Kisir is a traditional Turkish side dish made from bulgur, parsley, and a variety of spices and tomato paste. Chopped raw vegetables can also be added.
Közlenmiş Patlıcan Salatası
Közlenmiş Patlıcan Salatası is a roasted Turkish eggplant salad you can have as mezze in restaurants. Some recipes include yoghurt (dairy). 
#91 Kızartma 
Kızartma is a vegan Turkish dish consisting of vegetables fried in tomato sauce.
#92 Domatesli Bulgur Pilavı
This vegan Turkish side dish is comprised of bulgur pilaf, sweet peppers, tomatoes, and onions.
#93 İç pilav
Another tasty vegan dish you can find in Turkey is iç pilav- a dish made with rice with tomatoes, currants, onions, and pine nuts and mint.
#94 Mercimek-Kofte
Mercimek-Kofte is a vegan-friendly and healthy meal combining classic Mediterranean ingredients like red lentils, onions, garlic and spices, this dish packs a complex punch of flavors.
Iran Vegan Food:
#95 Zeytoon Parvardeh
Zeytoon parvardeh is a classic vegan Persian condiment dish- a flavor-packed mixture of olives, pomegranate syrup, herbs and walnuts. 
Japan Vegan Food:
#96 Aburaage
Have you ever heard of Aburaage? You may have tasted it without even knowing it. Aburaage is a vegan type of traditional Japanese food made from thin slices of tofu that have been deep-fried twice, resulting in a light and crispy golden treat. It's vegan and a great crispy treat.
#97 Kappamaki 
Kappamaki is a vegan Japanese type of sushi made with rice, nori, and cucumber.
#98 Takuan 
Takuan is the perfect Japanese vegan pickle for dishes made from daikon radish. 
#99 Atsuage 
Atsuage is a popular Japanese vegan dish where tofu is deep friend to a crispy, golden brown perfection. It's known its crunchy texture and bold umami flavor.
#100 Sekihan 
Sekihan, is another great Japanese vegan dish made from steamed sticky rice, azuki beans and salt.
South Korea Vegan Food:
#101 Mayak 
Mayak is a vegan Korean condiment made of pickled radish and chives. It's a delicious mix of vegetables, spices, and fermented goodness that take any dish from bland to bold and is one of the most common side dishes served in Korea.
#102 Ogokbap
Ogokbap, is a vegan Korean dish made with millet and seasoned vegetables. In itself, Ogokbap is a type of millet that is known for its nutty, earthy taste and light texture. Unlike other grains, ogokbap has a lower glycemic index, making it a nutritious and filling addition to any dish.
#103 Sigeumchi Namul
Sigeumchi namul, is a vegan Korean side dish of blanched spinach and lightly sautéed garlic and sesame oil. It's one of the most quintessential sides of Korean cuisine and is so popular that it's found at almost every meal.
Indonesia Vegan Food:
#104 Tempe goreng
If you're craving something spicy, salty, and flavorful then you need to try tempe goreng (fried tempe) – the perfect vegan Indonesian snack. Tempe goreng is made with tempeh, fried in coconut oil and seasoned with a combination of spices.
#105 Sayur asem
Sayur asem is a Indonesian vegetable soup that is a soothing blend of complex flavors, nutrient-rich ingredients, and vibrant color. 
#106 Acar
Acar is a vegan condiment in Indonesia. It's a type of pickle that is created using fresh cucumber, carrots, green chilies, and shallots. It is spicy, sweet, and sour and is seasoned with white vinegar and salt. It makes a great accompaniment for any dish.
#107 Tempe orek
Tempe orek is another traditional vegan Indonesian dish made of fermented tempeh, spices and vegetables.
China Vegan Food:
#108 Chinese Pickled Smashed Cucumbers
Do you love the crunch of fresh cucumbers and crave the tangy, salty flavor of pickles? Now you can have both with Chinese pickled smashed cucumbers, another great vegan dish. 
#109 Ma Lan Xiang Gan
Ma Lan Tou is a spicy vegan tofu dish that is authentically Shanghainese. The name, Ma Lan Xiang Gan translates to "cold tossed aromatic tofu and ma lan tou"- ma lan tou being a collard green.
#110 Suān Cài
Suān cài is a pickled vegan condiment that literally translates to "sour vegetables". Originating from Sichuan province, this dish has become increasingly popular among modern Chinese cuisine lovers who appreciate its subtle sourness and pickled taste.
#111 Lo Han Jai Buddha's Delight
Buddha's delight—or lo han jai—is an ancient dish that dates all the way back to the Tang Dynasty. It's essentially a vegetable stew popular in Buddhist and Chinese cuisine. 
#112 Dou Fu Fa
Dou fu fa isa traditional Chinese milk curd dessert made of tofu. It's a delicious and nutritious vegan dessert that takes its roots in Chinese cuisine.
Africa Vegan Dishes:
Egypt Vegan Food:
#113 Ful Medames
Ful is a vegan dish from Egypt made of cooked fava beans, cumin spices with lemon juice, garlic, and tomatoes. It is also served with olive oil, and parsely. It's a great budget friendly vegan source of protein. Great for breakfast or for those Ramadan fasting days.
#114 Koshari
Koshari is a comforting vegan dish from Egypt – a combination of lentils, macaroni, and rice topped with a spicy tomato sauce and fried onions. It's on the list of surprisingly vegan foods because well- it's vegan and surprisingly delicious and one of my faves!
#115 Maharagwe 
Maharagwe is an East African classic dish made up of black-eyed peas, onion and tomato cooked in a coconut milk-spiced sauce.
Morocco Vegan Food:
#116 Bessara
Bessara, a nutritious and delicious Moroccan broad bean soup made of cooked broad beans, vegetables, herbs, and spices.
#117 Zaalouk
Zaalouk is a traditional dish of cooked eggplant, tomatoes, garlic, and spices served in the Maghreb region of North Africa.
#118 Loubia
This hearty North African bean stew is vegan with humble ingredients such as beans, tomatoes, onions, and spices.
#119 Matbucha
Matbucha is a delicious North-African condiment featuring a blend of charred sweet peppers and tomatoes.
Nigeria Vegan Food:
#120 Moin Moin:
Moin moin is a vegan Nigerian pudding consisting of black-eyed pea or honey bean that is steamed or boiled. It traditionally contains Scotch Bonnet pepper, which gives it an orange tint. Depending on the region and recipe it can be stuffed or not, and vegan or not. 
Ethiopia Vegan Food:
#121 Kik alicha
If you're a fan of Ethiopian food, you likely know about kik alicha. This traditional vegan mild stew has been part of the region's cuisine for centuries, blending turmeric, garlic, ginger, and other spices.
#122 Misir Wot
Misir Wot is a popular dish in Ethiopia made with red lentils, berbere (a traditional spice blend), and seasoned with onion, garlic, and ginger. 
#123 Atakilt Wat
Atakilt wat is a vegan-friendly Ethiopian dish of cabbage, carrots, potatoes and onions cooked in a rich tomato-based sauce is delicious.
#124 Injera
Injera is a traditional Ethiopian flatbread loved worldwide for its sour flavor and spongy texture. It's made using a combination of teff flour and water.
Rwanda Vegan Food:
#125 Agatogo
Agatogo is a vegan dish from Rwanda made with plantains, some type of tomato (often tomato paste) and vegetables. Note it can also be made with meat or fish.
South Africa Vegan Dishes:
#126 Chakalaka
Chakalaka is a vegan South African relish. It contains a vibrant mix of bean, tomato, onion, and chili.
Tanzania Vegan Food:
#127 Mchicha 
Tanzania's traditional mchicha dish is a humble vegan yet flavorful treat. A simple blend it features leafy greens, fresh spices, and delicious legumes, boiled and stewed to perfection.
South America Vegan Dishes:
Mexico Vegan Food:
#128 Arroz rojo
Arooz rojo translated to 'red rice' is a Mexican vegan dish consisting of white rice, tomato, garlic, onion, and other ingredients.
#129 Arroz Verde
Arroz verde on the other hand translates to 'green rice'. It is made using long grain white rice with a broth made from onions, cilantro, and poblano peppers that have been pureed.
Puerto Rico Vegan Food:
#130 Tostones
Tostones are plantain slices double-fried until crispy and golden. They make a great accompaniment to a variety of meals or a tasty snack by themselves. These fried plantain slices are savory, crunchy, and delicious.
Venezuela Vegan Food:
#131 Arepas
Arepas is a type of bread made from corn meal flour. You can eat it plain or with black beans or fried plantain. Some arepas contain ingredients that are often not vegan, like shredded cheese which you can eliminate.
Nicaragua & Costa Rica Vegan Food:
#132 Gallo Pinto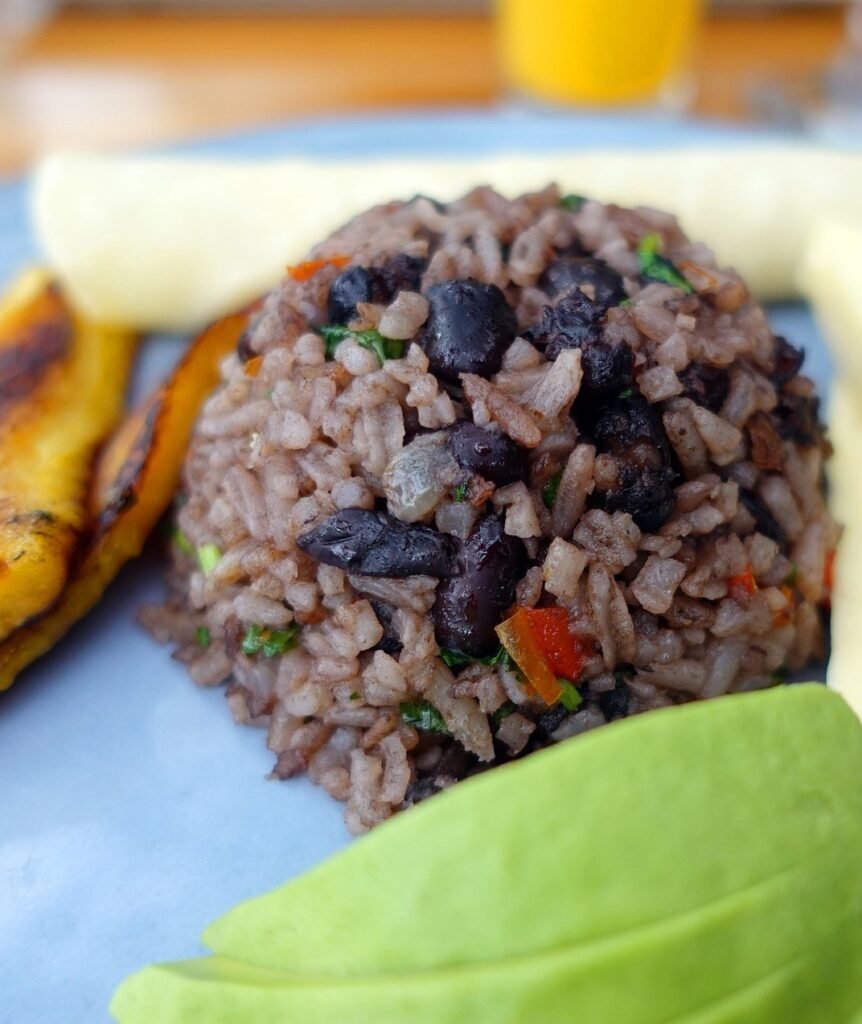 The national food of both Nicaragua and Costa Rica is gallo pinto, despite the fact that Nicaraguans spell it as one word: gallopinto. It's a rice and beans breakfast that's a great vegan friendly and filling dish.
Colombia Vegan Food:
#133 Arroz Con Coco
When it comes to Caribbean and Latin American comfort food, arroz con coco is a classic. Often referred to as "rice with coconut" in English-speaking countries, this vegan dish is a staple in Caribbean homes and a favorite among locals.
Cuba Vegan Food:
#134 Moros y Cristiano
This vegan dish is a Cuban adaptation of the popular Latin American, Caribbean, and Southern American dish of rice and beans.
El Salvador Vegan Food:
#135 Pupusas
Pupusas are the national dish of El Salvador, and for good reason — they are versatile, flavorful, and can be enjoyed in many ways. A pupusa is a thick, handmade Salvadoran tortilla that is stuffed with a filling. Fillings include pork, cheese among others. For vegans get the refried beans option. 

North America Vegan Dishes:
U.S Vegan Food:
#136 Peanut Butter and Jelly Sandwich
Peanut butter and jelly sandwiches have been a lunchbox favorite for generations of kids and adults alike, so it's no surprise that they bring back such sweet nostalgia. You didn't have to look far for surprisingly vegan foods here.
As I am typing this I just realized that the last time I had a pb & jelly sandwich was nearly 5 years ago before turning vegan. Ok just made one and I'm taking a bite, oomph there's nothing like it.

Being vegan is not as hard as you may think. I hope this guide of the best vegan dishes in the world was helpful and you discovered new local dishes to try for your next travels.
What are your go-to traditional vegan dishes from around the world? If you don't see your favorite- do share! Let me know in the comments.
---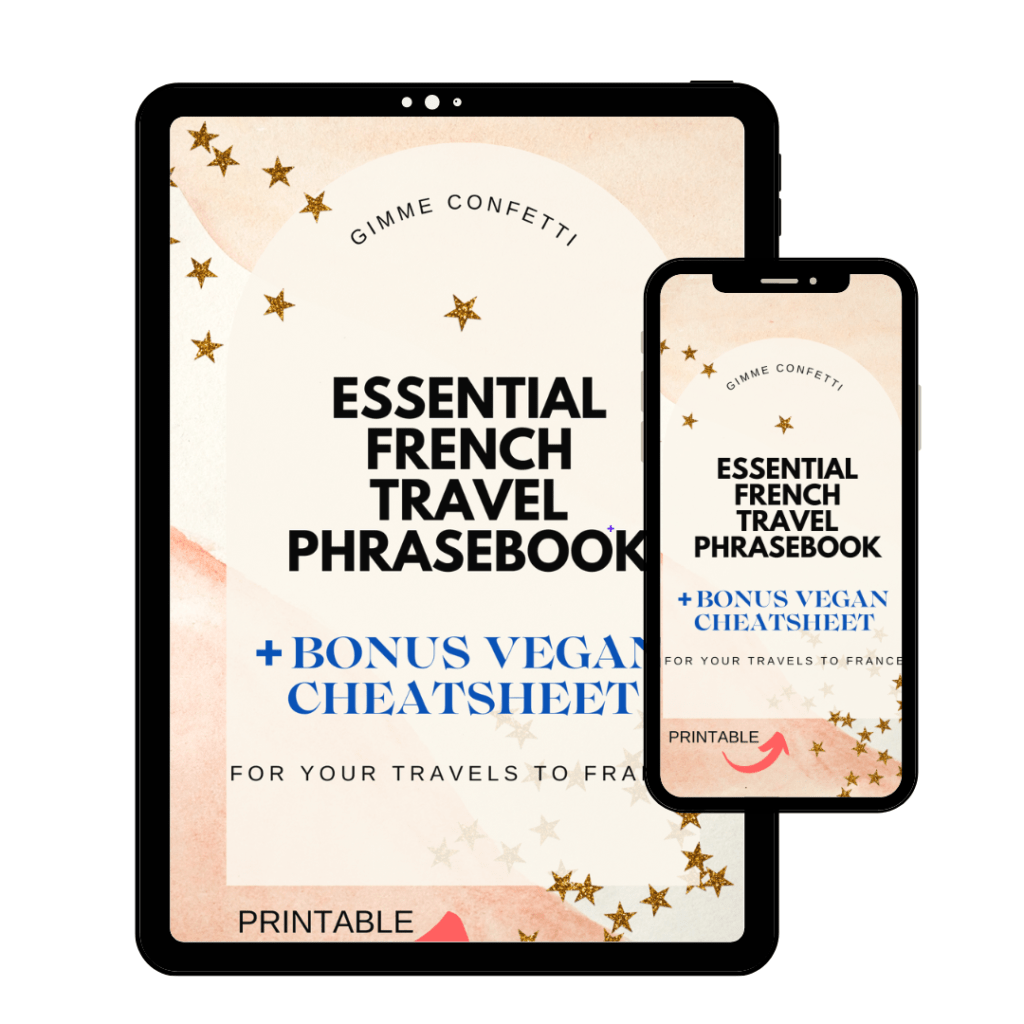 Grab Your ESSENTIAL Free French TravelPhrasebook + Vegan Phrases + Cheeky Bonus Slang
Includes Phrases You NEED to Know + Vegan Essentials in France + BONUS Cheeky French Slang Only Locals Know
---
---
For my Ultimate Vegan Guide to France don't miss: Essential Guide: Surviving France as a Vegan- Oui it's Possible (From a Local)
Did you find this guide on the best traditional vegan dishes in the world helpful? Pin it now save it for later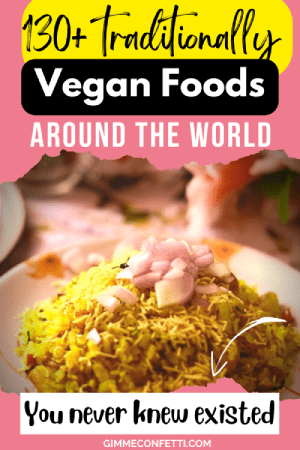 Save or Share!
Want France Vegan Travel Resources?
Don't miss out! Check out these France travel resources for inspiration for your next trip to France:
Essential Guide: Surviving France as a Vegan- Oui it's Possible (From a Local)
Don't Miss the Best Vegan Burger in Paris and Lyon
Ultimate Guide to Avignon: The Best Things to Do in Avignon as a Vegan
15 Fun and Free Things to Do in Avignon
The Most Charming Vegan & Vegetarian Lunch Spot in Avignon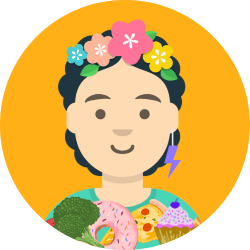 Latifah is a vegan foodie who loves travelling and cooking plant-based recipes. She loves sharing her favorite travel spots and adding a sprinkle of confetti to your day.