I'm all about going off the beaten path and discovering hidden gems and secret spots when I travel. Lyon has its share of cool secret places that I'll share with you. In French, there's a word- "insolite" – that doesn't have a direct English translation. It means "out-of-the-ordinary" or "unexpected". And that's exactly what you're in for with this post.
Lyon Hidden Gems and Secret Things to Do:
House of 365 Windows: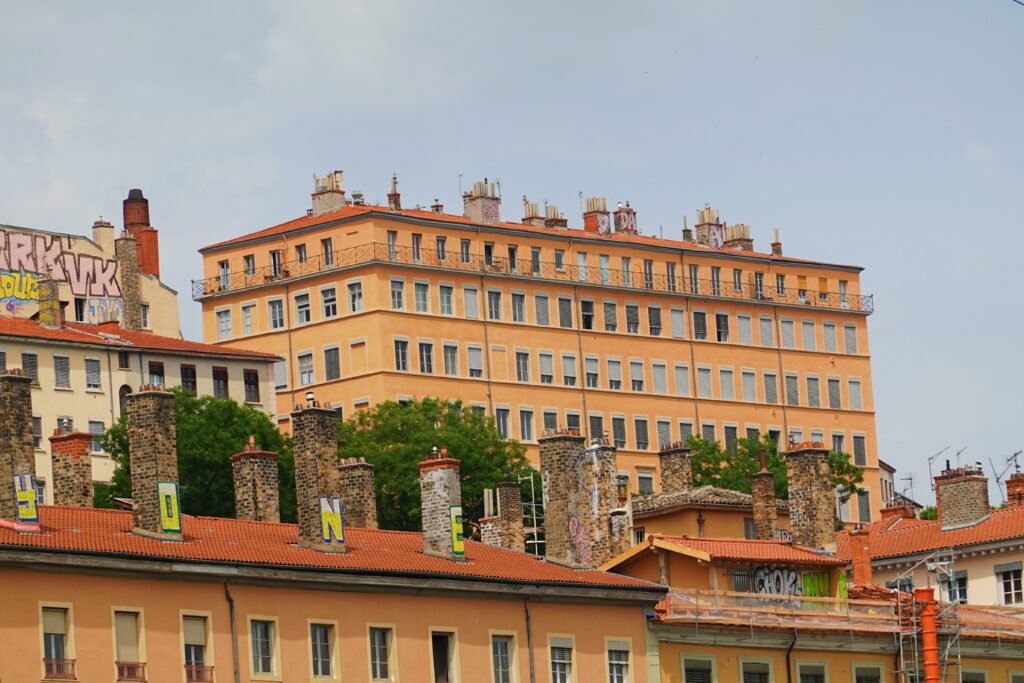 This house is known as the Maison Brunet. Wanna know why? Because it's the DEFINITION of a calendar. Seven floors for the seven days of the week. 52 apartments mirroring the weeks of the year. Four entrances symbolizing the four seasons. Not to forget the LEGENDARY 365 windows marking each day of the year.
Fun fact: the house is closed today so you can't visit (it was auctioned off in 1831 following bankruptcy).
Musee des Beaux Arts Courtyard:
The courtyard of the Museum of Beaux Arts is one of my favorite spots. It's historically beautiful and offers peace away from the city.
Top tip: You don't need to buy museum tickets visit the courtyard just go through the main entrance.
Perrache Secret Suspended Garden:
The Perrache Secret Suspended Garden is one of Lyon's hidden gem offering a peaceful green space away from the hustle and bustle of the city.
I won't lie, finding it was an adventure for me, but it was so worth it. Most locals don't even know about it.
Artistic Mosaic at Bourse du Travail:
More low-key and secretive than the 'Mur des Canuts' and 'Fresque Lyonnais', this impressive mural if made of MOSAICS. Located at the Bourse du Travail building, it shows off the city's dedication to art and culture.
Gadagne Museum Courtyard: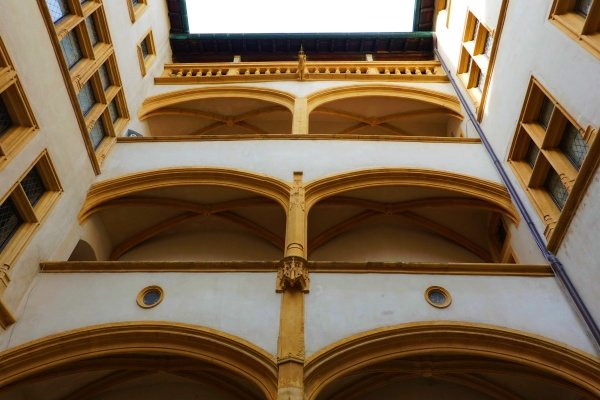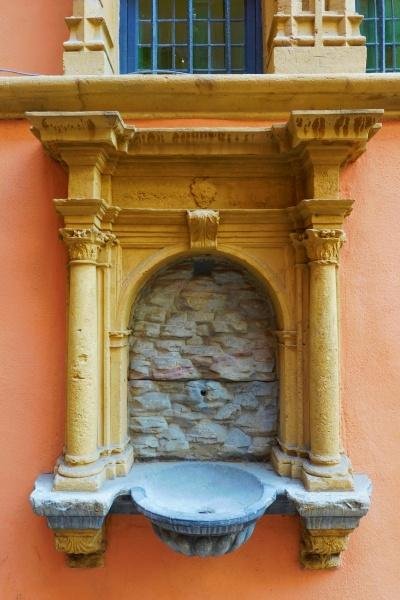 The Courtyard of Gadagne museum, also called "grande cour," is beautiful architectural gem from the 16th century.
Top tip: Turn right after the entrance to see the courtyard. You don't need tickets as the ticket office is located past it.
Vintage Cinema at Croix Rousse:
In Croix Rousse, right next to the Jardin Rosa Mir, is a cinema behind a mysterious pathway that most walk straight past. It's the cinema Saint- Denis. Built in 1920 by a priest, today it's entirely run by volunteers with 10 weekly sessions. Make sure to enjoy a screening in this hidden gem.
Address: 77 Gd Rue de la Croix-Rousse, 69004 Lyon, France
The Secret Rooftop Garden in Vieux Lyon:
Tucked away within the Musee Gadagne lies a hidden gem. It's rooftop garden. There is a café which offers a true "havre de paix" in a beautiful green space. Grab drinks or a small bite and just take in the peace.
Top tip: You don't need to have museum tickets, just take the elevator to the rooftop.
The Assassination of President Sadi Carnot:
President Sadi Carnot was murdered in Lyon during 1894 by an Italian anarchist. You can find a red brick on the floor which marks where he was assassinated.
It's such a popular street, I find it interesting how most people walk here and on it and have no clue of its grim significance. 
The Façade of the Eglise Notre Dame Saint Vincent:
As you walk along the quai you can't miss the beautiful façade of the Church of Notre Dame Saint Vincent. It's one of the examples of Gothic architecture that can be found in Lyon. I find it super stunning at night.
Top tip: Enjot the sunset and walk along the quai and admire it for a great romantic stroll.
Ly
The Astronomical Clock of the Saint- Jean Cathedral:
If you're visiting Saint Jean Cathedral check out the "Horloge astronomique de la cathédrale Saint Jean". Found inside the church, it's a true marvel of medieval craftsmanship and engineering dating back to the 14th century.
Dope Metro Station:
Don't miss this very interesting metro station entrance shaped like a fish's tail. The station is on line D: Sans souci a.k.a "no worries".
The Villa of the Lumiere Brothers: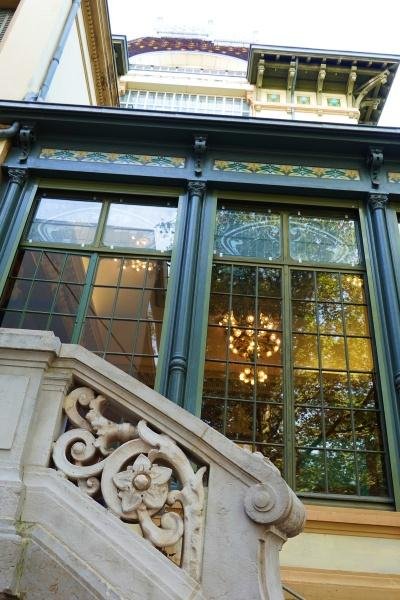 The Lumiere Brothers Villa is a beautiful building in Art Nouveau style. It was built by the founders of early cinema- the Lumiere Brother. This is one of my favorite museums in Lyon that I really recommend you to see. It was such a treat to visit and the house is even more stunning inside.
Fun fact: The neighborhood residents would call it chateau because of its grand silhouette.
Cocoon Benches:
While walking in Croix Rousse you'll probably see these curious sculptures. These are actually benches shaped like cocoons situated in Place des Tapis (a nudge at the Canut and their silkwork). How neat.
Wish Ribbons at Fourvievre Church:
Check out the ribbons on the olive trees outside of the Notre Dame de Fourvière church. 
While this may not be for everyone (including myself): in a devotion to the Virgin Mary, some people tie these ribbons on the plants outside.
The Man of the Rock
As you walk along the quai, away from the tourists of Vieux Lyon (at 61 quai Pierre Scize), you will be impressed by a large statue enclosed in a niche rock. This is a statue of Jean Kleberger, known as le "Bon Allemand" or Good German. I also couldn't help but be impressed by how the rock formations blended with the natural houses right to its left. The statue's mystery remains..
Part Dieu Train Station Facade:
When I arrived for my train at the Part Dieu, I couldn't help but notice the massive art work on the station's façade. I'm not sure how long it will be up for but it's a beautiful ode to Beirut Lebanon.
Salle Rameau:
If you're in the Croix Rousse district, do yourself a favor and pass by the Salle Rameau, a historic concert venue. Look up and admire it's elegant and impressive façade. It's definitely worth it. I loved the gold mosaic details.
World Markets Sculpture:
Outside the MAC and facing the Tete d'or garden is a peculiar object. It's a sculpture by Wang called "World Markets" celebrating global connections and trade.
Because despite what you may think Lyon is actually a major business city. People travel for business more than for tourism (66% of visits for business vs 34% for leisure tourism) in Lyon
Related: DOPE Facts about Lyon you'd be a FOOL Not to Know
Palais Saint Jean Parc:
There is a nice small parc, right near the Vieux Lyon funicular, at the Palais Saint Jean (which served various purposes throughout history, including being an archbishop's palace). Grab your lunch and come enjoy it here.
Found these Lyon Hidden Gems and Secret Places helpful? Pin it now read it later.
Save or Share!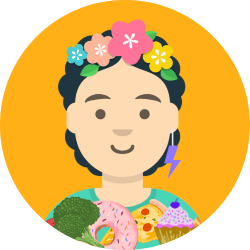 Latifah is a vegan foodie who loves travelling and cooking plant-based recipes. She loves sharing her favorite travel spots and adding a sprinkle of confetti to your day.