Vegan Bakery in Kuwait: Baix Review
You're exhausted from furniture shopping or have that one kid or family member who is constantly nagging whenever it comes to home decor, fear no more Baix has entered the chat. Maybe, just maybe I am that person 🙂 If it means I get to enjoy great food, but who isn't!
Located in Shuwaikh on the oh so infamous Canada Dry Street, ABYAT is a department store that provides home furnishing solutions. Entering Abyat from the main entrance, Baix Bakery can be found in the middle of the store. Alternatively, if you know you just want to eat and cut through the store directly, there is a direct entrance that takes you there. 
Baix is a bakery and cafe that projects refined sophistication with a sleek white and modern decor. There is a large seating area with regular seating and banquettes, which are great for the family. Serving food like non-vegan salads, pizzas, croissants, pastries, and flatbread. It's a non-vegan bakery in Kuwait but offers vegan options.
For my fellow vegans, there is a dedicated section in the menu. They have vegan lahm ajin flatbread (Kwd 2.250), vegan lahm ajin fatayer (Kwd 2.450), vegan lahm ajin saj (Kwd 2.00), veggie (Kwd 2.300) and vegan dish (Kwd 1.900). 
Service is prompt and helpful. You place your order at the cashier then they bring you the food. It took around 20 minutes for my order, as they prepare the dough by hand. It was also somewhat crowded which was reflected in the waiting time. 
What I Ate
I ordered the vegan lahm ajin fatayer. I was surprised they even had a vegan menu section. To be honest I was with company and was thinking this is the part where I count the white tiles and reminisce about my existence as I watch others eat.
A somewhat classic scenario (minus the tiles) that most vegans find themselves in when there is no vegan food. There should probably be a term for it, but that's probably for another time. Albeit 'vegan wallflower' is the first thing that comes to mind. If you think of something better, do let me know in the comments!
Thoughts
It was one of those yooo vegan moments. Translation: I've got to say this was fantastic, the spices in the meatless meat brought me back to my childhood eating arayes and tasted like the real thing. At one point I had to stop myself and ask if this was really vegan. The dough is made fresh on the spot and will tempt you out of a carb-free diet: definitely a winner!
The only thing was there was a lack of consistency. The first time I went was perfect. The second time (a week later) there was less spices and a stronger tomato taste. Either way, I'm sure this is easy to amend going forward.
Baix Bakery is a fantastic vegan-friendly spot where you can share a meal with non- vegans in your family or social circle. Needless to say, I will be back… The only thing is other than teas there are no vegan beverages. Yalla Baix we want plant based milks! 
---
Note: There are 3 Baix locations in Kuwait: (1) Abyat (Canada Dry Street, Shuwaikh), (2) Khaleejiya (Khaleejiya Complex, Jaber Al-Mubarak St), and (3) Qurain (Street 15, Aswaq AlQurain Abu Fatira industrial Kuwait). 
---
How easy for you is to find vegan food in Kuwait? Thoughts? Let's Chat
---
Want To Make Vegan Food?
Don't miss these vegan halal recipes! Check out these recipes for inspiration for your next meal:
Vegan Baith Tomat (Arab Tofu Scramble with Tomatoes) from Kuwait
Seriously the Best Vegan Whole Roasted Cauliflower
Found reading this review helpful? Pin it now and read it again later
Save or share!
---
I pay for my own meals and always dine anonymously. This guarantees my experience as a regular paying customer where special treatment is not received and ensures an authentic review.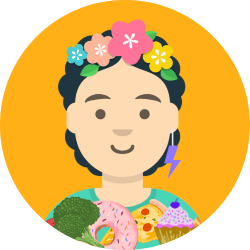 Latifah is a vegan foodie who loves travelling and cooking plant-based recipes. She loves sharing her favorite travel spots and adding a sprinkle of confetti to your day.