Here's a glimpse of where to find vegan food in Kuwait and some of my favorite products. Couldn't list everything but here are my top products.
Lulu Hypermarket-Kuwait
Lulu Hypermarket has a good selection of vegan food. For reference I went to the one at Al Khiran Mall.
Related: Kuwait's Al Khiran Mall- What to Expect: Worth it or Not? My Thoughts
---
As soon as you enter there's a selection of Nature Land products. You can find things like nut butters, quinoa, grains, healthy bars. They have vegan labneh which is pretty good- I get the chives one. (I'm afraid the beetroot labneh is a bit of a stretch for me).
Next, I love the Bocaditos by Snatt's, they're super yummy as a snack. Approved by non-vegan folks I gave to taste test.
There's also chili and garlic aioli vegan mayo from Heinz. I usually get the plain mayo but lately can't seem to get my hands on it as unavailable in the store.
---
I spotted these Veggs. Has anyone tried them? Are they any good?
In the cheese sections, there's Daiya 'American Style' and 'Cheddar Style' Vegan Cheese.
---
Tofu is a big staple in the vegan diet. Make sure you get a Non- GMO one. I buy the House Foods tofu (firmness level 3-4).
There's a ton of ways you can cook tofu. I love eating it in a tofu scramble (recipe below):
Related: Vegan Baith Tamat (Arab Tofu Scramble with Tomatoes) from Kuwait
There was like 2 freezers with vegan products.
From left to right:
Fruit: Acai Superfruit, mango chunks, raspberries.
Fry's Traditional Plant-based sausages
---
Quorn Vegan Fishless Fingers (not bad- I prefer the fish and chips from Aldi)
Morning Star Farms vegan chik'n nuggets,
Quorn Vegan Hot & Spicy Burgers
Linda Mccartneys Vegetarian Lincolnshire Sausages
Beyond Meat- Beyond Burgers (pack of 2)
Organic Frozen Green beans
Vegie Delights Chicken-Style Burgers
Bird's Eye Green Cuisine Meat- Free Burgers
Birds Eye Green Cuisine Veggie Fingers
---
Birds Eye Green Cuisine Meatballs
Filosophy Mini Greek Sausage rolls & Mini Greeks Plant Based- Buffs (I was kinda tempted- has anyone tried these?)
---
Jude's Vegan Chocolate Brownie Ice Cream
Jude's Vegan Vanilla- Bean Ice Cream. I liked this one. I usually find Ben & Jerry's and Hagen Daaz excessively sweet (think Ben & Jerry's cookie dough is like 25g of sugar per 100g). The Jude's one is decent and only has 10g of sugar per 100g. And you can taste the vanilla bean. I would repurchase.
Marks & Spencer- Kuwait
Next up Marks & Spencer. We all now how vegan-advanced the UK is like in another dimension (much to the despair of other countries). Luckily, Kuwait has brought vegan bits and bobs in their Marks & Spencer.
First up- my fav:
The Plant Kitchen Cheese Flavor Twists. They taste yummy just like the real thing. All non-vegan folks agreed.
Vegan Tomato & Mascarpone Style Pasta Sauce
Vegan Basil Pesto (Anyone tried this?)
---
They have their own brand Plant Kitchen 4 Vegan Burgers
Plant Kitchen Vegan Mayonnaise. I've tried it before and it tastes like the real thing. A bit too expensive tho for me
Plant Kitchen Vegan Salted Caramel & Biscuit Ice Cream
---
I think there was also a mango sorbet but as a vegan I don't find that too exciting. Like when brands label their already vegan products as vegan as in fruits or a sorbet without any effort to create a vegan product in itself. But in this case they have the 'salted caramel' so yes they care!
Also forgot to include but their plant-based marshmallows are really good. They bake great as well in cupcakes and cookies.
Last but not least. This stuff (Plant Kitchen Smooth Hazelnut Chocolate Spread) is seriously addictive and yummy.
It took me ages to finally find a vegan alternative to Nutella that actually tastes like Nutella. This is the stuff that dreams are made. Only wish the jar was bigger.
If you're interested in more hauls here's one on vegan food in France:
25+ Best Vegan Grocery Store Products you Need to Get Your Hands on in France Now
What are your Favorite Vegan Foods in Kuwait? Let me know in the comments.
If you found this product guide of vegan food in Kuwait helpful, pin it now and save it for later
Save or Share!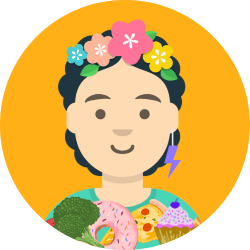 Latifah is a vegan foodie who loves travelling and cooking plant-based recipes. She loves sharing her favorite travel spots and adding a sprinkle of confetti to your day.