Vegan Restaurant in Lyon: Les Demoiselles de Montpellier Review
Situated at the heart and city centre of Montpellier is the cutest tearoom catering to gluten-free, vegan, and vegetarian diets.
Les Demoiselles de Montpellier offers gluten free, dairy free and vegan pastries, in addition to lunch with vegan and vegetarian options that you can enjoy from 12:00- 2:30 pm. Brunch is also available on Saturday and their tea is organic and coffee is artisanal. 70% of their ingredients are organic. 
Their lunch menu changes every week- how great is that! This means you can try new things every week. Some examples of their vegan lunch menu items: Tao Bun, Tajine, Thai Noodles and Lasagne with vegan cheese for around €13.90. 
Stepping into the tearoom you are greeted with tastefully decorated flowers and a charming fusion of vintage with a contemporary twist. They have free Wi-Fi so it's a great place to come study or just chill with your tea and pastries. 
I really wanted to try their cakes in the fridge, but I was heading to the museum after so that was not possible as they would have melted if not kept in the fridge.
I decided to play it safe and grab some cakes that would survive transportation. On the counter they had the choice between vanilla, pumpkin, and orange almond cake.  I ordered their vanilla cake and orange almond cake. 
The vanilla cake was delicious with vegan white chocolate and almond shavings. To be honest I did wonder if it was vegan at one point. I could eat it every day!
The orange almond cake had a nice zesty taste and a strong rich flavour of almonds. It reminded me of the almond taste from galette des rois (a popular French pastry). It was delicious as well, but slightly too sweet for me. 
Each cake was €4.9, which is correct given the quality and great location and atmosphere. 
There was one staff member who was handling everything including service and preparing the food. She managed it all well and service was smooth. I only waited 3-4 minutes for my cakes to be packaged.
My only regret is not living in Montpellier so that I could eat here every regularly. Overall, the cakes are excellent. I would have loved to try their savoury dishes. It's such a lovely tearoom with excellent quality cakes and catering for all gluten free, vegans and vegetarians. A must-stop if you are in Montpellier! 
Location: 2 Rue de la Carbonnerie, Montpellier, France, 34000
Don't Miss: Vegan Food in Montpellier (South of France): Your Ultimate Guide to the Best Spots
---
Want More France Travel Help?
Don't miss out! Check out these France travel resources for inspiration for your next trip to France:
Vegan Food in Montpellier (South of France): Your Ultimate Guide to the Best Spots
Essential Guide 2023: Best Things to Do in Provence: Avignon as a Vegan
Essential Guide: Surviving France as a Vegan- Oui it's Possible (From a Local)
Don't Miss the Best Vegan Burger in Paris and Lyon (2023)
2023: Must Try-Vegan Restaurants in Provence: Avignon (From a Vegan)
If you found this vegan restaurant review helpful, pin it now and save it for later.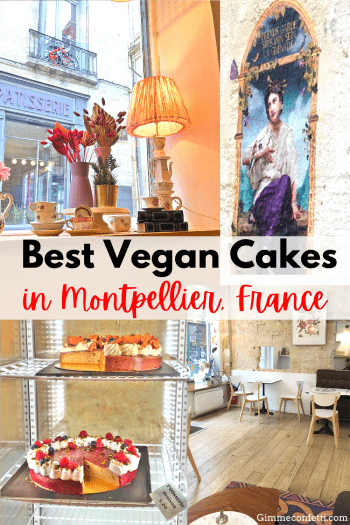 Save or Share!
---
I pay for my own meals and always dine anonymously. This guarantees my experience as a regular paying customer where special treatment is not received and ensures an authentic review.