Hidden Gems in Montpellier
I love adventuring off the beaten track and discovering hidden gems and secret places whenever I travel. Montpellier is pretty grand when it comes to cool secret places. In French there is a word- "insolite"- it doesn't have a direct translation in English. But it basically means "unusual" or "peculiar". It refers to something that is out of the ordinary, strange, or unexpected. This is exactly what you're going to get with this post. Whoosh- let's dive in.
#1 Cannon Ball
Location: 30 Rue des Etuve
You're casually taking a stroll along the streets of Montpellier, and you can easily pass by this- and I mean easily- if you don't look up.
Tilt your head up and you will find a Cannonball that's stuck in the façade of the building.
It's a possible vestige of the religious wars that were raging at the time. Groovy.
The cannonball was fired by the troops of Louis the 13th in 1622 who surrounded the city in a siege. The King wanted to impose Catholicism while Montpellier was a stronghold of Protestantism at the time.
Some skeptics argue the symmetry is too perfect and there's no visible damage to the surrounding wall.
So fact or fiction?
#2 Rue du Bras de Fer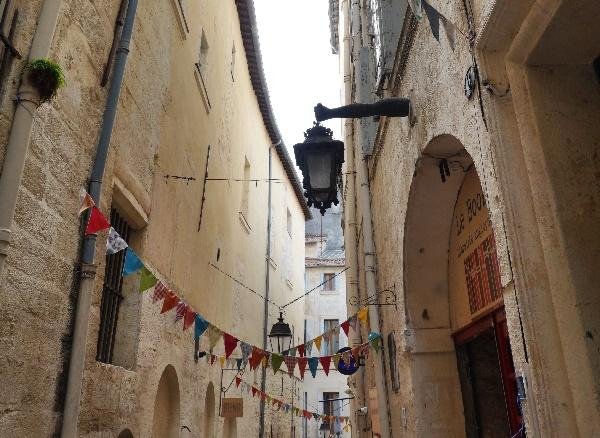 In French "Bras de Fer" translates to arm of iron. But why this name?
It turns out it was named like this because there is literally an iron arm holding a lantern light adjustment to the street. Look up and you will see it.
#3 Well of Saint Roch (Le Puits de Saint Roch)
Confined to the back of a shoe shop behind the cash register (no I am not making this up) is the biggest symbol of the Holy Patron of the Pilgrims. Hundreds of believers come from all over the world to Montpellier and see this well of Saint Roch (a saint from Montpellier).
According to the legend, the miraculous water could heal any illness- closed a few years ago.  It is now impossible to drink.
This Montpellier hidden gem is at Erbe: 19 bis, rue de la Loge. Ask the saleswoman nicely for a cheeky peek behind the register.
#4 Rockstore:
The RockStore has been a music and concert hub in Montpellier since 1986 where Lenny Kravtiz and Radiohead played. But who could've guessed that this legendary concert hall used to be a Protestant church in 1803.
In fact, under the main dance hall has a vault where monks were buried. Umm so you're essentially dancing over dead people.. Ya ok bye.
#5 Jardin de la Canourgue
Tucked behind Rue Foche on Place de la Canourge, this stunning garden is known as one of the most romantic and hidden gem spots in Montpellier. And even has a unicorn fountain (yaass for real). It's super nice.
#6 The Morbid Legend behind the Statue of Louis the 14th
The statue you see at the Promenade de Peyrou is not the first. There was an older version in its place two times bigger than what you see now.
During the French Revolution, the statue was pulled down and broken into chunks and sent to Lyon to be melted down and made in cannons. A guillotine was then set up in its place.
But that's not it. Legend has it that the sculptor of this statue committed suicide after realizing that his work was unfinished. An essential element was missing, the King had no stirrups.
However, I checked and there's no historic backing to this. This has been debunked as Louis the 14th is clearly depicted in a Roman style and at the time of the Roman empire did not use stirrups.
#7 Mystery Bench
Ok but how cool is this bench growing over tree roots. It' at the Promenade de Peyrou.
What came before- the tree or the bench? Obviously the tree. But when was the bench placed there and how many years before the trees roots slowly took it over.
Play treasure hunt with your kids and try to find it. Did you find it?
#8 Babote Tower (Tour de la Babote)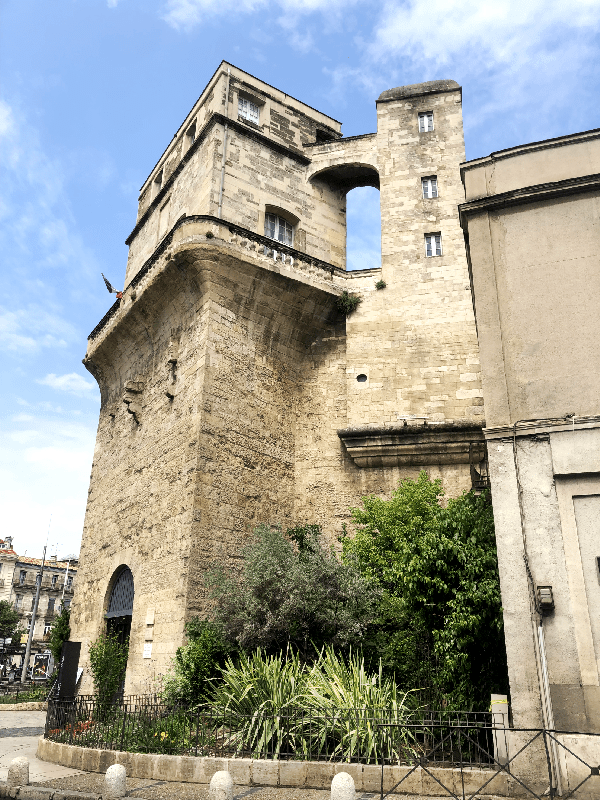 Vestige of the fortress that used to protect the city, the Babote tower is where the parachute was born. It' on this tower that in 1783, Sébastien Lenormand launched himself.
So ya, at the time his invention look more like a big umbrella than a parachute but we have the parachute thanks to him.
You can also visit the inside, there's a nice quiet courtyard where you can sit and enjoy the view.
#9 The Gruesome Anatomy Museum and Conservatory (Le Musée d'Anatomie de Montpellier)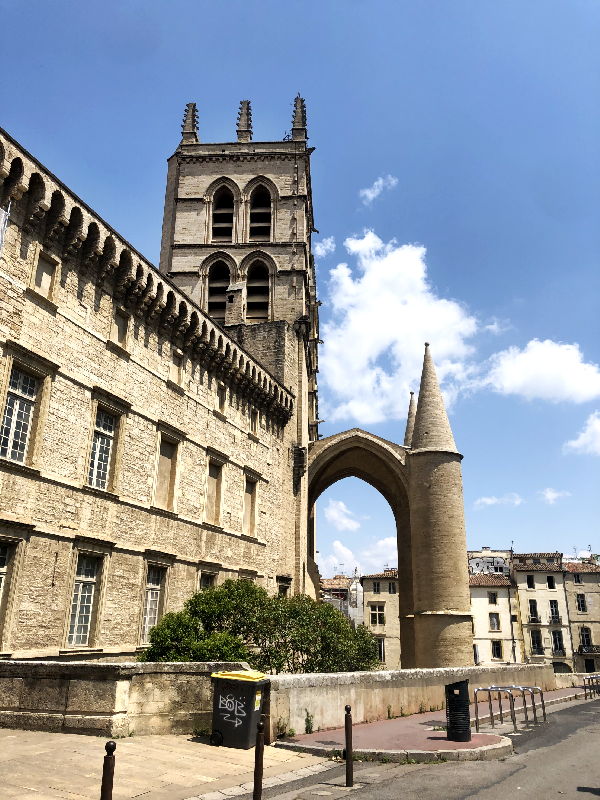 Founded in the 12th century, the Faculty of Medicine of Montpellier it is the oldest medical school in the Western world which never ceased to operate. It was considered the best place in Europe to study medicine for several centuries with all the hotshot students dashing to join.
Between Horror and fascination, you can visit the anatomy conservatory. You will find anatomical pieces (dissections, diseases), wax casts, embryology, malformations, skeletons.
It's very graphical stuff but may be fascinating to some- think malformed fetuses stored in jars for centuries. Def. one of the most unusual things to do in Montpellier.
Sensitive souls abstain. If you're looking for insolite- unusual things to do in Montpellier this is high up on the list.
Must book in advance through the tourism office. Prohibited for children under 12 years old.
Paid visit- Can only visit with a tour guide
#10 Optical Illusion (Trompe L'oeuil) Façade Saint- Roch
At the Place Saint-Roch don't miss the trompe l'oeuil mural. I love finding these all over France. So fun and also kids love them.
#11 Shell of Montpelier (Coquille de Montpellier)
When you walk through town you will see an interesting thing. A seashell almost niche on the corner of a building. This seashell is an admirable and complex architectural feat. It's mystery and Montpellier secret remain as to its origin. But it sure is dope.
#12 Hotel de Varennes
2 Pl. Pétrarque
Want to enjoy a quiet courtyard away from the bustles of the crowds? Push this red door and travel through time through the vaults above you.
This is the the Hotel de Varennes, a hotel particulier or private mansion.
The Musée du Vieux Montpellier (Museum of Old Montpellier) is housed on the first floor. Enjoy the refreshing courtyard and let the silence immerse for a moment of tranquility away from the tourists.  
#13 The Wishing Tree of Montpellier
If you walk through the botanical garden make sure to stop by the "L'arbre à souhaits" or wishing tree. It's 400 years old tree from the olive family. People have been slipping notes into the hollow of its branches for years.
Fun fact: it's also known as the lover mailbox. Lovers used to exchange words to arrange rendezvous.
So have you found it?
#14 Corner Street Mosaic
Ok but how cool is this corner art. I find it ingenious how a damaged corner was reconstructed into something beautiful like this art piece. Proof that you can create beauty from ruins. I snapped this photo in the streets of Montpellier and for the love of me can't remember where it is. Does anyone have any information about it and know the location?
#15 Garden of the Queen (Jardin de la Reine)
Tired of the Botanical Garden of Montpellier and want something more low-key and quiet. Take a turn and then follow the little hearts on the rue de la reine street and rainbow.
Not sure if there's a leprechaun at the end waiting for you but it's So enchanting.
You will arrive at Jardin de la Reine a hidden garden that's way more low-key than its counterpart Jardin Botanique that not many people know about.
Find a spot. Sit down, put on your sunnies and enjoy the quiet and a nice a book. Détente garantie.
#16 Pharmacie de la Miséricorde (Miséricorde Pharmacy)
Note: closed till fall 2024 for renovation.
Hidden past the imposing door of the Hotel des Monnaies, is the first converted 18th century dispensary. 
The Congregation of Mercy would make their own medicine and herbal remedies to help the poor.
When I went it was ferie- grrr I had one job. They are closed on bank holidays. Don't be like me haha and check.
The pharmacy is stunning with a turquoise shelf containing a rare collection of ceramic pots used in apothecary. 
#17 Pine Tower (Tour des Pins)
There is a tower which you can admire at the square des Pins, is named after the two pine trees which grew to its height during the Middle Ages. The astrologer Nostradamus predicted that the city would be destroyed the day when these pines died.
NEWSFLASH: Nostradamus the pines are dead and Montpellier is still here. It's ok homie you can't win every time.
#18 Font Putanelle
No the name is not in reference to prositutes, but it was frequented by lovers going on their 'rendez vous'.
Puteus from Latin means well or "puits" in French.
It's in reference to the fountain that was there. You can still see it's remains today.
This makes for a unique and pretty underrated things to see in Montpellier.  
Another cool thing is the street art. It's been tagged with graffiti everywhere.
#19 Mikvé of Montpellier
A Mikve is a Jewish ritual pool. This medieval mikve was discovered accidentally decades ago by a homeowner in their house. Surprisingly, it is one of the oldest (dating from the 12th century) and best preserved in Europe.
You can also find the remains remains of the old medieval synagogue in the building.
Paid visit. Reserve through the tourism office and book a slot through their website (at least 2 weeks in advance).
Location: 1 rue de la Barralerie, Montpellier
#20 Villa des Cent Regards
Also known as "Château du nain" (gnome house), don't miss this picturesque villa. Super insolite and one of the most unusual things to do in Montpellier at the heart of the city, this villa was built in the 50's by a cement worker. Entry is around 2 euros and definitely worth a visit especially with kids, or like me, if you are a big kid yourself.
Location: 1000, rue de la Roqueturière
Found this post on Montpellier Secret Places & Hidden Gems in Montpellier helpful? Pin it now read it later.
Save or Share!
More Montpellier resources:
Is Montpellier Worth Visiting in the South of France? 14 Reasons Why it Should be on Your List!
Essential Guide: 25+ Best Things to Do in Montpellier (South of France) for an Unforgettable Trip
Where to Stay in Montpellier: Best City Center Hotels for Every Budget (South of France)
The Best Vintage Shops and Flea Markets in Montpellier (South of France) for Clothes and Antiques
Vegan Food in Montpellier (South of France): Your Ultimate Guide to the Best Spots
A Beach for Every Mood: The 5 Best Beaches near Montpellier (South of France)
Don't Miss the Best Vegan and Gluten-Free Cakes in Montpellier
Want More France Travel Help?
Don't miss out! Check out these France travel resources for inspiration for your next trip to France:
Essential Guide 2023: Best Things to Do in Provence: Avignon as a Vegan
Don't Miss the Best Vegan Burger in Paris and Lyon (2023)
Essential Guide: Surviving France as a Vegan- Oui it's Possible (From a Local)
2023: Must Try-Vegan Restaurants in Provence: Avignon (From a Vegan)
---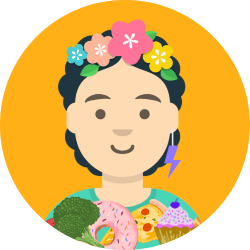 Latifah is a vegan foodie who loves travelling and cooking plant-based recipes. She loves sharing her favorite travel spots and adding a sprinkle of confetti to your day.