Vegan Place 2022- Lyon
Lyon may be the world capital of gastronomy, but today's Vegan Place proved that there's more to Lyon than Bouchons. 
The Vegan Place in Lyon is held this Saturday October 22nd at Place de La Republique from 12 pm- 6pm in Lyon 65002. From Place de Bellecour follow up rue de la Republique to the sound of street musicians which will lead you to the Vegan Place market event.
Organised by L214 , there are numerous exhibitors present to raise awareness for the vegan cause and show that you can consume differently. Ranging from non-profits, restaurants, and craft stores, you can wander around and discover all of the stands. Among them is Anonymous for the Voiceless, an animal rights non-profit focused on street activism. 
Vegan Impact was also there to defend their actions in favour of protecting the animals 
L214 Éthique et Animaux, has an interesting initiative to attract visitors- Acting for the Animals (Agir Pour les Animaux), for watching one video you will receive a treat.  What better way than to stop visitors, engage them and get their reactions.   
AVF, (Association Végétarienne de France) or Vegetarian Association of France are also there to help you learn more about the vegetarian diet and help you transition at different stages (flexitarianism, vegetarianism, veganism) whether for environmental, health, or ethical reasons. 
In terms of food, although the Vegan Place event in Lyon wasn't that big, there is a vast choice of vegan goodies to choose from including sandwiches, cheese, beverages, and yummy desserts. This is the place to go if you want to try vegan food in Lyon all in one place. 
Le Petit Colibri, a vegan bakery was all smiles offering numerous vegan sandwiches and pastries. 
La Taniere d'Etha, a vegan maroquinerie was offering beautiful bags and pouches with hand embroidery.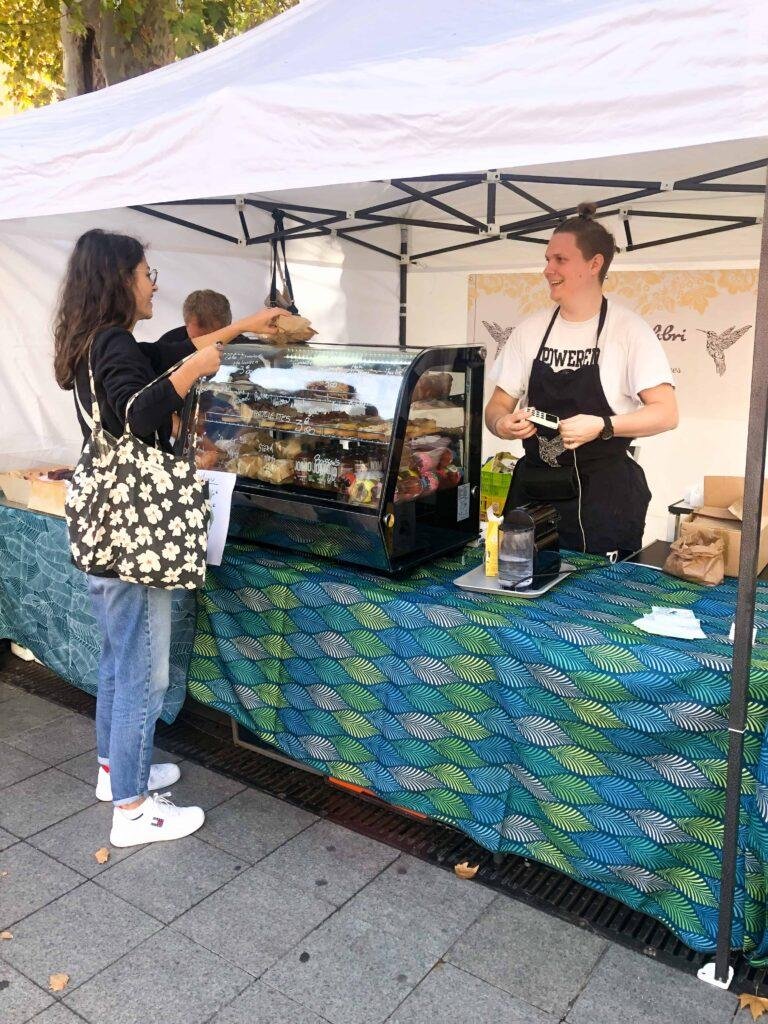 La Cuisine Vege de Flo, a vegan caterer was there boasting seasonal, organic French classics revisited in vegan form. 
The biggest show stopover however was vegan caterer, Oupsi Lyon. With an intriguing bicycle truck, the queue is a manifestation of this and stretches further down the street. 
I tried their savoury waffle and mince barbecue (€8.5) with the vegan garlic aioli sauce and goodness was it delicious. Picture cabbage, grated carrots, a vegan aioli garlic sauce, and the most savory mince barbecue all wrapped in a waffle sandwich. I'd never tried the waffle sandwich and assumed it was an instagrammable fad that was tepid, but boy was I wrong! The taste of the barbecue sauce was not too overpowering and everything was yum.
Don't Miss my Vegan Place Lyon video:
A fabulous getaway, at the heart of Lyon the Vegan Place proves that vegan food can be flavourful, delicious and comforting. 
Want More France Travel Help?
Don't miss out! Check out these France travel resources for inspiration for your next trip to France:
Don't Miss the Best Vegan Burger in Paris and Lyon (2023)
Essential Guide 2023: Best Things to Do in Provence: Avignon as a Vegan
Essential Guide: Surviving France as a Vegan- Oui it's Possible (From a Local)
2023: Must Try-Vegan Restaurants in Provence: Avignon (From a Vegan)
Found reading about the Vegan Place helpful? Pin it now and read it again later
Save or Share!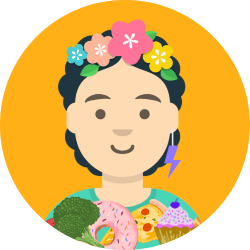 Latifah is a vegan foodie who loves travelling and cooking plant-based recipes. She loves sharing her favorite travel spots and adding a sprinkle of confetti to your day.