Vegetarian Restaurant in Paris: Cantine de Lotus Review
As a vegan I was craving asian food, so I headed towards Cantine de Lotus, a vegetarian Southeast Asian restaurant.
The restaurant is small and I was guided to the first floor, taking a narrow staircase. Upstairs is covered with a cute decor, with flowers and plants covering the ceiling and a nice cute half circle window giving out on the street below. 
The menu differentiates between vegan and vegetarian with a green and red leaf respectively. So yay! No need to further enquire with the waiters about identifying vegan dishes and options. 
For vegan entrees you can order edamame, vegetable nems, vegan tempura. For mains they have miso and Pekin soup, and not to mention their popular bento boxes! You know those Japanese style single- portion lunch packed meal.  
With a great majority of vegan option bento's, I decided to go for the vegan chicken with three flavours (poulet végétal au trois saveur) accompanied with: white rice, mushrooms, noodles, radish and edamame. I didn't want edamame so they replaced it with another portion of noodles. The vegan chicken was delicious. Moist, sweet and savoury and combined with bamboo shoots. I also enjoyed the accompanied vegetables. A filling dish and great quality for €13.50.
I didn't get drinks but they have fruit tea (without milk), warm tea, coffee with vegan milk, matcha shake with vegan whipped cream. If you have a sweet tooth, they also have mango sago (Japanese pearls, mango coulis, sago, vegan whipped cream) diced mango, banana, sago, and taro cup  (taro puree, red beans, Japanese pearl, soja milk)
The service was also great- accommodating, quick and efficient. They don't do reservations, but you can always grab your food through click and collect if seating is unavailable.
Seating is rather tight upstairs so if you don't mind your table being rather close to the neighbor, where you could literally say hi to each other. Otherwise, takeout is a great option. You can take food away and go sit on a nice bench in the park, or head towards the quai to enjoy your meal!
Overall, La Cantine Lotus is a solid value for its affordable and delicious Asian vegetarian/ vegan food at the heart of Paris.
Location: 7 Rue de la Michodière, 75002 Paris
Want More France Travel Help?
Don't miss out! Check out these France travel resources for inspiration for your next trip to France:
Essential Guide 2023: Best Things to Do in Provence: Avignon as a Vegan
Don't Miss the Best Vegan Burger in Paris and Lyon (2023)
Essential Guide: Surviving France as a Vegan- Oui it's Possible (From a Local)
2023: Must Try-Vegan Restaurants in Provence: Avignon (From a Vegan)
If you found this vegan restaurant review helpful, pin it now and save it for later.
Save or share!
---
I pay for my own meals and always dine anonymously. This guarantees my experience as a regular paying customer where special treatment is not received and ensures an authentic review.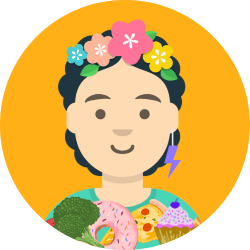 Latifah is a vegan foodie who loves travelling and cooking plant-based recipes. She loves sharing her favorite travel spots and adding a sprinkle of confetti to your day.