Vegan Restaurant in Lyon: Food Traboule Review
How cool would it be to EAT in a Traboule. If you don't know Traboules in Lyon, are secret passageways that connect one street to another through one or more buildings. Historically, they were used by Canuts (silk workers) during their revolt and resistance fighters during the Second World War in France.
Located in Vieux Lyon, 10 minutes from Place de Bellecour, the Food Traboule was created in 2020 by Tabata Mey, semi-finalist of Topchef and husband Ludovic Mey.
The concept: a gastronomy food court located in a cultural heritage site, Tour Rose (pink tower), with 12 chefs across 3 floors. 
I Arrived at 6 pm, which was opening time. The staff at the entrance were welcoming and dynamic as they greeted us.  I pursued my quest to go through the different food stations in the food court, and through the different floors. You can view the menu via a QR code that you can scan on your phone. 
A few items are marked as veggie, with a green plant symbol. However, veggie does not necessarily mean vegan and DOES include vegetarian dishes. It would be nice to add another symbol to differentiate between the two, so customers can easily find out.
I wanted to ask about what the components of the Thai Bowl were. I must have asked at the wrong station because I was told, rather dryly, it wasn't with them but to check at the neighboring station with their colleague. So I inquired again at the salad station and the answer was an expressionless, "the same as the normal salad without meat". Followed with "we don't open until 7 pm". I didn't find the ingredients for the normal salad listed on the menu, but given the general impression of being forced to communicate, I decided not to pursue further. 
Interestingly, it gave me major store vibes. You know when you ask the store clerk if you have this shirt in white and the response is "tout est là" (everything is there) or perhaps I can't be bothered to check so please go away now. 
I understand there is a high turnover rate in the restaurant industry, and I may have come while they were prepping,  but no need to be so grim. It wouldn't hurt to smile or at least seem interested in your job. 
Having found that the restaurant opens at 6pm but the food stations open at 7pm to actually serve food, I decided to order something to drink and we chose a table in the centre of the 1st floor with a glass roof and view of the tour rose pink tower traboule. The view is stunning and the lights make for a charming view. 
The waiter took our order for drinks with a smile and was friendly and efficient.
Now 7 pm I headed to Ludo's Pizza, and asked for a vegetarian pizza without cheese. "So vegan?", was the response. I said yes, happy that they knew what vegan was (this isn't the case everywhere) and that I didn't have to explain myself. Unlike the other stations, the service here was friendly and at least communication was flowing. After paying, I was handed a buzzer, which would ring when the food was ready. 
10-15 minutes later the buzzer rang, and I headed to collect my pizza. The pizza had a yellow tomato base, rather aesthetic with a surprisingly somewhat acidic taste which I enjoyed. It was topped with thinly sliced zucchini, onions and cherry tomatoes and a pesto sauce. 
Digging in, the pesto was delicious but something was off. I thought I could taste cheese in it. Remembering that pesto is typically made with parmesan,  I headed back to the counter asking if the pesto was vegan. The chef: "ah oui il y a du parmesan dans le pesto alors c'est pas vegan. Je suis désolé", proceeding  to apologise for not making the connection at the time that there was parmesan in the pesto so it was not vegan. I said it was fine as his response was sympathetic. To be honest, veganism is still a new concept in France, so I wasn't surprised. 
Eating vegan is important for me but so is food waste. Perhaps, some may disagree with me but I refused to remake a new one (not that he offered) and decided to just eat it. You need to pick your battles in life and this was not it. If this was an allergy or non-halal situation, I would have proceeded differently, of course. What would you have done- let me know in the comments?
The dough of the pizza was great, freshly made with crisp edges. Inall, it was nice, it was just missing melty vegan cheese and a vegan pesto. For 13 euros, the quality of the food was up to point. 
A friend ordered the non vegan figs on bread, and it was a rather small plate of just toast with some cheese and figs on top, and didn't seem worth 10 euros. So it seems that some things are hit and miss and you need to select the right dish for your money's worth.
By the time we were leaving at 7:45 pm, the restaurant was filling up considerably, and the noise levels were getting higher. Terrace tables outside were all full. Keep in mind this was a Monday evening. If you plan to head during weekends, I recommend making reservations in advance. 
Vegan options were not many. I hope they add more on the menu and cater for this audience, because vegans are definitely growing in Lyon. I also hope they train their staff on vegan dishes; at least each person in their station should know clearly what their vegan offering is, if any, or how to make a dish vegan. 
The waiters at the reception and servers could teach the staff at some station a few pointers on customer service. Being pleasant makes a big difference to the whole customer experience.
It's a major let down because these chefs and staff members  are the faces of the restaurant, literally everyone who orders will converse one way or another with them. Not engaged or interested in their jobs is a yikes for any service industry because the customer sees right through it. 
Overall, I will be happy to return once they increase their vegan offering and fix the little service hiccups. The atmosphere is great, minus disengaged staff at some food stations. The unique charm of the pink towers is scenic and makes for a gorgeous view. It's a great place to go to enjoy a meal with non-vegan friends and family. 
Location: 22 Rue du Bœuf, 69005 Lyon
Want More France Travel Help?
Don't miss out! Check out these France travel resources for inspiration for your next trip to France:
Essential Guide 2023: Best Things to Do in Provence: Avignon as a Vegan
Don't Miss the Best Vegan Burger in Paris and Lyon (2023)
Essential Guide: Surviving France as a Vegan- Oui it's Possible (From a Local)
2023: Must Try-Vegan Restaurants in Provence: Avignon (From a Vegan)
Found reading this review helpful? Pin it now and read it again later
Save or Share!
---
I pay for my own meals and always dine anonymously. This guarantees my experience as a regular paying customer where special treatment is not received and ensures an authentic review.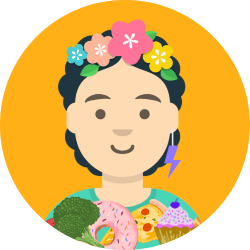 Latifah is a vegan foodie who loves travelling and cooking plant-based recipes. She loves sharing her favorite travel spots and adding a sprinkle of confetti to your day.